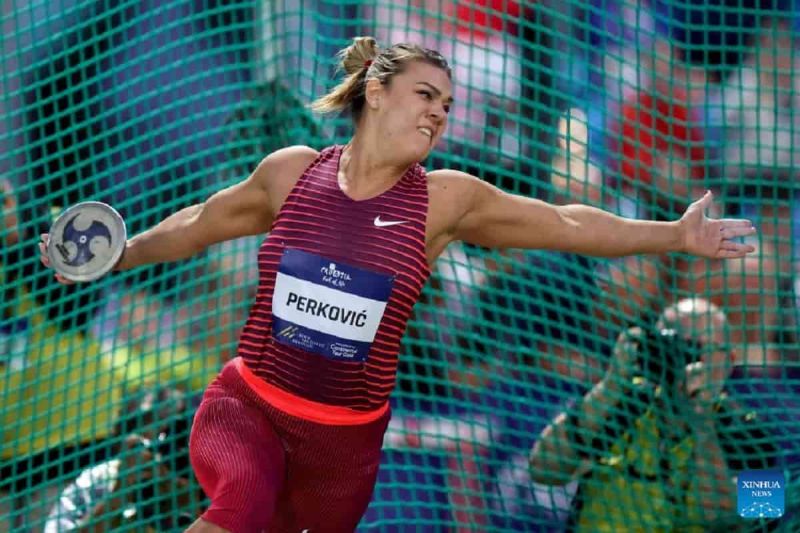 Sandra Perkovic highlighted the Boris Hanzekovic Memorial with 68.46m in the women's discus throw at the Sports Park Mladost in Zagreb.
Perkovic avenged her defeat against reigning Olympic champion Valarie Allman, who had beaten her Croatian rival in Zurich's Wanda Diamond League final.
Perkovic added one centimeter to her seasonal best set when she won the world silver medal in Eugene. The local star beat Allman by almost a meter. The US thrower had to settle for second place with 67.55m. This year's NACAC champion Laulauga Tausaga from the USA, took third place with 63.59m.
Sandra Perkovic: "I knew that I had this hit in me. At the end, I just said: 'It is the last throw of the season, it is now or never. Valarie was great, and the competition was great. The weather was the only problem".
Men's discus throw:
World champion Kristjan Ceh threw 68.60m to win his 19th competition this season in the men's discus throw. Sam Mattis finished second with 67.19m beating Olympic silver medallist Simon Petterson from Sweden (66.93m).
110 meters hurdles:
Two-time world champion Grant Holloway clocked 13.19 in wet weather conditions to lead a US top-three beating this year's NACAC champion Freddie Crittenden (13..31) and last year's NCAA champion Robbie Dunning (13.36).
Grant Holloway: "This was a great season. It's an amazing feeling to have a triple crown. I won the world indoor and outdoor titles and the Diamond Trophy. Many people wrote me off just because I was not quick enough at some points because it is all about showing where and when, and winning".
Men's 100 meters:
World 100m silver medallist Marvin Bracy did not achieve his goal of breaking Usain Bolt's meeting record of 9.85. Still, he completed a back-to-back win in Zagreb with 9.97 ahead of European bronze medallist Jeremiah Azu from Great Britain (10.14) and this year's Commonwealth Games Ferdinand Omanyala from Kenya (10.19).
Men's 200 meters:
Double NCAA champion and Olympic finalist Joseph Fahnbulleh from Liberia followed his fourth place in the 100m in 10.20 with a win in the 200 meters in 20.07 ahead of Cuban record holder Reynier Mena (20.17) and Charles Dobson from Great Britain (20.21).
Women's 400 meters:
World 4x400 mixed relay champion Fiordaliza Cofil claimed the women's 400 meters in 50.73, beating world and Olympic 400m finalist Candice McLeod (51.52), world bronze medallist Sada Williams from Barbados (51.75), and Stephanie Ann McPherson from Jamaica (51.91).
Women's 100 meters hurdles:
Tonea Marshall won the women's 100 meters hurdles in 12.74 ahead of world indoor silver medallist Devynne Charlton from the Bahamas (12.86) and Olympic bronze medallist Megan Tapper (13.03) in heavy rain conditions.
Women's 400 meters hurdles:
Jamaica's world bronze medallist Rushell Clayton from Jamaica broke the meeting record with 53.89 to win the women's 400 meters hurdles in 53.89 ahead of European silver medallist Viktoriya Tkachuk from Ukraine (54.97), Commonwealth Games gold medallist Janieve Russell (55.04) and Olympic finalist Gianna Woodruff from Panama (55.14).
Men's triple jump:
World silver medallist Fabrice Hugues Zango from Burkina Faso leaped to 17.07m in the final round to win the men's triple jump ahead of four-time world champion Christian Taylor (16.63m) and European bronze medallist Jean-Marc Pontvianne (16.59m).
Men's 400 meters hurdles:
CJ Allen followed his third place in the Wanda Diamond League final in Zurich with a win in the men's 400m hurdles in 49.10 ahead of this year's European Championships fourth placer Ludvy Vaillant (49.21).
Men's 2000 meters steeplechase:
World and Olympic gold medallist Soufiane El Bakkali from Morocco, set the third fastest time in history with 5:14.06. Leonardo Feletto from Italy finished second in 5:23.15.
Men's 3000 meters:
This year's NACAC champion William Kincaid won a very close men's 3000 meters in 7:38.83, edging 18-year-old world under 20 1500m champion Reynold Cheruiyot from Kenya by one-thousandth of a second. Former NCAA champion Morgan McDonald from Australia improved his PB to 7:39.05 to finish ahead of Olympic 3000m steeplechase fourth placer Getnet Wale from Ethiopia (7:39.31). Andreas Almgren set the Swedish record with 7:39.44. Seventeen-year-old Niels Laros, who won two European Under 18 gold medals in the 1500m and 3000m, improved the European Under 18 record to 7:48.25.
Women's Mile:
Olympic 1500m sixth placer Linden Hall from Australia won the women's mile race in 4:21.10, beating European indoor medallist Hanna Klein from Germany (4:23.52) and Winnie Nanyondo (4:23.94). European 1500m under 23 bronze medallist Marta Zenoni from Italy clocked 4:25.29, missing Gabriella Dorio's national record by two seconds.
Women's javelin throw:
This year's NACAC Championships silver medallist Ariana Ince from the USA improved her PB to 64.38m to win the women's javelin throw ahead of Marija Vucenovic (60.47m) and the two-time world under 20 champion Adriana Vilagos (60.17m).
-->