Scottish Stars Muir and Wightman Win 5th Avenue Mile Titles

Posted by:
Watch Athletics
Sunday, 11 September 2022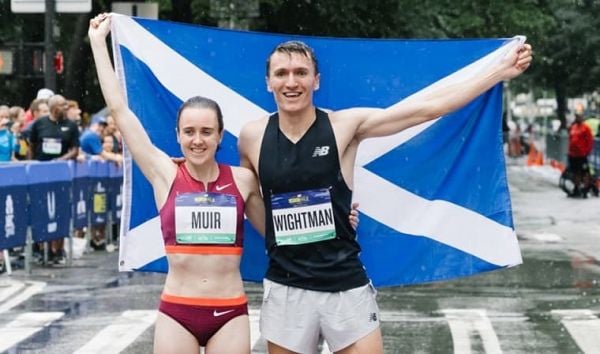 Scottish stars Laura Muir and Jake Wightman won the iconic 5th Avenue Mile titles on Sunday, September 11. Muir shattered the women's course record while Wightman broke the 3:50 barrier to win the men's race. The New Balance 5th Avenue Mile is regarded as the world's most iconic road mile race since 1981. The race was run 20 blocks down Manhattan's most notable thoroughfare and staged one of the strongest men's and women's PRO athlete fields in history.
Muir surged away from the field after 800m to win the race with a stunning time of 4:14.8, smashing Jenny Simpson's event record of 4:16.1 from 2019. The 29-year-old Muir concluded her outstanding season in New York after winning World Championships bronze, European Championships gold, and Commonwealth Games gold and bronze this summer.
"This was the last race of my season, and it was hard, but I kept thinking 200, then 100 meters to go to get to the line," Muir said. "I did all I could to leave it all out there."
USA's Nikki Hiltz, for the second year in a row, took second place with a time of 4:17.4. American Eleanor Fulton trailed her in third in 4:18.0. Defending champion Jemma Reekie of Great Britain came in fourth in 4:18.3. All of their times were within the top 10 in event history.
World 1500m champion Wightman claimed his second consecutive and third overall 5th Avenue Mile title with 3:49.6. His winning time is the 10th fastest in event history. Great Britain's Jake Heyward and American Sam Prakel were second and third, respectively, in 3:49.6 and 3:50.4.
"I couldn't have asked for it to go any better, to finish my season here at my favorite meet of the year," Wightman said. "The chance for me to be able to celebrate the end of my season here in New York is fantastic."
More than 8000 runners took part at this year's 5th avenue mile. This year's event featured a 9/11 Memorial Mile with NYPD runners and participants from Answer the Call Foundation and Tunnel to Towers Foundation, as well as a Back to School Mile for youth ages 2-18, a George Sheehan Memorial Mile for seniors, and NYRR Road Mile Championship heats.
TOP RESULTS PRO WOMEN
Laura Muir (GBR) - 4:14.8 (Course Record)
Nikki Hiltz (USA) - 4:17.4
Eleanor Fulton (USA) - 4:18.0
Jemma Reekie (GBR) - 4:18.3
Adelle Tracy (JAM) - 4:19.2
Nozomi Tanala (JPN) - 4:19.3
Sage Hurta (USA) - 4:19.6
Hellen Schlachtenhaufen (USA) - 4:20
Melissa Courtney-Bryant (USA) - 4:21
Lizzis Bird (GBR) - 4:22
TOP RESULTS PRO MEN
Jake Wightman (GBR) - 3:49.6
Jake Hayward (GBR) - 3:49.9
Sam Prakel (USA) - 3:50.4
William Paulson (CAN) - 3:51
Eric Holt (USA) - 3:50.7
Cole Hocker (USA) - 3:50.7
Geordie Beamish (USA) - 3:51.0
Matt Stonier (GBR) - 3:51.1
Luis Grijalva (GTM) - 3:52
Paul Ryan (USA) - 3:52
-->