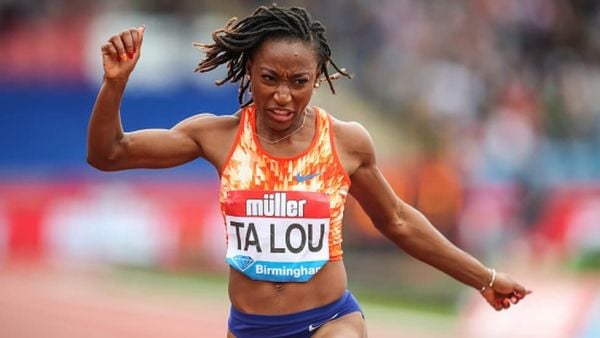 The International meeting Città di Padova (World Athletics Bronze) was highlighted by four meeting records set by Marie Josée Ta Lou in the women's 100 metres, Dalilah Muhammad in the women's 400 metres hurdles, Bryce Deadmon in the men's 400 metres and Yared Nuguse in the men's 1500m.
Women's 100 metres:
Marie Josée Ta Lou won the women's 100 metres breaking Shelly Ann Fraser Pryce's meeting record with 10.94 into a headwind of -1.2 m/s. Twanisha Terry finished second in 11.14 beating Sha'Carri Richardson (11.25).
Marie Josée Ta Lou: "I am happy to be here in Italy. I clocked a good time. I had a shoulder injury before the World Championships in Eugene, but I came back stronger with an African record in Monaco. I hope to finish the season well in the Diamond League final in Zurich next week"
World Championships finalist Aaron Brown won the men's 100 metres in 10.12 into a strong headwind of -1.6 m/s edging world silver medallist Marvin Bracy by 0.01. Ackeem Blake from Jamaica took third place in 10.17.
Women's 400 metres hurdles:
Olympic silver medallist Dalilah Muhammad improved the meeting record to 53.84 to win the women's 400 metres hurdles. Andrenette Knight from Jamaica also dipped under the 54 seconds to finish second in 53.95. Olympic and world finalist Gianna Woodruff from Panama finished third with 55.09.
Dalilah Muhammad: "It was a nice competitition. The weather conditions were very good. I am doing better and better with each race. After the season I had I was happy with my bronze medal at the World Championships. I hope to run 52 in the Diamond League Final in Zurich".
Women's triple jump:
World silver medallist Shanieka Ricketts won the women's triple jump for the second year In a row in Padua with 14.72m beating Dominica's Thea Lafond by one cm in a close competition. Ricketts missed Yulimar Rojas' meeting record by 15 cm
Ricketts produced a consistent series that included 14.59m, 14.66m 14.72m, 14.70m and 14.57m. Lafond leapt to 14.71 in the fourth round, but a tailwind of +2.7 m/s denied her the national record. Leyanis Hernandez from Cuba, who finished fourth at the World Championships in Eugene, placed third with 14.53m in a world-class competition.
Shanieka Ricketts: "I really enjoyed the atmosphere here in Pdua and I wanted to come back this year. I am happy with my consistency. I wanted to sharpen up ahead of the Diamond League final in Zurich".
Men's 110 metres hurdles:
The USA claimed a top-three in the men's 110 metres hurdles. World silver medallist Trey Cunningham took the win in 13.21 beating Jamal Britt (13.27) and this year's NCAA Championships second placer Eric Edwards (13.39).
Trey Cunningham: "This race was a tune-up for the Diamond League final in Zurich. I expected a much faster time, but I am happy with my season. I set my PB. I have no complaints. I really enjoyed my stay here in Padua".
Men's long jump:
Doha 2019 world champion Tajay Gayle from Jamaica returned to his best form by winning the men's long jump with a seasonal best of 8.26m. Gayle produced three more jumps over the 8 metres barrier of 8.11m, 8.20m and 8.00m.
Men's shot put:
Rogers Steen won the men's shot put with 21.38m in the third round and backed up this result with a second best put of 21.28m in his fourth attempt. Leonardo Fabbri from Italy set his seasonal best of 21.16m in his first round to finish second in the same venue where he won the national title in 2020 with his PB of 21.99m. World bronze medallist Josh Awotunde, who won in Padua last year with a meeting record of 22.00m, took third place with 20.98m.
Men's 400 metres:
Olympic 4x400 champion Bryce Deadmon claimed his second win this week in the men's 400 metres setting a meeting record of 44.76 following his victory in Lucerne last Tuesday.
Women's 800 metres:
US Allie Wilson claimed the win in the women's 800m with 1:58.37 to finish ahead of Olympic fourth placer Jemma Reekie from Great Britain (1:58.71), US Nia Akins (1:59.56) and Olga Lyakhova from the Ukraine (1:59.87).
Men's 1500 metres:
US middle-distance runner Yared Nuguse set a meeting record and a lifetime record of 3:33.26 in the men's 1500 metres beating Cole Hocker (3:35.18) and Andrew Coscoran from Ireland (3:35.43). Nuguse won his second race this week after finishing first in Lucerne in 3:34.95.
Men's high jump:
Tomohiro Shinno from Japan cleared 2.27m to win his second consecutive men's high jump competition on home soil this week after taking the victory in Rovereto with the same height. Guobiao Wu from China completed the Asian double in second place with 2.25m
Women's 100 metres hurdles:
Tonea Marshall took the win in the women's 100 metres hurdles in 12.94 edging European champion Pia Skrzyszowska (13.03) and Gabby Cunningham (13.08).
Women's 400 metres:
Jaide Stepter Baynes won the women's 400 metres in 51.43 ahead of Courtney Okolo by 0.03. Kailyn Whitney finished third with 51.67.
-->