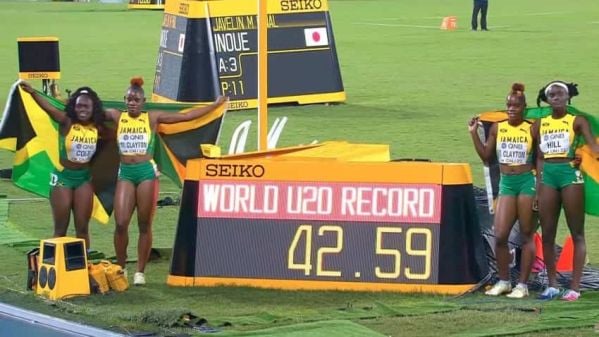 The Jamaican women's 4x100 relay team formed by Serena Cole, Tina Clayton, Kerrica Hill and Tia Clayton broke the world under 20 record with 42.59. Jamaica had set the previous world under 20 record of 42.94 at last year's edition of the World Championships in Nairobi.
The US team featuring Jayla Jamison,Autumn Wilson, Lyana Gray and Shawnti Jackson won the silver medal setting a national under 20 record of 43.28. Colombia delighted the home fans by winning the bronze medal in 44.59.
Men's 4x100 metres:
The Japanese team formed by Kowa Ikeshita, Hiroto Fujihara, Shunti Tatento, Hiroshi Janashita won the gold medal in 39.35 holding off Jamaica by just two thousandths of a second. The US team claimed bronze in 39.57. South Africa was disqualified due to lane infringement after crossing the finish-line first.
Women's 200 metres:
Brianna Lyston continued the Jamaican sprint tradition by winning the 200 metres in 22.55. USA' Jayla Jamison claimed the silver medal in a PB of 22.77, Alana Boyd from Jamaica took bronze improving her lifetime best to 22.95. Lyston has become the third Jamaican sprinter to win the 200m world under 20 gold medal after Veronica Campbell in Santiago 2000 and Briana Williams in Tampere 2018.
Lyston bounced back from the disappointment at last edition of the World Under Championships in Nairobi, where she was disqualified in the 200 metres due to a lane infringement.
Brianna Lyston: "It was really hard, I broke down after the race, when I heard the news that I was disqualified for a lane infringement last year. Since I stepped on the line, I tried my best in training not to do it again. I told myself I would come back, train hard, and accomplish this. My role model is Shelly Ann Fraser Pryce. I dedicate this win to my mother".
A thunderstorm caused a delay to the programme.
"When we were in the call room, we were pretty nervous. We never had such a long delay, but we did our best to stay warm and keep our mental health intact".
Men's triple jump:
Jamaica's 17-year-old Jaydon Hibbert broke the championship record with 17.27m in the first round to win the men's triple jump. Hibbert smashed his PB by 61 cm setting the eighth best performance on the world under 20 all-time list in history. He also moved to second on the Jamaican all-time list behind Olympic and world long jump silver medallist James Beckford, who jumped 17.92m.
Selva Thiruman from India claimed the bronze medal with a PB of 16.15m beating European Under 20 bronze medallist Viktor Morozov by just one centimetre.
Jaydon Hibbert: "I can't even soak it up. I didn't see coming. I am speechless. This was a big surprise because I actually came to the competition with a knee pain and I didn't even have a proper run-up today".
Men's high jump:
Brandon Pottinger won the second gold medal for Jamaica by taking the title in the men's high jump with 2.14m in tough weather conditions due to a rain storm.
Pottinger needed two attempts to jump over the opening height of 2.05m, but he cleared 2.10m at the first time of asking. Six athletes remained in contention (Pottinger, Brian Raats from South Africa, European Under 20 champion Bozhidar Saraboyukov from Bulgaria, Martin Lefevre from France, Yeh-Po Ting from Thailand and Matyas Guth from Hungary) when the competition was interrupted by rain.
Pottinger was the only jumper able to clear 2.14 on his second attempt. Raats and Saraboyukov had a clean sheet up to 2.10m and shared the silver medal.
Women's long jump:
Seventeen-year-old Plamena Mitkova from Bulgaria improved her PB to 6.66m in the third round to win the women's long jump. Mitkova missed Fiona May's championship record by 16 cm. Mitkova backed up her series with a second best jump of 6.57m in the fourth round.
Plamena Mitkova: "I can't breathe from happiness. Everything went according to plan in the competition, but I think I can jump further. This medal is a big confidence booster".
Colombia's Natalia Linares moved into silver medal position with 6.33m in the third round and improved to 6.59m in her fourth round. Linares produced a second best jump of 6.52m in the sixth round. This year's Italian indoor champion Marta Amohuin Amani improved her PB by 1 cm to 6.52m in the final round to win the bronze medal.
Women's hammer throw:
Nineteen-year-old Rachele Mori from Italy lived up to her pre-favourite role by winning the gold medal with 67.21m. Mori, the niece of former 400m hurdles world champion Fabrizio Mori, took the lead with 62.97m in the first round before the competition was suspended by rain. As the final resumed four hours later, the Italian thrower continued improving with each of her next three throws with 63.82m, 65.84m and 67.21m to win the sixth world under 20 gold medal for Italy in the history of these championships. Mori broke the Italian Under 20 record with 68.04m last May.
Rachele Mori: "I don't know how I managed to win. After the suspension caused by rain we stayed in the call room for three hours. It a very long wait, but I felt very good when competition resumed. I entered the competition with the world under 20 lead, but I had to confirm this result when it mattered most. I felt cramps on my calves, but it was an emotional moment, when I threw over 65 metres in the fourth round. I thank my coach Massimo Terreni and my teammate Sara Fantini. Sara's fourth place at the World Championships in Eugene gave me extra motivation".
Men's javelin throw:
Artur Felfner from the Ukraine claimed his first world under 20 title in the men's javelin throw following the European Under 20 gold medal in Tallin and the world under 20 silver medal in Narobi in 2021. Felfner set the fourth best mark of his career with 79.36m in the fifth round. The 18-year-old Ukrainian thrower set a national under 20 record of and and a world under 20 lead of 84.32m this year.
German under 20 champion Max Dehning won the silver medal with 77.24m in the second round. Keyshawn Strachan claimed the bronze medal with 72.95m beating India's Vivek Kumar, who finished fourth improving his PB to 72.17m.
Artur Felfner: "My goal was throwing over 80 metres. Today wasn't the day, but I feel so proud because the gold medal was also my goal",
Men's 400 metres hurdles:
Ismael Nazir set a national under 20 record of 48.84 in the 400 metres hurdles final to win the second gold medal for Turkey at these championships after Mazlum Demir's win in the 10000 metres walking race. Nazir follows in the footsteps of his compatriot Berke Akcam, who won the gold medal in this discipline at last year's edition of the World Under 20 Championships.
Matic Ian Gucsek from Slovenia finished second in a national under 20 record of 48.91 after advancing to the final as a non-automatic qualifier. Jamaica's Roshawn Clarke took bronze in 49.62.
Ismail Nezir: "The whole year I have been preparing for this race. It was my dream all season. We came to win and I was pretty sure I would. I saw the Slovenian guy in the first lane off the last hurdle and I had to attack and give my best to get the gold medal".
Men's 3000 metres:
Melkeneh Azize from Ethiopia claimed the gold medal in the men's 3000 metres in 7:44.06 ahead of Kenyan runners Felix Kiptarus Korir (7:47.86) and Edwin Kimosong Kisalsak (7:49.82).
Melkeneh Azize: "This is a huge honour. I want to say congratulations to my country with this medal. The race was great. All of Cali, the supporters in this stadium, I want to say thank you. This is a beautiful country".
-->