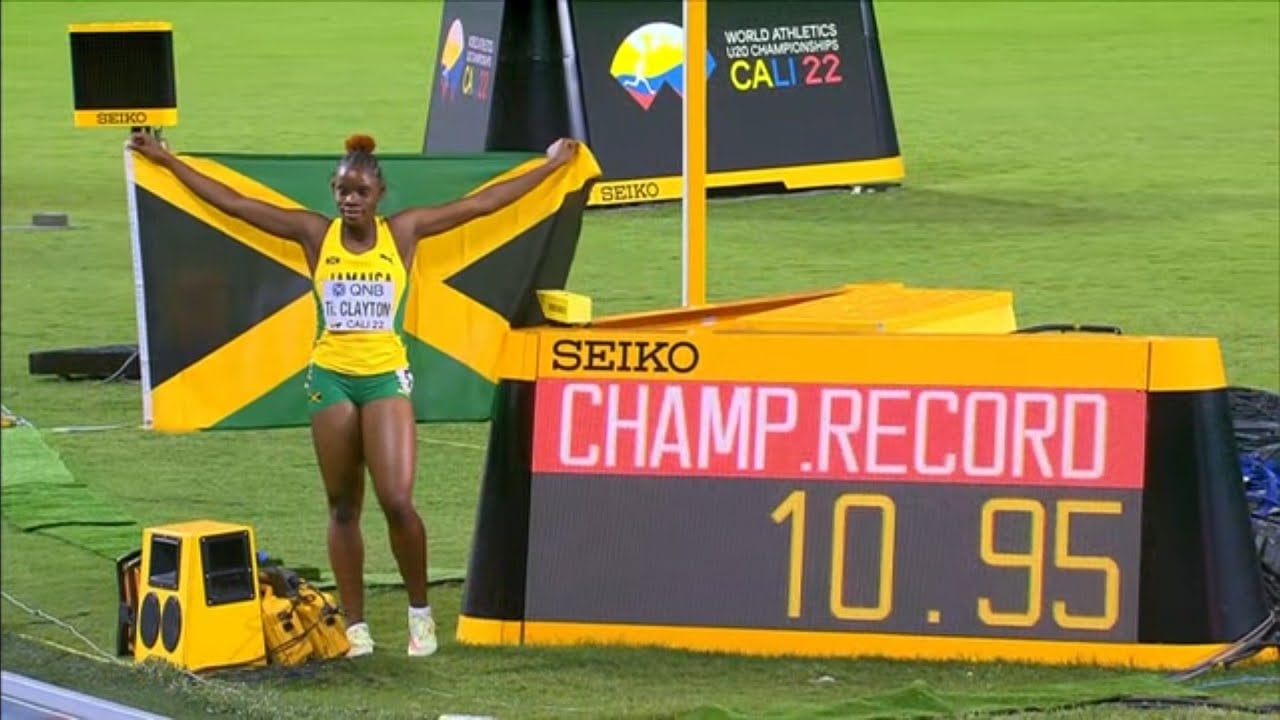 Jamaica's Tina Clayton won her second consecutive world under 20 gold medal in the women's 100 metres setting a championship and a national record of 10.95 on day three of the World Under 20 Championships in Cali. Her teammate Serena Cole, who is Clayton's schoolmate at the Edwin Allen High School, won the silver medal in 11.14. Shawnti Jackson, the daughter of 2005 world 400m hurdles champion Bershawn Jackson, won the bronze medal improving her PB to 11.15 edging N'Ketia Seedo by one thousandth of a second.
Tina Clayton: "Coming out, my mindset wasn't about a PB or a championship record, it was to defend my title. I did not feel any pressure. I have all the confidence that I put in the work and I trusted my coach Michael Dyke".
Tina Clayton's twin sister Tia will compete in the 200 metres.
Men's 110 metres hurdles final:
Antoine Andrews from the Bahamas came through to take the gold medal in the men's 110 metres hurdles in 13.23. USA's Malik Mixon took silver in a PB of 13.27. Matthew Sophia was leading approaching the final part of the race but he stumbled on the 10th hurdle and had to settle with bronze medal with a national record of 13.34.
Antoine Andrews: "I am just overwhelmed right now, I am lost for words. It's a dream come true. I came here from ups and downs, battling with injuries and mental blocks".
Women's 800 metres final:
USA's Roisin Willis won a thrilling final in the women's 800 metres in a championship record of 1:59.13 holding off Audrey Werro from Switzerland, who improved the national record to 1:59.53. Juliette Whittaker took the bronze medal for the US team in 2:00.18.
Roisin Willis: "I wasn't really expecting to take it out that first lap, but I trusted what I did in the semifinal and just kept going. The only thought in my head was 'don't give up'. I knew if I was in second coming into the home stretch, I would give it everything I have. I stuck to my promise".
Men's 1500 metres final:
Kenya's Reynold Kipkorir Cheruiyot launched his kick in the final straight to win the men's 1500 metres in 3:35.83 beating Ethiopia's Ermias Girma (3:37.24) and Kenya's Daniel Kimaiyo (3:37.43).
Reynold Kipkorir Cheruiyot: "The race was so fine for me today. I could have handled any challenge. I am feeling so proud".
Women's discus throw:
Sweden's 17-year-old Emma Sralla claimed the win in the women's discus throw. Sralla took the lead with 54.94m in the second round and extended with a throw of 56.15m in the fourth round. Areti Filippidou from Greece threw the discus to 54.48m to take the silver medal. Mine De Klerk from South Africa added the bronze medal in the discus throw to the gold in the shot put with a national under 20 record of 53.54m.
Women's heptathlon:
Saga Vanninen from Finland leads the eptathlon overnight with 3666 points. The Finnish athlete is 26 points above the score she had achieved after the first day last year, when she won her first title in Nairobi. Vanninen started the first day with a lifetime best of 13.52 in the 100 metres hurdles, before a 1.72m clearance in the high jump, a throw of 14.18m in the shot put and 24.49 in the 200 metres. Sandrine Sprengel from Germany is ranked second with 3591 points ahead of Luna Goureau from France (3577 points).
Men's 200 metres semifinals:
Two-time world 100m under 20 champion Letsile Tebogo set a championship record with an impressive time of 19.99 in the 200 metres heats. Tebogo, who won the world under 20 silver in the 200 metres in Nairobi 2021, returned to the track to win the semifinal in 20.23 into a headwind of -1.2 m/s beating Anthony Smith from Turkey, who improved the national under 20 record of 20.83.
Letsile Tebogo: "Anything is possible at 200 metres, when you look at the times. I don't know what the others will do but I could go for the gold. You will see the best of me in the final".
Seventeen-year-old Blessing Akawasi from Israel set the fastest time in the semifinals and a national under 20 record of 20.17 to beat Benjamin Richardson from South Africa (20.39). Brian Levell from Jamaica won the third semifinal improving his PB to 20.34 ahead of Calab Law from Australia (20.42). European under 20 4x100 relay gold medallist Jeriel Quainco from Great Britain and Brandon Miller from the USA got through to the final as non-automatic qualifiers clocking 20.43 and 20.57 respectively.
Women's 400 metres hurdles:
USA's Akala Garrett won the first semifinal in the women's 400 metres hurdles in 57.28 holding off Hanna Karlstrom from Sweden (57.34). South Africa's Anja Nel took the win in the second semifinal in 57.76 beating Michelle Smith, who improved the national under 20 record to 57.83. Michaela Rose from the USA claimed the win in the third semifinal in 57.83. Italian hurdlers Ludovica Cavo and Alessia Seramondi reached the final as non-automatic qualifiers with 57.78 and 58.03.
Women's 400 metres semifinals:
Yemi Mary Maro from Great Britain set the qualifying time in the women's 400 metres semifinals with a PB of 51.72 beating Kenya's Demaris Mutunga (52.29). India's Rupal claimed the win in the second semifinal in 52.27 edging Jamaica's Dejanea Oakley (52.29). Henriette Jaeger from Norway advanced to the final as non automatic qualifier in a national under 20 record of 52.33. Berta Segura from Spain won the third semifinal in 52.51 ahead of Precious Molepo (53.28).
Men's 400 metres semifinals:
Delano Kennedy from Jamaica improved his PB to 45.49 to win the first 400m semifinal beating Steven McElroy (45.67). Lythe Pillay from South Africa cruised through to a comfortable win in the second semifinal in 45.61 ahead of Shaemer Uter from Jamaica (45.96). Busang Collen Kebinatshipi from Botswana claimed first place in the third semifinal in 45.91 beating Joshua Atkinson from Thailand, who improved the national record to 46.13.
-->