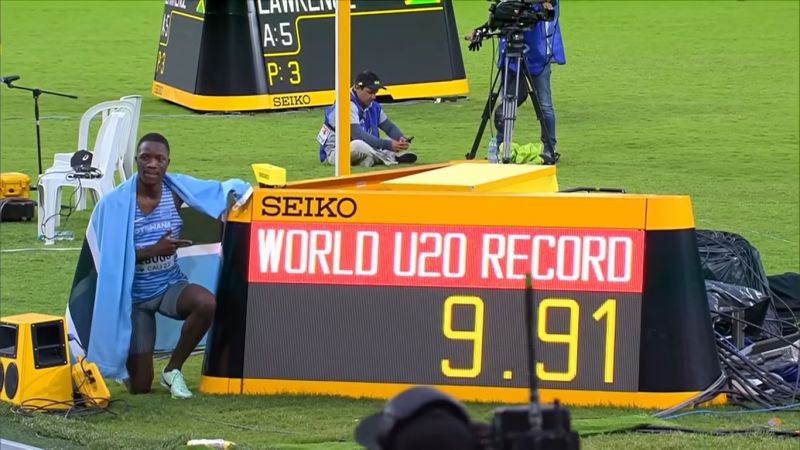 Letsile Tebogo from Botswana won the second world under 20 title of his career in the men's 100 metres breaking his world under 20 record by 0.03 with 9.91. Tebogo started celebrating by raising his right hand 30 metres before crossing the finish-line.
Tebogo had set his previous lifetime best of 9.94 in the heats of the World Championships in Eugene.
Bouwahigje Nkrumie clocked 10.11 in the semifinal equalling the Jamaican under 20 record held by Yohan Blake since 2007 and Christopher Taylor since 2018. Nkrumie improved his record again in the final to 10.02. Benjamin Richardson won the bronze medal with 10.12 holding off 16-year-old Puripol Boonson from Thailand by just one thousandth of a second. Boonson had previously improved the world under 18 record to 10.09 in the semifinal.
Letsile Tebogo: "The statement was to come out and enjoy the race. If someone took it by disrespect, I am really sorry. I saw the fans, and everybody watching at home can enjoy the race, to remind them a little bit about what Usain Bolt did back in the days. He is my idol. The person I look up to. I have never met Bolt. It would be a great pleasure for me to meet him. I had to be sure I made the best start of my life. I did not plan the celebration, but as soon as my first step I knew the title was mine. I did not worry about the time. I did not look. I did not run all out. We did not want to go that far. This is my final year as a junior. We have to leave the record here for the next generation to come and break it".
Men's long jump final:
Erwan Konaté from France leapt to a world under 20 mark of 8.08m in the fifth round to defend his title from last year in Nairobi. Konaté, who won his first world under 20 gold medal with 8.12m in Nairobi last year, missed his lifetime best by just four cm. Alejandro Parada from Cuba won the silver medal with 7.91m. Gabriel Luiz Boza from Brazil took bronze medal with 7.90m in the sixth round beating US Curtis Williams (7.86m). Reece Ademola broke his Irish Under 20 record with 7.83m to take fifth place ahead of US Johhny Brackins (7.81m). European under 18 Mattia Furlani from Italy opened with two fouls before jumping 7.76m in the third round to finish seventh in his first experience in a World Under 20 Championships against athletes two years older than him.
Women's javelin throw final:
Adriana Vilagos from Serbia successfully defended her world under 20 title with a championship record of 63.52m. Valentina Barrios from Colombia won the silver medal in front of her home fans with a national under 20 record of 57.84m. Manuela Rotundo from Uruguay took the bronze medal with 55.11m in the sixth round.
Adriana Vilagos: "To set a championship record and the personal best are equally meaningful. I really wanted to get close to my PB and I threw it two times, so I am very happy".
Women's shot put final:
Mine De Klerk from South Africa won her second consecutive women's shot put with 17.17m in the third round beating Turkey's Pinar Aykol (16.84m) and Poland's Zuzana Maslana, who improved her PB to 16.06m.
Mine De Klerk: "I did not have the best qualifying, so I was a little bit nervous, but once I threw the first shot all the nerves just rolled off my shoulders and I enjoyed it".
Men's shot put final:
US Tarik O'Hagan won the men's shot put improving his PB to 20.73m. Kobe Lawrence from Jamaica took silver medal with 20.58m beating Tizian Noah Lauria from Germany by three cm.
Lawrence took the lead with 20.36m before Lauria went to the front with 20.40m. O'Hagan produced the winning mark of 20.73m in the fourth attempt. Lawrence improved his best mark to 20.58m in the fifth round to take silver. Lauria increased his best mark to 20.55m to claim bronze medal.
Tarik O'Hagan: "It's one of the best feelings I have ever had. I have been waiting for this for the past four years, but the job is not done. I still have the hammer throw on Thursday, so we will see if I come out with two medals. That will be an even better feeling".
Decathlon (second day):
Gabriel Emmanuel from the Netherlands broke the Dutch Under 20 record to 7860 points to claim the gold medal in the men's decathlon. Emmanuel improved his previous lifetime best by 455 points.
Emmanuel improved his PB to 13.83 in the 110 metres to extend his overall lead with a total of 5273 points. Jacob Thelander from Sweden clocked 14.83 in the fourth heat to bring his total score to 5062 points. Nate Paris from Canada equalled his PB with 14.80 to hold on his third place with 5019 points.
Emmanuel kept his lead with a throw of 47.46m to bring his total score to 6091 points. Thelander threw the discus to 40.89m to remain in silver medal position with 5745 points. Slovenia's Jan Duhovnik threw the discus to 46.89m to move up from fifth to third with 5699 points.
Emmanuel held on to gold medal position with 6626 points after his clearance of 3.70m in the pole vault. Thelander cleared his lifetime best of 4.40m to maintain his second place with 6476 points. Elliot Duvert improved his PB to 4.90m to move up from sixth to third in the overall ranking with 6438 points. Abraham Vogelsang from Norway cleared 4.60m to move from seventh to fourth with 6346 points.
Emmanuel had a lead of 118 points over Thelander before the 1500 metres. Emmanuel crossed the finish-line in 4:57.72 in the final 1500 metres, less than five seconds slower than Thelander, who ran 4:52.92.
Thelander won the silver medal with 7770 points beating his compatriot Elliot Duvert, who improved his PB to 7622 points.
Men's 4x400 mixed relay:
The US 4x400 mixed relay team formed by Charlie Bartolomew, Madison Whyte, Will Sumner and Kennedy Wade won the gold medal in a championship record of 3:17.69 holding off India by just 0.07 in a close head-to-head battle. India set the Asian Under 20 record with 3:17.76. Jamaica won the bronze medal in 3:19.98.
Women's 800 metres semifinals:
Audrey Werro from Switzerland led from the front to win the first semifinal in 2:01.25 ahead of Veronika Sadek from Slovenia. Abigail Ives held off US Juliette Whittaker by two thousandths of a second to take the win in the second semifinal in 2:01.92. Nelly Chepchirchir from Kenya took third place in 2:02.03 to advance to the final. US Roisin Willis took the win in the third semifinal in 2:02.49.
Men's 110 metres hurdles:
Dutchman Matthew Sophia hit some barriers, but he came through to win the first semifinal in 13.43 ahead of Demario Prince, who improved his PB to 13.58. Antoine Andrews from the Bahamas won his semifinal setting the fastest time overall with 13.39.
Women's 100 metres heats:
Two national under 20 records were set in the women's 100 metres heats by Tima Seikeseye Godbless from Nigeria with 11.09 and N'Ketia Seedo from the Netherlands with 11.16. Godbless won the bronze medal with the Nigerian 4x100 team at the 2021 World Under 20 Championships in Nairobi 2021. Seedo took the European Under 20 silver medal in 2019.
Tima Godbless: "I was scared then I walked on to the field and told myself: 'What are you here for ?' I relaxed and it paid off, as you can see".
US sprinter Shawnti Jackson, the daughter of 2005 world 400 metres hurdles champion Bershawn Jackson, equalled her PB with 11.28 into a headwind of -0.9 m/s. European Under 18 champion Nia Wedderburn Goodison set her PB of 11.36.
Defending champion Tina Clayton, who broke the Jamaican Under 20 record with 10.96 at the National Championships in Kingston, won the first heat clocking 11.38. South African 17-year-old Viwe Jingqi from South Africa claimed the win in the third heat in 11.38.
Men's 400 metres heats:
Lythe Pillay from South Africa set the fastest time of 46.02 in the men's 400 metres heats. Arab Under 20 Championships winner Yusuf Ali Abbas clocked 46.21.
Lythe Pillay: "It was a good race coming off covid and injury this year. I got covid and was hospitalised for quite a while. I took two or three weeks off training completely, so I started doing long jogs, but I was out of breath".
Jamaican 18-year-old Delano Kennedy also advanced to the semifinal with a PB of 46.24m. US under 20 champion Steven McElroy clocked the third fastest time with 46.38.
Men's pole vault qualifying round:
European under 20 champion Anthony Ammirati, who moved to seventh on the world under 20 all-time list with a PB of 5.72m, and European Under 20 silver medallist Juho Alassari from Finland cleared 5.20m in the first attempt to advance to the men's vault final.
Men's high jump qualifying round:
Brian Raats from South Africa led the men's qualifying round in the men's high jump with a 2.08m clearance in the first attempt in the men's high jump.
Edoardo Stronati from Italy, Martin Lefevre, Igor Kosolapov from Kazakhstan, Brandon Pottinger from Jamaica, PoTi-Yeh from Chinese Taipei and Bozhidar Saraboyukov also cleared 2.08m to advance to the final. Eurpean under 18 champion Mattia Furlani cleared 2.00m and 2.04m in his first attempt before failing three attempts to clear 2.08m, but it was enough to advance to the final.
Women's 400 metres hurdles heats:
Ludovica Cavo from Italy improved her PB by 0.17 to 57.77 to set the fastest time in the women's 400 metres hurdles. At last month's Italian Championships In Rieti Cavo finished second to Alessia Seramondi, who set the fastest under 20 time in the world this year with 57.29. Seramondi finished second in her heat of 59.03 to advance to the semifinal.
Sixteen-year-old Michelle Smith from Virgin Island clocked the second fastest with 58.35 ahead of US Under 20 champion Akala Garrett (58.40).
Klara Koscak from Croatia, who finished fifth in the heptathlon in Nairobi last year, broke a national under 20 record of 58.84.
Men's hammer throw qualifying round:
Seventeen-year-old Max Lampinen from Finland led the hammer throw qualifying round with 75.32m. Ioannis Korakidis threw beyond the 75 metres barrier with 75.07m. European Under 18 champion Iosif Kesidis from Cyprus improved his PB to 74.99m
-->