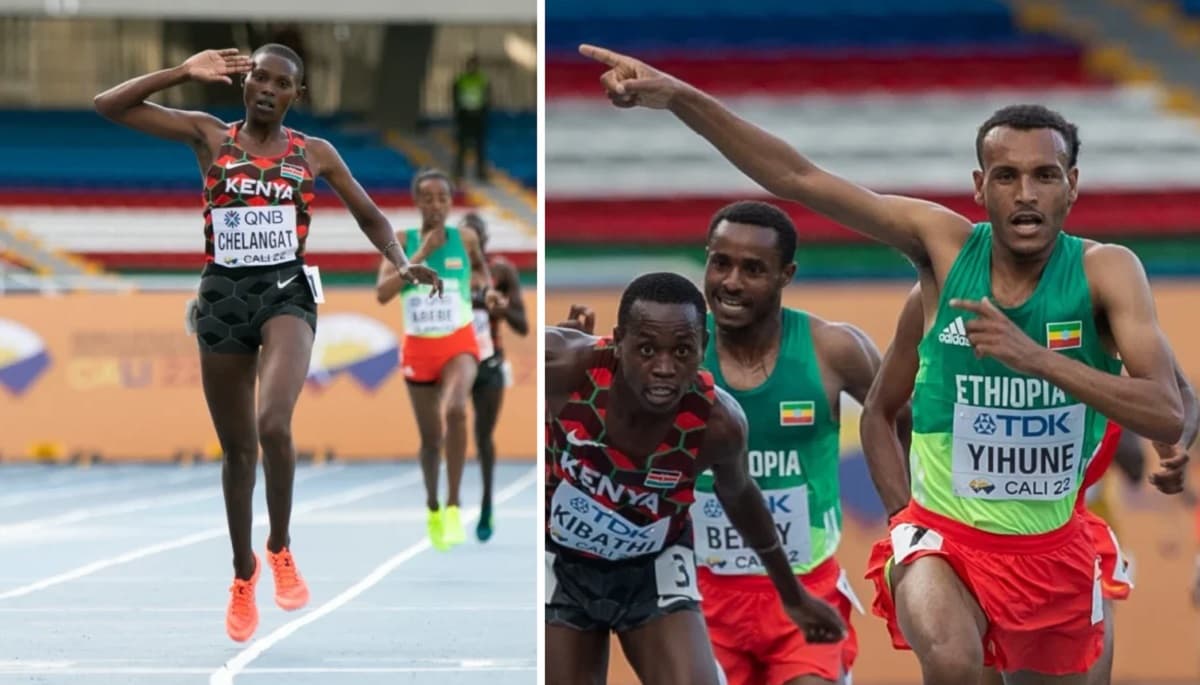 Betty Chelangat from Kenya won the gold medal in the women's 3000 metres in 9:01.03 in the first final of the World Under 20 Championships in Cali beating Tsyion Abebe from Ethiopia (9:03.65) and Nancy Cherop from Kenya (9:05.98).
Chelangat launched her kick on the back straight pulling away from Abebe and Cherop.
Chelangat trains in Iten under the guidance of her coach John Litei.
Betty Chelangat: "I train hard. That's why I won. I waited until three laps to go. I saw that I had enough left. I thank God and also my coach. In the future I want to represent my country and run in the Olympic Games".
Men's 5000 metres:
Addisu Yihune from Ethiopia won the 5000m world under 20 gold medal with 14:03.05 holding off Eritrea's Merhawi Mebrathu (14:03.33) and Habrom Samuel (14:03.67) in a close sprint finish.
The race started slowly and the leading group went through at 3000 metres in 8:45.57. The pace started to heat up with 2 km to go, when Yihune moved to the front. The fourth km split was covered in a fast 2:45.57. Nine athletes were in the leading group with one lap to go. Yihune pulled away from his rivals with 200 metres to go.
Yihune finished fourth in the 5000 metres at last year's edition of the World Under 20 Championships in Nairobi. This year he won the Campaccio World Athletics Cross Country Tour in San Giorgio su Legnano last January and clocked a 5000m PB of 13:02.10 at the Castiglione meeting in Grosseto. He finished fifth in the Paris Diamond League meeting in 13:14.40 last June.
Yihune is coached by Tewodros Hailu, the husband of Meseret Defar.
Addisu Yihune: "I spent all that time preparing for this. I was 100% sure I would win. My coach is incredibly happy with this win. The time doesn't matter. I was here to win.".
Mebrahtu won the silver medal one year after finishing fourth in the 3000m and fifth in the 5000m at the World Under 20 Championships in Nairobi. Samuel won his second world under 20 medal following the one he won last year in the 3000m in Nairobi. Mebrahtu and Samuel train together in Asmara under the guidance of Mechale Aberham.
Men's 100 metres heats:
Reigning world under 20 champion Letsile Tebogo set a championship record in the 100 metres heats with 10.00 into a headwind of -0.6 m/s on the inaugural day of the World Under 20 Championships in Cali.
Tebogo won the world under 20 gold medal in the 100m and the silver medal in the 200m in Nairobi last year. The 19-year-old African sprinter set the world under 20 record of 9.94 in the heats of the World Championships in Eugene last July.
A series of national under 20 records highlighted the 100 metres heats. Eighteen year-old Muhum Azeem Fahmi from Malaysia improved his PB from 10.28 to 10.09 to qualify with the second fastest time.
Muhum Azeem Fahmi: "This was my first time competing at world level. I am excited and I am a bit nervous. I am grateful I managed to do my best. My plan was just to qualify through the rounds for the final, but I did not expect to get the national record. From Malaysia it actually takes three days to get here, but I am just so happy. I arrived and I was able to compete so well".
Sixteen-year-old Puripook Boonson from Thailand won his heat in 10.20. Earlier this year Boonson set the third fastest under 18 time in history in the 200 metres with 20.19 last June. Only Erriyon Knighton and Usain Bolt ran faster than Boonson in history in the world under 18 category.
Japanese 18-year-old sprinter Hiroki Yamagita clocked 10.24. Last year's world 4x100 under 20 silver medallist Sandray Davison from Jamaica took the win in his heat in 10.25. Italian under 18 champion Alberto Faggin smashed his PB by 0.19 to 10.25. Benjamin Richardson from South Africa, who won the world under 20 silver medal in the 100m and the gold medal in the 4x100 relay in Nairobi last year, won his heat in 10.33. Tomas Mondino set the Argentinian under 20 record with 10.34.
Men's decathlon (first day):
Gabriel Emmanuel from the Netherlands is the overnight leader with 4276 points after the first five events of the decathlon competition. The Dutchman set three PBs in the 100m (10.68), 400m (49.46) and in the long jump (7.30m) and is on course to break his PB of 7405 points. He also threw 15.09m in the shot put and cleared 2.02m in the shot put.
Jacob Thelander from Sweden started with 10.90 in the 100 metres and a PB of 7.53m in the long jump. The Swedish athlete threw 12.53m in the shot put before clearing 2.08m in the high jump and closed the first day with 49.24 in the 400 metres. Thelander is ranked second with with 4192 points ahead of Nate Paris from Canada (4145 points).
Men's 110 metres hurdles:
Dutchman Matthew Sophia clocked an impressive 13.10 to win his heat in the 110 metres hurdles. Antoine Andrews from the Bahamas set a Bahamian under 20 record of 13.36 to win his heat.
Matthew Sofia: "I visualized the race and tried to run as good as possible. There could have been a few more improvements but, all in all, it was a good race".
Men's 1500 metres heats:
Reynold Kipkorir Cheruiyot from Kenya won his heat in the men's 1500 metres by over four seconds in 3:40.96 beating Luxembourg's Vivian Henz (3:45.04). Earlier this year Cheruiyot improved his PB to 3:34.02 at the Continental Tour meeting n Heusden Zolder and finished fourth in the Kenyan Trials for the World Championships.
Kenyan's 17-year-old David Kimaiyo, who clocked 3:36.09 earlier this year at the Kenyan Trials, won his heat in 3:42.69. Eighteen year-old Adhane Kasaye from Ethiopia, who won the bronze medal at the African Championships, clocked 3:43.06 to qualify for the final. Seventeen-year-old Ermias Girma from Ethiopia, who clocked 1:44.36 in the 800 metres, also got through to the final with 3:45.40.
Men's long jump qualifying round:
Cuban 18-year-old Alejandro Parada led the qualifying round with a PB of 7.95m. European under 18 champion Mattia Furlani from Italy set the third best performance of his career with 7.85m in the first attempt to easily advance to the final. Reigning world under 20 champion Erwan Konaté from France also needed one jump of 7.80m to qualify for the final.
Reece Ademola from Ireland set a national under 20 record of 7.76m. World seasonal leader Johnny Brackins reached the final with 7.69m.
Women's javelin throw qualifying round:
Serbia's Adriana Vilagos led the qualifying round in the women's javelin throw with 58.87m. Vilagos won the world under 20 gold medal in Nairobi last year at the age of 17. She set the national under 20 record of 62.76m and has won eight of his ten competitions this year.
Adrian Vilagos: "I was tired today. It is a seven-hour difference between here and my country. I am happy that I could throw well on my first throw, but technically I did not do well. I was not focused enough and I hope that tomorrow in the final,I will do better. If I get over the 60 metres barrier, I will be happy".
Women's shot put qualifying round:
Malika Nasreddinova from Uzbekistan led the qualifying round in the women's shot put with a PB of 16.13m.
Reigning world under 20 champion Mine De Klerk from South Africa started her title defence with the second best throw of 16.11m.
De Klerk set the African under 20 record with 17.55m in Potchefstroom in 2021 and set the world under 20 lead this season with 17.19m at the Hayward Premiere meeting in Eugene. Treneese Hamilton from Dominica set a national record of 15.89m.
Women's discus throw qualifying round:
Pre-event favourite Emma Sralla from Sweden was the only athlete to reach the automatic qualifying mark of 52.50m with a throw of 54.51m. Despoine Areti Filippidou from Greece set the second best mark with 52.48m. Mine De Klerk from South Africa, who reached the shot put final earlier in the day, also advanced with 50.12m.
Men's shot put qualifying round:
Three shot putters threw over the automatic qualifying mark: World seasonal leader Tizian Noah Lauria from Germany (20.15m), Kobe Lawrence from Jamaica (19.85m) and Tarik O'Hagan from the USA (19.65m PB).
Women's 3000 metres steeplechase:
World under 18 record holder Sembo Almayehu won the first heat of the women's 3000m steeplechase by 17 seconds with 9:52.65. Faith Cherotich took the second heat with 9:38.18 ahead of Mseret Yeshaneh (9.41.99).
Women's 800 metres heats:
Eighteen-year-old US under 20 champion Juliette Whittacker set the fastest qualifying time in the women's 800 heats with 2:04.92.
Mixed 4x400 relay:
Botswana won the first heat in 3:29.28. The US quartet formed by Charlie Bartolomew, Madyson Whyte, Will Summer and Kaylin Brown won the second heat setting a championship record of 3:18.65. India claimed the win in the final heat in 3:19.82 setting an Asian under 20 record.
Women's pole vault qualifying round:
US twin sisters Hana and Amanda Moll cleared 4.05m to advance to the final.
-->