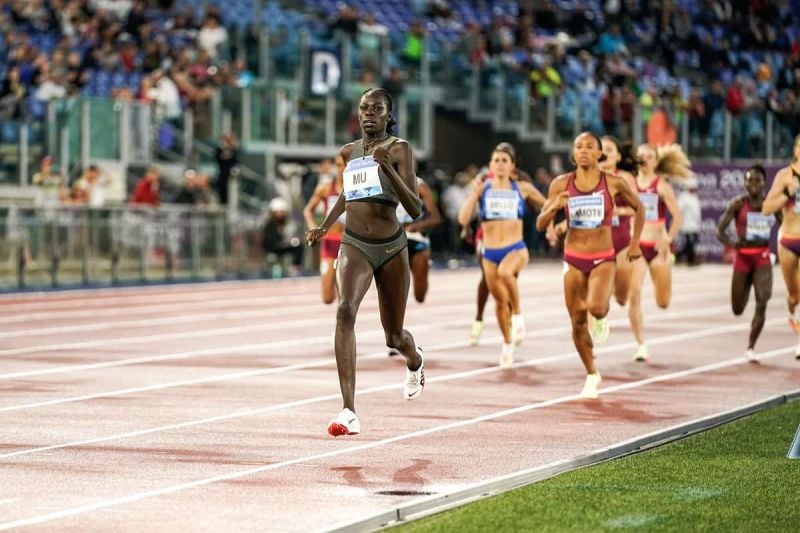 Shericka Jackson won the women's 200 meters showdown in a world-leading time and a meeting record of 21.91. Jackson's performance was one of five meeting records set in a fabulous athletics night at the 42nd edition of the Golden Gala Pietro Mennea in the Olympic Stadium in Rome, the fifth leg of the Wanda Diamond League.
The other highlights were Krjstian Ceh's 70.72 in the men's discus throw, Jasmine Camacho Quinn's 12.34 in the women's 100m hurdles, Nicholas Kimeli's 12:46.33 in the men's 5000 metres, Athing Mu's 1:57.01 in the women's 800 meters, Sandi Morris' 4.81m in the women's pole vault.
Women's 200 meters:
Three-time Olympic medallist Shericka Jackson from Jamaica won the eagerly-awaited women's 200 metres setting the world's seasonal best and a meeting record with 21.91 beating Olympic champion Elaine Thompson Herah (22.25) and world champion Dina Asher Smith (22.27). The versatile Jamaican sprinter set the third fastest time of her career behind her 21.81 in the Diamond League final in Zurich and her 21.82 at the Jamaican Trials last year. The 27-year-old Jamaican sprinter became the first sprinter to break the 22 seconds in the history of the Golden Gala.
Shericka Jackson: "I am actually very good today. I just wanted to come out and run a strong race. I think I did pretty good. When it comes to the Jamaican Trials or major championships, I try not to have a different mindset than when I am at a Diamond League or a development meeting. Anything can happen on the day, so I just focus on coming out and perform at my best. After the trials and if everything goes well, my aim is to add a gold medal to my name. I have many individual medals at 400m and 100m, but I need to get that gold medal in any event that might be".
Elaine Thompson Herah: "This race was a good one. I ran a season's best. I cannot complain. I still have to work on some stuff. I concentrate on the Jamaican Championships. I am looking forward to the World Championships".
Men's 5000 metres:
Kenya's Nicholas Kimeli chased down his compatriot Jacob Krop to break the meeting record with a lifetime best and a world-leading time of 12:46.33 in a race where the top eight runners dipped under 13 minutes. The Golden Gala meeting record had been held by Eliud Kipchoge since 2004 at 12:46.53.
Kimeli moved to seventh in the all-time list. Krop also dipped under 12.47 clocking 12:46.79 setting the ninth-fastest time in history. Yomif Kejelcha finished third with 12:52.10 ahead of 10000m olympic champion Selemon Barega (12:54.87) and Mo Ahmed from Canada (12:55.84), Telahun Bekele (12:57.18), Muktar Edris (12:58.63) and Thierry Ndikumenayo (12:59.39).
Nicholas Kimeli: "I am feeling great because I had never won a Diamond League race before and I really focus on our Trials and coming home with a medal from the World Championships. This race has shown me that I am in good shape, and it has given me a lot of confidence".
Women's 100 metres hurdles:
Olympic champion Jasmine Camacho Quinn from Puerto Rico improved her own meeting record by 0.01 to win the women's 100 metres hurdles in 12.37, 0.01 faster than the time she clocked in Florence last year. Camacho Quinn has extended her winning streak to four consecutive competitions after taking victories in Eugene, Ostrava and Chorzow.
The Puerto Rican hurdler also improved her one-world seasonal best by 0.02. Jamaica's Britany Anderson clocked her seasonal best of 12.50 to take second place ahead of 2019 world champion Nia Ali (12.71).
Jasmine Camacho Quinn: "I know what is coming out here and every time I just need to remind myself that I have competed in the big world stage like the Olympics. This year I feel more responsibility. Every time I step out I am going to measure me against being the Olympic champion. I feel that it a lot of pressure. After the World Championships, I will be able to relax a bit, but I have other meetings".
Men's 100 metres:
Olympic silver champion Fred Kerley stormed to his first Diamond League win in the men's 100 this season equalling his seasonal best 9.92. Kerley took the second win of his career in Rome four years after claiming victory in the 400m. His compatriot Kyree King finished a distant second in 10.14.
Fred Kerley: "This was a good race. I ran a season's best. I cannot complain. I did not have to push a lot against my competitors. I did not give my 100%. I enjoyed the race an the crowd."
Men's 200 metres:
Olympic silver medallist Kenneth Bednarek scored back-to-back 200m wins in 20.01 beating Luxolo Adams (20.33) repeating the same finish order as Rabat. Filippo Tortu finished third in 20.40 beating his fellow 4x100 teammate Eseosa Desalu (20.50).
Men's discus throw:
European under 23 champion Kristjan Ceh improved the 12-year-old meeting record three times to win with 70.72m in the final round. Ceh produced two more throws over the 69 metres (69.06m and 69.71m) which were over the previous Golden Gala record of 68.76m held by Piotr Malachowski since 2010. Ceh took his third Diamond League win of the season after taking his previous victories in Birmingham with a Diamond League record of 71.27m and Rabat with 69.68m.
Olympic bronze medallist Lukas Weisshaidinger took second place with 68.30m in the fifth round beating world and Olympic champion Daniel Stahl (65.87m).
Krjstian Ceh: "Every competition it's getting better and better, so it is a good result here today. Having competed against the three medallists from the Olympic Games does not make me more nervous as usual, because I am alway nervous before every competition. My first throw showed that, but I tried to focus on my technique and avoid added pressure."
Women's 800 metres:
Olympic champion Athing Mu set the world seasonal best clocking 1:57.01 in her first overseas Diamond League race. Renelle Lamote finished second in 1:58.48. Elena Bellò from Italy broke the 1:59 barrier for the first time in her career to finish third with 1:58.97 beating Rabat 800m winner Mary Moraa (1.59.26) and Freweyny Hailu from Ethiopia (1:59.39). Bellò moved up third in the all-time Italian list behind Gabriella Dorio and Elisa Cusma. Eight athletes broke the 2 minutes barrier.
Athing Mu: "I am super excited about this result. I just wanted to come out here and see where I was at. I know what my level was a couple of weeks ago, so I took this race as a rest one. I knew that the pace was going to go out. It is actually very loud in the stadium. This summer it is going to be amazing with the World Championships
Women's 400 metres hurdles:
Olympic bronze medallist Femke Bol clocked the fifth-fastest time of her career to score her third consecutive win in the women's 400 metres hurdles with 53.02. Bol clocked 53.94 in wet conditions in her first 400m hurdles race of the season at the FBK Games in Hengelo.
Janieve Russell from Jamaica, who won in Rome twice in 2016 and 2017, took the runner-up spot in 54.18 ahead of Olympic finalist Anna Rhyzhikova (54.56).
Femke Bol: "I am very happy. The race went quickly for me. It is my second 400m hurdles of the year. All this is preparation for the World and European Championships. I am more relaxed. I am satisfied with how I executed the race. I am not having too many competitions before the World Championships. I am missing a World or a European Championships medal. "
Men's 3000 metres steeplechase:
Olympic and world silver medallist Lemecha Girma broke the 8 minutes barrier for the third time in the past 10 days to take the win in the men's 3000 metres steeplechase with 7:59.23. Before the Golden Spike meeting in Ostrava Girma had never broken the 8-minute barrier. Girma won by more than seven seconds ahead of Commonwealth silver medallist Abraham Kibiwott (8:06.73).
Getnet Wale finished third in 8:06.74. Reigning world champion Conseslus Kipruto clocked his seasonal best with 8:08.76. Ahmed Abdelwahed from Italian set the third fastest national time with 8:10.29 to finish sixth ahead of his compatriot Osama Zoghlami, who set his PB with 8:11.00. Only two middle Italian distance legends Francesco Panetta and Alessandro Lambruschini ran faster than Abdelwahed at the Italian level over distance.
Women's pole vault:
World indoor champion Sandi Morris cleared 4.81m in her second attempt to set the world-leading mark. Morris showed once again her consistency by winning her third consecutive Diamond League competition this season after Birmingham (4.73m) and Rabat (4.65m).
Morris had a clean sheet up to 4.60m before needing two attempts at 4.70m, 4.75m and 4.81m. The US star made three unsuccessful attempts at 4.90m.
Olympic bronze medallist Holly Bradshaw from Great Britain and Italian record holder Roberta Bruni shared second place with 4.60. It was a memorable day for Bruni, who reached her first top-three spot position in the Diamond League circuit after getting her degree at the University. Olympic champion Katie Nageotte finished fourth with 4.60m beating Tina Sutei on countback.
Sandi Morris: "I am ecstatic today. This is the highest I have jumped since last season.I am working with a new coach. It is a very different situation".
Roberta Bruni: "This morning I did my graduation exams in agricultural science. It has been a very powerful day. I am happy because in the past I have never reached a good mark at the Golden Gala. I am happy with 4.60m even though in my final attempts I suffered from cramps".
Men's 400 metres:
Grenada's three-time Olympic medallist Kirani James dug deep in the final straight to claim the win in the men's 400 metres in the men's 400m in 44.54 ahead of Vernon Norwood (44.81) and last year's Diamond League winner Michael Cherry (45.24). James competed for the first time in Italy since the 2009 World Under 18 Championships in Bressanone, where he won the 200 and 400 metres.
Kirani James: "I thought It was a good race. It was very competitive. I am happy with the outcome. The field was very strong. My event is always very competitive. I am to compete against these guys".
Men's shot put:
Olympic silver medallist Joe Kovacs took the lead in the third round with 21.85m in the third round and maintained his lead until the competition. Kovacs produced a consistent series with four more throws over the 21 metres (21.09m, 21.69m, 21.56m, 21.27m). Kovacs missed Konrad Bukowiecki's meeting record by just 12 cm. Filip Mihaljevic from Croatia took second place with 21.18m beating Bukowiecki on countback.
Women's 1500 metres:
Ethiopia's Hirut Meshesha scored her second consecutive Diamond League win clocking 4:03.79 beating her compatriot Axumawit Embaye (4:04.53) and Olympic silver medallist Laura Muir (4:04.53) in a tactical 1500 metres race. Meshesha improved her PB to 3:57.30 in Rabat last Sunday.
Women's long jump:
Ukraine's world silver medallist Maryna Beck Romanchuk leapt to 6.85m in the fifth round to beat Malaika Mihambo by six cm. The German athlete jumped 6.79m in the first round. Quanesha Burks took third place with 6.77m.
Maryna Beck Romanchuk: "Today was difficult. I had some problems with my left leg. I struggled with the run-up. I had felt a discomfort after the competition in Birmingham and did not train hard. I got into the competition better and better with the attempts".
Men's high jump:
Mr. Jumps Ju'Vaughn Harrison took the win in the men's 100 metres with 2.27m to beat Poland's Norbert Kobielski on countback. Olympic Gianmarco Tamberi cleared 2.24m in his second attempt to take third place before failing three attempts at 2.27m. The Italian star is still searching his first win at the Golden Gala.
Ju'Vaughn Harrison: "I just came here to do my best. I was rusty at the beginning but I was able to clear 2.27 in the first attempt. I was able to stay clean. The crowd was great. I really hope to come back here. It was good to see them cheer for their national hero Tamberi".
Gianmarco Tamberi: "I felt this was a bad day from the beginning of the competition. It was a no-competition day. It felt more like training. I did not feel the right adrenaline and I am very disappointed for that. I am very sorry for the magic crowd of the Olympic Stadium and for these fantastic fans. They supported me at every jump, even during the warm-up. My jump was followed by a roar as if I had done the world record".
Men's 3000 metres walking race:
Italian 20 km specialist Francesco Fortunato won the men's 3000 metres walking race at 10:57.77. Olympic 20 km champion Massimo Stano finished third in 11:0615 behind Gianluca Pichiottino (10:59.91). This race was held to celebrate Stano's Olympic 20 km gold medal in Sapporo last August.
-->