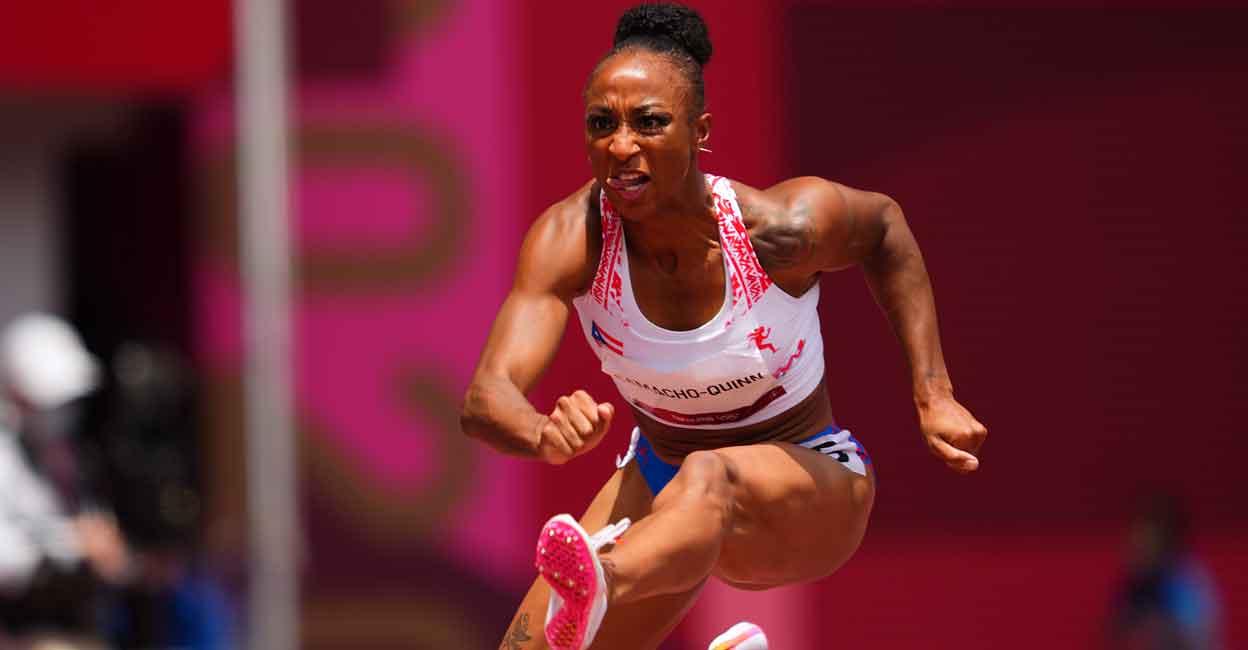 Reigning Olympic champions Jasmine Camacho Quinn from Puerto Rico and Gianmarco Tamberi from Italy will be in the spotlight at the Golden Spike in the Metsky Stadium in Ostrava, a World Athletics Continental Tour Gold meeting.
Women's 100 metres hurdles:
Camacho Quinn improved her PB to 12.26 in the Olympic semifinal in Tokyo moving to joint fourth place in the world all-time list before winning the gold medal in 12.37. The Puerto Rican hurdler leads the world seasonal list with her 12.39 time set in Gainesville last April and finished second in 12.52 in Ponce. Camacho Quinn arrives in Ostrava directly from Eugene, where she won at the Prefontaine Classic in 12.45. She will take on 2019 world outdoor champion Nia Ali, who will run her first race outside the USA since her world title in Doha 2019, Cyrena Samba Mayela from France and Devynne Charlton from the Bahamas, who won the gold and silver medals at the World Indoor Championships in Belgrade last March, Olympic bronze medallist Megan Tapper from Jamaica, Pia Skryszowkska from Poland, who clocked 12.68 in Poznan last Friday, European indoor finalist Luca Kozak from Hungary, Italian record holder Luminosa Bogliolo, who clocked 12.99 in Savona, and Jelena Jiranova from the Czech Republic.
Jasmine Camacho Quinn: "The Golden Spike Trophy definitely looks very special, something you always want to add for your own. I think it's very nice and cute. Is it possible to win it tomorrow? Of course, because we prepare, so it can also be taken to the play". It's been an okay season. The Prefontaine Classic gave me more confidence for the next couple of meets coming up".
Men's javelin throw:
World champion Anderson Peters from Grenada will return to Ostrava, where he finished second in last year's edition. Peters moved up to fifth in the all-time list with his national record of 93.07m set in the Doha Diamond League meeting. The Grenadan thrower will go head-to-head against Olympic silver medallist Jakub Vadlejch, who finished second in Doha with 90.88m, Olympic bronze medallist Vitezslav Vesely and 2012 Olympic champion Keshorn Walcott. The meeting record has been held by current Ostrava Golden Spike meeting director Jan Zelezny since 1996 with 94.64m.
Andrerson Peters: "This is the country where the javelin throw is very famous and usually very strong. You have guys who manage to throw over 90m at any time. Being in such a competitive field of javelin throwers is really good for me. All athletics are in good shape and I know that Jakub Vadlejch plans to put on a good show as well. It looks like we have at least four throwers who can get over 90 metres again. The Doha Diamond League was a pretty unique event. Everything was perfect, including wind conditions. When I saw that Jakub put an extra effort and went over 90 metres, I thought I also should try to pass the mark he did. He was the person who motivated me to overcome the 90 metres for the first time in my career".
Women's javelin throw:
World record holder and two-time Olympic champion Barbora Spotakova will compete in front of her home fans in a high-quality women's javelin throw that features Olympic silver medallist Maria Andrejczyk from Poland, who set her PB of 71.40m last year, 2016 Olympic champion Sara Kolak from Croatia and European silver medallist Nikola Obrodnikova from Czech Republic. Spotakova holds the meeting record with 67.78m.
Barbora Spotakova: "There will be very strong domestic and foreign competitors. I do not want to be left behind. I am looking forward to receiving great support from the audience".
Women's 300 metres hurdles:
Femke Bol will open her outdoor season in the rarely contested 300 metres hurdles. Bol won the Olympic bronze medal in the 400m hurdles setting the European record with 52.03. The Dutch athlete has already won the 300m hurdles in Ostrava in 2020 in 38.55 becoming the second-fastest hurdler in history over this distance behind two-time world 400m hurdles champion Zuzana Hejnova, who set the world best with 38.16 in Chab in 2013. Bol will face Olympic 400m hurdles finalists Anna Ryzhikova and Viktoriya Tkachuk, two-time World University gold medallists Ayomid Folorunso from italy, who clocked 55.29 in the 400m hurdles in Savona, Jessie Knight, who improved her PB to 54.09 in Oordegem last weekend.
Women's 200 metres:
Seven-time Olympic gold medallist and 12-time world champion Allyson Felix will return for the first time to Ostrava since 2014, when she won in 22.70 in her first appearance at the Golden Spike meeting. Felix won the gold medal in the 4x400 relay and the bronze medal in the 400 metres at the Olympic Games in Tokyo. The 36-year-old US sprint legend, who clocked 22.40 in her only race over this distance, has already announced that this year would be her last season.
Felix will face Niger's Aminatou Seyni, who clocked 22.43 in the Continental Tour meeting in Nairobi, and Gina Bass, who finished sixth in the 200m final at the World Championships in Doha 2019, and Vittoria Fontana from Italy, 2019 European under 20 champions in the 100m and national record holder with the 4x100 relay.
Allyson Felix: "This is my final year, but it has been so much fun for me and it changed my life. So just a couple of last races, I am soaking it up and enjoying my experience. In Ostrava, I am expecting to get a bit sharper and get another race on my belt. I will compete at the US Trials. The world championships is not my ultimate goal. I am looking towards some relays and like that".
Men's shot put:
The line-up features the winners of the past five world outdoor titles: Joe Kovacs, Tom Walsh, and David Storl. Kovacs won his second world title in Doha with 22.91m beating Ryan Crouser and Walsh by just one cm and finished second at the Olympic Games in Tokyo.
Kovacs finished second to Crouser with 22.49m at last weekend's Prefontaine Classic in Eugene. The meeting record held by Crouser with 22.43m since 2020 could be under threat. Walsh won the world outdoor title in London in 2017 and finished third at the World Indoor Championships in Belgrade with 22.31m. He took third place in Eugene with 21.96m in the Prefontaine Classic last Saturday. David Storl won two world titles in Deagu 2011 and Moscow 2013 and the Olympic silver medal in London 2012.
Joe Kovacs: "I am excited to return to the Ostrava Golden Spike where I know they love the big throws. This is a key competition in my build-up to the World Championships. I know Ostrava will bring a great competition and atmosphere".
The high-quality line-up will feature Italian shot putters Zane Weir, who finished fifth in the Olympic Games in Tokyo and improved his outdoor PB to 21.99m at the European Throwing Cup in Leiria, and Nick Ponzio, seventh at the World Indoor Championships in Belgrade one spot behind Weir, and Leonardo Fabbri, who joins his training partner Weir in second place in the Italian all-time list with 21.99m, Michal Haratyk, who won the European outdoor title in Berlin 2018 and the European Indoor gold in Glasgow 2019, Konrad Bukowiecki, two-time European Under 23 champion in 2017 and 2019, Filip Mhaljevic. European Indoor bronze medallist in Torun 2021 and fourth at the World Indoor Championships in Belgrade 2022.
Men's high jump:
Olympic champion Gianmarco Tamberi will be looking to bounce back from a difficult competition in Trieste, where he finished sixth with 2.15m on a day affected by a strong wind. This year Tamberi won the world indoor bronze medal in Belgrade with 2.31m, finished seventh in Doha with 2.20m and second in Birmingham with 2.25m. Tamberi will take on 2017 world bronze medallist Majd Eddin Ghazal from Syria, Czech champion Marek Banik and European Under 23 champion Jan Stefela.
Men's long jump:
Thobias Montler from Sweden won the world indoor silver medal in Belgrade with 8.38m and is looking to continue his good period of form against 2017 world bronze medallist Rushwal Samaai from South Africa and Uruguay's Emiliano Lasa, who leaped to 8.28m in Sao Paulo last May.
Women's pole vault:
This year's world indoor bronze medallist Tina Sutej will compete for the second time this outdoor season after finishing second in the Birmingham Diamond League meeting. Sutej set the national indoor record clearing 4.80m in Rouen last March. She will face last year's European Under 23 champion Amalie Svabikova from the Czech Republic.
Women's 400 metres:
Jamaica's Candice McLeod, who finished fifth in the Olympic final in the 400 metres and won the 4x400 relay Olympic bronze medal in Tokyo, will go head-to-head against 400m European champion and Olympic 4x400 Justyna Ersetic from Poland, her 4x400 Olympic medallist teammates Anna Kielbasinska and Natalia Kaczmarek, Fiordaliza Cofil from the Dominican Republic, who won at the Meeting Iberoamericano in Huelva in 50.38, last year's 4x400 relay European indoor champion Lieke Klaver from the Netherlands and Lada Vondrova from the Czech Republic.
Men's 100 metres:
Former world 100m champion Yohan Blake from Jamaica will face his second cousin Jerome Blake, who won the 4x100 Olympic silver medal and improved his PB to 10.00 in Clermont, Akani Simbine, who set the previous African record with 9.84 in Szekesfehervar last July, Zharnel Hughes and Reece Prescod from Great Britain, who won the gold and silver medals at the European Championships in Berlin 2018.
Men's 200 metres:
Jerome Blake and Zharnell Hughes will double up in the 200 metres, where they will face Elijah Hall (World Indoor Tour winner in the 60m in 2021), 4x100 Olympic silver medallist Brendon Rodney from Canada, and Yupun Abeykoon from Sri Lanka, who won the 100m in Dessau in 10.06 beating African record holder Ferdinand Omanyala and finished first in the 200m in 20.37 in Grosseto.
Men's 400 metres:
Olympic 4x400 silver medallist Liemarvin Bonevacia starts with the fastest time among the entrants with his national record of 44.48 set in Berne last August. The Dutchman will face Lobo Vedel from Denmark, who finished fourth at the World Indoor Championships in Belgrade, Edoardo Scotti, Olympic 4x400 relay finalist with the Italian record of 2:58.81, Rixky Petrucciani, who won the European Under 23 gold medal in 45.03, and Alexander Ogando from the Dominican Republic, who won the Olympic silver medal in the mixed 4x400 relay and won the 200m in 20.27 at the Ibero American Championships in La Nucia.
Men's 800 metres:
Olympic bronze medallist and European indoor champion Patryk Dobek from Poland will go head-to-head 2012 Olympic silver medallist Nijel Amos, two-time Olympic medallist Amel Tuka from Bosnia, world under 20 champion Emmanuel Wanyonyi, who won the 800m at the Continental Tour Gold in Nairobi setting the fourth-fastest time in the world with 1:45.01 and claimed the world under 20 gold medal on home soil in Nairobi with his lifetime best of 1:43.76, and Max Burgin from Great Britain, who broke the European Under 20 record clocking 1:44.14 in last year's edition of the Ostrava Golden Spike, but has been sidelined by an injury problem.
Women's 1500 metres:
Ethiopia's Diribe Welteji, who won the world under 20 gold medal in the 1500m in 4:01.50, will face European silver medallist Sofia Ennaoui from Poland, European indoor bronze medallist Melissa Courtney Bryant from Great Britain, and Italy's Federica Del Buono, who recently clocked 4:05.58 in Grosseto.
Men's 3000 metres steeplechase:
Olympic and world silver medallist Lemecha Girma from Ethiopia starts as the favorite in the men's 3000m steeplechase. Girma won the world indoor silver medal in the 3000m and finished second in the first leg of the Diamond League in the 3000m steeplechase in Doha. Girma will face Barnabas Kipyego from Kenya, a world under 20 champion in Nairobi, Olympic finalists Ahmed Abdelwahed and Ala Zoghlami from Italy.
Men's 4x100 relay:
The Czech Republic will face Great Britain, Ukraine, Saudi Arabia and Switzerland in the men's 4x100.
Live Stream for the Ostrava Golden Spike
-->