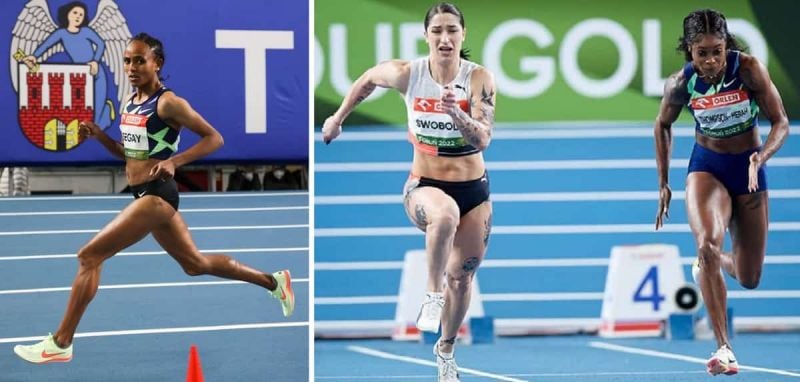 Olympic 5000m bronze medallist Gudaf Tsegay won the women's 1500 meters in 3:54.77, setting the second-fastest time in history indoors. Tsegay ran faster last year in Liévin, when she broke the world indoor record with 3:53.09.
Gudaf Tsegay: "I did not set a world record, but I am happy with my race. My feelings are really good. I am still 50-50 on whether to go to the World Indoors. The main goal is the World outdoor Championships. I had injury problems at the Olympics last year. I don't want to make the same mistakes I made last year".
Ethiopia took the top five places. Lemlem Hailu finished runner-up in 4:02:25 ahead of Olympic fourth placer Freweyni Hailu (4:02.50), Habitam Alemu (4:02.52), and Hirut Meshesha (4:03.22). Winnie Nanyiondo from Uganda and Sara Kuivisto from Finland improved their PBs clocking respectively 4:03.54 and 4:06.14.
Women's 60 metres:
Ewa Swoboda won the final in the women's 60 metres in a meeting record of 7.03 edging five-time Olympic champion Elaine Thompson Herah, who set her seasonal best of 7.04. European Indoor 60m hurdles finalist Pia Skrzyszowska improved her PB to 7.14 to finish third ahead of Darryil Neita from Great Britain (7.17).
Elaine Thompson Herah: "I am really good. I am healthy. My feelings are really good. I had an amazing time with the public. I appreciate the participation here"
Men's 60 metres:
Former 200m NCAA indoor champion Elijah Hall won the men's 60 metres in a seasonal best of 6.53 holding off 36-year-old Mike Rodgers by 0.02. Arthur Cissé from Ivory Coast finished third in 6.57 clocking the same time as Adrian Brzezinski, who improved his PB.
Elijah Hall: "I am really good. It's an amazing race. I am already waiting for the next one. The public here gave a motivation for the competition".
Women's 400 metres:
Olympic 400m hurdles bronze medallist Femke Bol set the world-leading time with 50.64, missing her own national indoor by 0.01. The Dutchwoman won the European Indoor gold medal on the same Torun track with 50.63 last year. Natalia Kaczmarek finished runner-up improving her lifetime to 51.15, beating European outdoor champion Justyna Swiety Ersetic (51.40) and Dutchwoman Lieke Klaver (51.93).
Femke Bol: "This is a great and amazing experience. The last time that I was here I won and now I am really happy that people could see my race. Now I am a winner".
Men's shot put:
Filip Mihaljevic from Croatia won the men's shot put setting the world seasonal best and the national record with 21.84m. Mihaljevic threw five times over the 21 metres barrier (20.62m, 21.45m, 21.66m, 21.34m, 21.84m and 21.50m).
The 2016 world indoor bronze medallist beat 2017 European Indoor champion Konrad Bukowiecki by just 1 cm in a very close competition. Bukowiecki took the lead with 21.83m in the third round but Mihaljevic overtook the home shot putter with 21.84m in the fifth round.
Last year's Italian outdoor champion Nick Ponzio took the third place with 21.53m missing Leonardo Fabbri's national indoor record by just six cm. Ponzio also produced two more throws over the 21 metres barrier with 21.39m and 21.32m. Another Italian shot putter Zane Weir improved his indoor PB to 21.50m to move into fourth in the Italian all-time list. For the first time in history, two Italian shot putters went over the 21 metres barrier in the same competition. Italy's Leonardo Fabbri finished fifth with 20.42m.
Filip Mihaljevic: "It was my first participation at the Copernicus Cup. I am really excited about this result".
Konrad Bukowiecki: "I have not thrown a distance like this for a long time, so I should be very happy. I thought that attempt would be enough for the win, but Filip just stole it from under my nose. That put was very good, but it still isn't 100 percent of my capabilities. I can't say I am completely healthy. There are always some niggles, but I started to enjoy the sport once again and feel satisfaction, and that brings results".
Men's 60 metres hurdles:
Damian Czykier from Poland won the 60m hurdles breaking the national indoor record with 7.48 in front of his home fans. Czykier has moved into fourth in the world seasonal list behind Grant Holloway (7.35), Trey Cunningham (7.42), and Pascal Martinot Lagarde (7.46). Jakub Szymanski completed the Polish double finishing second with 7.63 ahead of European Indoor gold medallist Wilhelm Belocian (7.65).
Women's 60 metres hurdles:
Olympic finalist Devynne Charlton from the Bahamas showed her impressive form winning the women's 60m hurdles in a seasonal best of 7.90. Reetta Hurske from Finland and Luca Kozak also broke the 8 seconds barrier clocking 7.96 and 7.97. Nooralotta Neziri from Finland finished fourth improving her seasonal best to 8.00.
Devynne Charlton: "I never go into a competition expecting to win, but it's always a goal. I ran the second fastest time of my career, so it's obviously a fast track. I like the facilities and the crowd here. I will now be going to Madrid and then back into training in the USA before the World Championships".
Men's 3000 metres:
Reigning 3000m steeplechase World and Olympic silver Getnet Wale won his second 3000m competition at this World Indoor Tour in 7:31.09 beating Olympic 10000m champion Selemon Barega (7:31.39) in a repeat of last week's race in Liévin. Jakob Krop from Kenya improved his lifetime best to 7:31.90 to finish third ahead of Ethiopia's Getnet Wale (7:32.50). Elzan Bibic from Serbia set the national indoor record clocking 7:39.94.
Selemon Barega: "I was going for a fast time today. I had a long break after the Olympics and went back into training recently. The goal for the summer is the 10000m at the World Champonships and I might also to qualify in the 5000 metres".
Men's 800 metres:
Elliot Giles won his second World Indoor Tour Gold race this year equalling his seasonal best with 1:45.42, the same time he clocked in Birmingham last Saturday. Swedish indoor record holder Andreas Kramer broke the 1:46 barrier to finish second with 1:45.71 ahead of Kenya's Collins Kipruto (1:45.94). Marcin Lewandowski took fifth place in a seasonal best of 1:46.01 beating his compatriot Adam Kszczot, who clocked 1:46.29 in his farewell race on the Torun track.
Elliot Giles: "I am enjoying it so much ! It is my third time at the Copernicus Cup and it's my second triumph here. With the crowd it was such an amazing competition".
Women's 800 metres:
Oceanian indoor record holder Catriona Bisset won a very close women's 800 metres race in 2:00.16 edging world outdoor champion Halimah Nakaayi from Uganda and Tigist Girma from Ethiopia, who shared the same time of 2:00.19.
Catriona Bisset: "I felt confident during the competition. This is my second time in the Copernicus Cup. I arrived here four days ago. I am really tired but I am really happy with my participation".
Men's pole vault:
Ernest John Obiena from the Philippines equaled his seasonal best clearing 5.81m in his third attempt to win his second men's pole vault competition of the year on Polish soil after winning at the Orlen Cup in Lodz with the same height. Ben Broeders from Belgium took the runner-up spot with 5.71m to finish ahead of two-time Olympic medallist Thiago Braz Da Silva and Dutch record holder Menno Vloon on countback.
Women's long jump:
European indoor bronze medallist Khaddi Sagnia from Sweden won her back-to-back competition equalling her seasonal best of 6.70m. Former European under 20 Milica Gardasevic from Serbia improved her seasonal best by three cm to 6.66m to finish ahead of Olympic finalist Jazmin Sawyers from Great Britain (6.46m).
-->