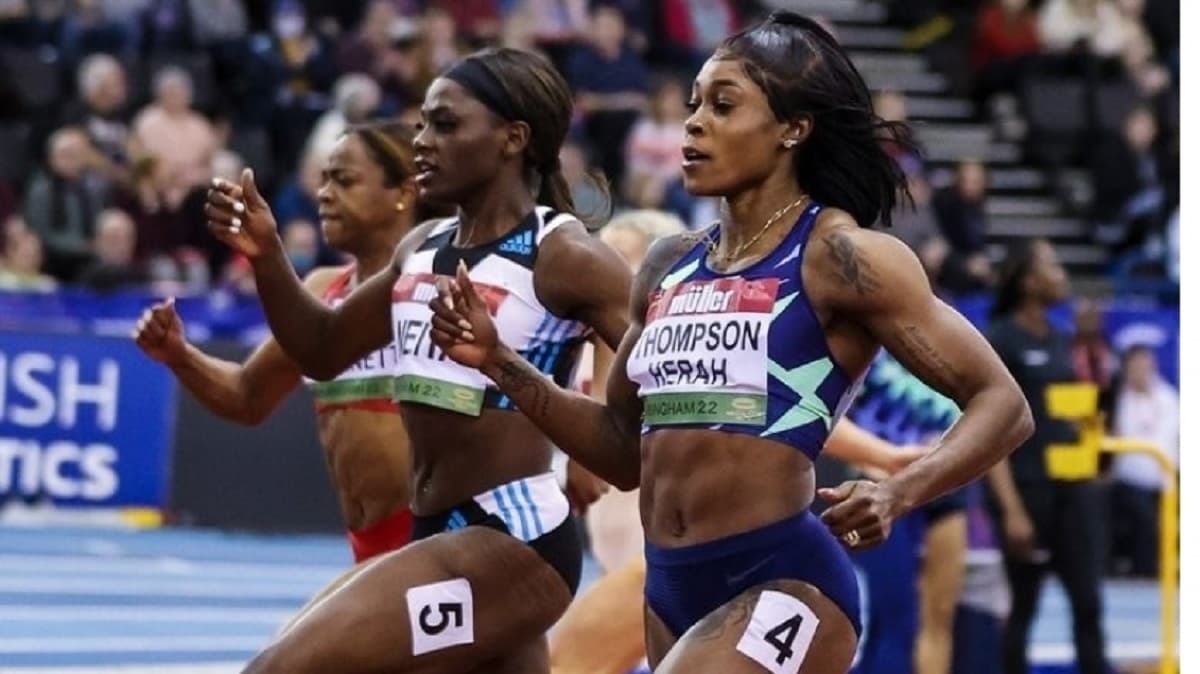 Reigning Olympic champions Elaine Thompson Herah from Jamaica and Selemon Barega will be in the spotlight at the ORLEN Copernicus Cup in Torun, the sixth leg of the World Athletics Indoor Tour Gold.
Watch Copernicus Cup in Torun live stream
Thompson Herah started her 2022 season with a win in the women's 60 metres in 7.08 in Birmingham in her first international race since her victory in the Wanda Diamond League in Zurich in 10.65 last September.
The 29-year-old Jamaican star clocked the second-fastest times in history in both the 100m with 10.54 at the Prefontaine Classic in Eugene and the 200m with 21.53 in the Olympic final in Tokyo.
The five-time Olympic gold medallist will face 2019 European Indoor champion Ewa Swoboda, who won her first two 60m races this winter in Lodz in a world-leading time of 7.00 and in Dusseldorf in 7.10, Olympic 4x100m bronze medallist Darryl Neita from Great Britain, who improved her indoor PB to 7.11 in Birmingham, Pia Skrzyszowska from Poland, who finished fifth in the European Indoor final in the 60m hurdles in 7.95 and improved her PB in the 60m clocking 7.22 in Dusseldorf on Sunday, and Gambian record holder Gina Bass, who finished sixth in the 200m at the World Championships in Doha 2019.
Elaine Thompson: "I was hoping to dip below 7 seconds but it didn't work out. With heats and a final in Torun, I think that will help me to get below the seven seconds I am hoping for".
Men's 3000 metres:
Selemon Barega will clash against his compatriots Lemecha Girma and Getnet Wale in a world-class 3000m race.
Barega won the 1500m at last year's edition of the Copernicus Cup improving his indoor PB to 3:32.97.
World and olympic 3000m steeplechase silver medallist Girma won the 3000m race in Liévin last Thursday edging Barega by a close margin in 7:30.54 to 7:30.66, while Wale finished third in 7:30.88.
Wale missed Daniel Komen's world indoor record by just 0.08 setting the second-fastest time in history with 7:24.98 in Liévin last year. Barega and Girma also joined the world all-time list clocking the third and seventh fastest times in history with 7:26.10 and 7:27.98 respectively.
Kenya's Jacob Krop will be aiming to improve his PB of 7:34.67 set in Liévin in the second indoor race of his career.
Women's 1500 metres:
Ethiopia's Gudaf Tsegay will run her second indoor race of the season just five days after winning the mile in Liévin in a meeting record of 4:21.72 despite a fall in the first lap. Tsegay broke the 1500m world indoor record clocking 3:53.09 in Liévin last year.
Tsegay will face her compatriots Axumawit Embaye and Hirut Meshesha, who finished second and third in Liévin. Embaye won the 1500m in Karlsruhe in 4:02.12 beating Meshesha by 0.02 last January.
The line-up also features Habitam Alemu and Lemlem Hailu, who won the 800m and the 3000m in Torun last year, and Linden Hall, who finished sixth in the 1500m Olympic final in her outdoor PB of 3:59.01 and took third place in Birmingham in 4:07.36 last Saturday.
Men's 800 metres:
Elliot Giles will return to Torun, where he set the British Indoor record and the second-fastest time in history with 1:43.63 last year. The British athlete won in Karlsruhe in 1:46.78 and finished runner-up to Kenya's Collins Kipruto clocking the second-fastest time of his career with 1:45.42 in Birmingham. Kipruto will be also in action on Tuesday after improving his lifetime best to 1:45.39 in Birmingham. Andreas Kramer from Sweden has also fond memories of the Torun track, where he improved the Swedish indoor record to 1:45.09. World indoor champion and three-time European outdoor gold medallist Adam Kszczot will continue his farewell tour before hanging up his spikes at the end of the indoor season. The line-up is completed by world silver medallist Amel Tuka from Bosnia, and Mark English from Ireland, who won two European Indoor medals (silver in Prague 2015 and bronze in Glasgow 2019).
Women's 800 metres:
Reigning world outdoor champion Halimah Nakaayi from Uganda set two national indoor records clocking 1:59.55 in Val de Reuil and 1:58.58 in Liévin, where she finished runner-up to Natoya Goule. Nakaayi will line up against Catriona Bisset, who improved the Oceanian Indoor record to 1:59.46 to finish second to Keely Hodgkinson in Birmingham on her indoor debut, 2016 European outdoor champion Angelika Chichocka from Poland, Freweyni Hailu, who finished fourth in the 1500m in the Olympic final in Tokyo in 3:57.60 and finished third in Karlsruhe in 4:02.66, and Tigist Girma, who finished second in Val de Reuil in her PB of 2:01.68.
Women's 400 metres:
Femke Bol from the Netherlands will make her return to Torun, where she won two European Indoor gold medals in the 400 metres in 50.63 and the 4x400 relay in 3:27.15. Bol went on to win the Olympic bronze medal in the 400m hurdles setting the European record of 52.03. The Dutchwoman also won five Wanda Diamond League races last year and claimed her first Diamond Trophy. Bol started the 2022 indoor season with two wins in the 200m in 23.37 and in the 400m in 50.72 in Metz.
Bol will renew her rivalry against Olympic 4x400 mixed relay champion Natalia Kaczmarek, who improved her PB to 51.58 in Metz. The line-up also features 2018 European 400m outdoor champion Justyna Swiety Ersetic from Poland and last year's European 4x400 gold medallist Lieke Klaver from the Netherlands, who finished second in Birmingham in 51.49 last Saturday.
Men's 60 metres hurdles:
European Indoor gold medallist Wilhelm Belocian from France returns to Torun, where he won the European Indoor gold medal in 7.42. The former world under 20 record holder finished second in Metz in his seasonal best of 7.52. The Frenchman will line up against olympic silver and world outdoor bronze medallist Orlando Ortega from Spain, 2018 European outdoor fourth placer Damian Czykier and Jakub Szymanski from Poland.
Women's 60 metres hurdles:
Reetta Hurske from Finland is aiming to continue her good period of form after winning two consecutive races in Berlin in 7.99 and Lodz in 8.03 and finishing second in Liévin in 8.06 and Dusseldorf in 8.01. The Finnish hurdler will face Zoe Sedney from the Netherlands, who won in Birmingham in 8.02 last weekend, olympic sixth placer Devynne Charlton from the Bahamas, who finished second at the Millrose Games in 7.95, and 2018 European outdoor champion Elvira Herman from Belarus, who clocked 7.99 in Gomel.
Men's 60 metres:
Ivory Coast's Arthur Cissé will be chasing his third consecutive indoor win after finishing first in Metz in a PB of 6.53 and in Dusseldorf in 6.56. The African sprinter will face US sprinters Elijah Hall and Mike Rodgers, who clocked 6.56 and 6.58 in Birmingham.
Men's shot put:
Former European indoor champion Konrad Bukowiecki set the best two European indoor marks this season throwing 21.39m in Lodz and 21.37m in Spala. The Pole will clash against his compatriot Michal Haratyk, who won the European indoor silver medal in Torun last year. Olympic fifth placer Zane Weir from Italy will make his second appearance on Polish soil this winter after finishing runner-up to Bukowiecki in Lodz with his indoor PB of 21.02m. The Italian shot putter also set the world outdoor leading mark with 21.65m in Pietermaritzburg (South Africa). The line-up also features Weir's training partner Leonardo Fabbri, who set his outdoor PB with 21.99m and started his indoor season with 20.57m in Lodz, last year's Italian outdoor champion Nick Ponzio, who finished third in the American Track League meeting in Louisville with 20.81m on 12 February, and 2014 world indoor bronze medallist Filip Mihaljevic from Croatia.
Men's pole vault:
Two-time Olympic medallist Thiago Braz Da Silva is set to continue his good period of form after finishing second in both meetings in Liévin and Birmingham with the same height of 5.81m.
The other favorites are Menno Vloon from the Netherlands, who won the pole vault meeting in Clermont Ferrand with 5.87m last Saturday, and Ernest John Obiena, who won the Lodz meeting with 5.81m on 11 February.
Polish outdoor record holder Piotr Lisek will be looking to win the men's pole vault at the Copernicus Cup for the second time four years after his previous victory with 5.91m. Lisek set the Polish outdoor record of 6.02m in Monaco and won his third world outdoor medal in Doha with 5.89m. The other Polish vaulter in the field is Pawel Wojciechowski, who won the 2011 world outdoor title and the European Indoor gold medal in Glasgow 2019.
Women's long jump:
European Indoor bronze medallist Khaddi Sagnia will be chasing her second consecutive win after her victory in Birmingham with 6.70. The Swedish long jumper will face Larissa Iapichino, who improved Heike Drechsler's world under 20 indoor record to 6.91m at last year's Italian Indoor Championships in Ancona and finished fifth at the European Indoor Championships in Torun last year. Sagnia jumped just one centimeter further than Iapichino equalling Carolina Kluft's national indoor record with 6.92m.
-->