Kiplimo (57:56) and Gebru (1:04:14) win the RAK Half Marathon

Posted by:
Watch Athletics
Saturday, 19 February 2022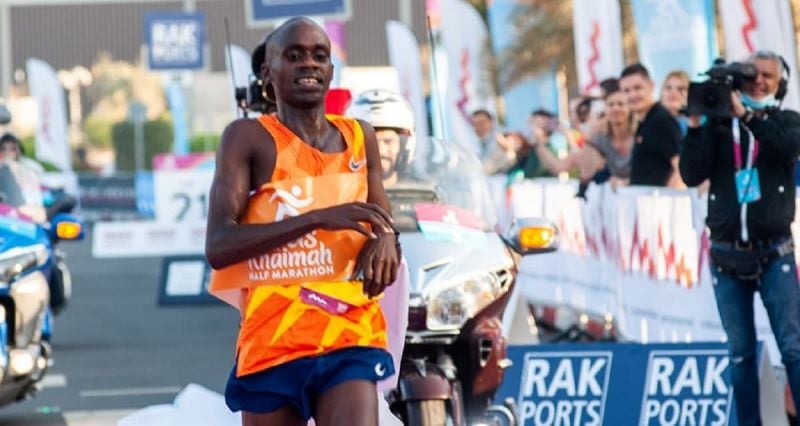 Uganda's Jacob Kiplimo and Ethiopia's Girmawit Gebru took the honors at the Ras Al Khaimah Half Marathon.
The Ras Al Khaimah becomes the best half marathon in history with seven athletes under 58:50 and three women under 1:04:40. Considering the top 10 average performances, it becomes the best half marathon ever in the women's race with 1:04:47 and the second-best ever in the men's race with 58:35 behind the Valencia Half Marathon. Six performances in the women's all-time list have been run at the RAK Half Marathon.
Kiplimo crossed the finish-line in 57:56, becoming the first runner in history to break the 58 minutes barrier for the third time. The Ugandan star broke the world record, clocking 57:31 in Lisbon last October and also clocking 57:37 in Valencia in 2020. He also won the world half marathon gold medal in Gdynia in October 2020.
Pacemakers left Kiplimo alone after a fast start with 13:23 at 5 km and 26:56 at 10 km. Kiplimo continued pushing the pace in the second half setting the world record at the intermediate 15 km split, clocking 40:43, and went through at 20 km 54:54.
Former 10000m world under 20 champion Rodgers Kwemoi from Kenya finished runner-up in 58:30 beating his compatriot Kenneth Kiprono Renju by five seconds. Seifu Tura Abdiwak from Ethiopia took fourth place with 58:36 beating his compatriot Amdework Walelegn (58:40), Kenyan runners Daniel Kibet (58:45), and Alexander Mutiso Munyao (58:48).
Girmawit Gebru overtook two-time 5000m world champion Hellen Obiri from Kenya in the final stages of the women's race to cross the finish-line in 1:04:14 setting the fourth fastest ever time.
Obiri finished second in 1:04:22, becoming the fifth-fastest ever runner. Sheila Chepkirui from Kenya crossed the finish-line in 1:04:36, setting the seventh fastest ever time and the fastest time ever for third place. Judith Kiptum Korir finished fourth in 1:05:28.
Eilish McColgan from Great Britain finished sixth in 1:06:26, breaking the British half-marathon record held by distance running legend Paula Radcliffe with 1:06:47. McColgan, the daughter of former 10000m world champion Liz McColgan, becomes the fifth fastest European performer behind four African-born athletes Sifan Hassan from the Netherlands, Melet Kejeta from Germany, Lonah Salpeter from Israel, and Yasemin Can from Turkey.
Top results men half marathon
1. Jacob Kiplimo (UGA) - 57:56
2. Rodgers Kwemoi (KEN) - 58:30
3. Kenneth Kiprop Renju (KEN) - 58:35
4. Seifu Tura Abdiwak (ETH) - 58:36
5. Amdework Waleleng Tadese (ETH) - 58:40
6. Daniel Kibet Mateiko (KEN) - 58:45
7. Alexander Mutiso Munyao (KEN) - 58:48
8. Abel Kipchumba (KEN) - 59:47
9. Alphonce Felix Simbu (TZA) - 1:00:03
10. Kennedy Kimutai (KEN) - 1:00:10
Top results women half marathon
1. Girmawit Gebrzihair Gebru (ETH) - 1:04:14
2. Hellen Obiri (KEN) - 1:04:22
3. Sheila Chepkirui (KEN) - 1:04:36
4. Judith Jeptum Korir (KEN) - 1:05:28
5. Bosena Mulatie Mogesie (ETH) - 1:05:46
6. Eilish McColgan (GBR) - 1:06:26 NR
7. Daisy Cherotich (KEN) - 1:06:33
8. Eunice Chumba (KEN) - 1:07:22
9. Pauline Nagoroi Esikon (KEN) - 1:07:50
10. Jackline Sakilu (TZA) - 1:15:38
-->