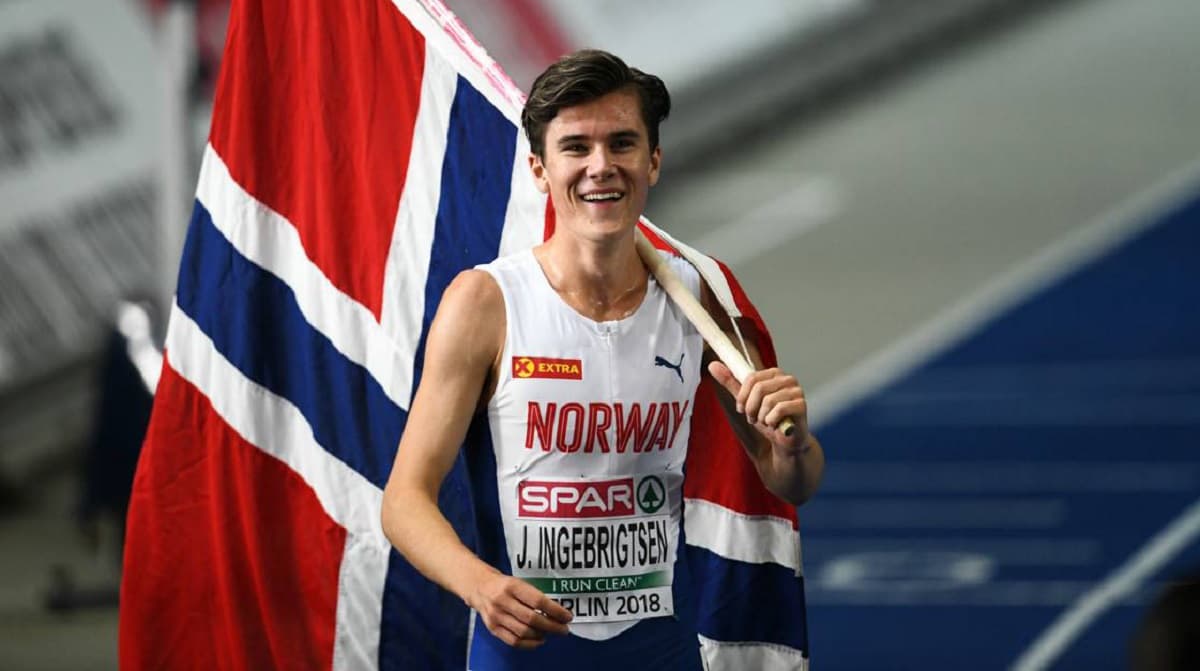 Olympic champion Jakob Ingebrigtsen broke the 1500m world indoor record clocking 3:30.60 at the Hauts de France Pas de Calais in Liévin. The Norwegian star took 0.44 off the previous world indoor record held by Ethiopia's Samuel Tefera, who clocked 3:31.04 in Birmingham in 2019.
Ingebrigtsen already won the 1500m race in Liévin last year in a European record of 3:31.80.
Tefera finished second in today's race in 3:33.70 ahead of Ignacio Fontes, who crossed the finish-line in 3:37.39.
Ingebrigtsen, who was paced by Julien Ranc and Erik Sowinski, went through the 600 metres in 1.24.66 and 800m in 1:52.66. He reached the 1000m in 2:20.98 and picked up the pace with two laps to go. He clocked 3:03.04 at the bell and covered the final 200 metres in 27.57.
Jacob Ingebrigtsen: "I am happy to return to Liévin. The track is very good. Spectators are very supportive. This is always a fast race and it's a really nice arena. I like to finish strong. I think it's nice for the crowd but it's also nice for me to speed up going into the finish".
Five other world-leading marks were set at the Stade Couvert in Liévin near Pas de Calais.
Watch men's 1500m race video here
Men's 60 metres hurdles: Holloway runs world seasonal best
World indoor record holder Grant Holloway won his second 60m hurdles race in this season's World Indoor Tour improving his own world seasonal time to 7.35. Holloway won his second consecutive race in Liévin.
Holloway has extended his winning streak to 44 consecutive races since 2014. The 2019 world 110m hurdles champion had previously won the heats in 7.40. At the age of 24 Holloway has more sub-7.40 than any other hurdler in history.
Grant Holloway: "At the Olympic Games I was defeated by Hansle Parchment. It's sport. I didn't show up, but I was not disappointed. I took home a medal. We can't keep talking about the Olympics. Now it's a new season. I am happy that I repeated my last year's win in Liévin. 2021 was a breakthrough year for me. I opened this season as fast as last year. My first race felt great, a little sloppy at one point, but it was a great way to start the season. Liévin always feels great. Last year there were no fans. I was excited to see again the love that European fans bring to the track. In Europe the hospitality is always great. Coming back to Liévin is always a great feeling"
Multiple world and European Indoor medallist Pascal Martinot Lagarde from France finished second clocking his seasonal best of 7.46 beating Jarret Eaton (7.51).
Women's 3000 metres: Seyaum sets the world leading time
Dawit Seyaum from Ethiopia pulled away from Eygayehu Taye and Fantu Worku in the final lap to win the women's race in 8:23.24, setting the fourth fastest time in history and the French indoor all-comers record. Taye finished second improving her PB to 8.26.77. Fantu Worku completed the Ethiopian sweep taking third place with 8:38.15.
Dawit Seyaum: "I am happy with my race. I am a little surprised but I liked the track. It was good".
Women's mile: Tsegay takes second consecutive win in Liévin
Gudaf Tsegay won the women's mile in 4:21.72 on the track where she broke the world indoor record in the 1500m last year. Tsegay's compatriot Axumawit Embaye finished runner-up in 4:25.30 beating Hirut Meshesha (4:27.19) and Netsanet Desta (4:27.22). Esther Guerrero from Spain was the first European athlete in fifth place in 4:28.54 eleven days after he win in Staten Island. Sarah Kuivisto broke the Finnish record in seventh place with 4:29.64.
Women's pole vault: Sidorova clears world leading mark 4.85m
World outdoor champion and Olympic silver medallist Anzhelika Sidorova cleared a world seasonal best of 4.85m in her first attempt to win the women's pole vault. European indoor bronze medallist Iryna Zhuk from Belarus took second place improving her national record to 4.80m to beat olympic gold medallist Katie Nageotte on countback. Tina Sutej finished fourth with 4.65m.
Men's 60 metres: Jacobs takes second consecutive win in Liévin
Reigning Olympic 100m champion Marcell Lamont Jacobs from Italy won his third 60m indoor race this winter clocking 6.50 following his victories in Berlin in 6.51 and Lodz in 6.49. Cravont Charleston backed up his good period of form finishing second in a PB of 6.52.
Jacobs had clocked the fastest time in the heats with 6.53 beating Frenchman Jimmy Vicaut (6.59) and US Cravont Charleston (6.61).
Jacobs won for the second consecutive edition in Liévin. Last year he won in the French meeting in his previous PB of 6.54 and went on to win the European Indoor
Marcell Lamont Jacobs: "Thank you Liévin. I enjoy competing here. The crowd is fantastic. The track is very good. I want to return next year. Nothing has changed since my olympic title. I train every day to reach my best form for the World Championships. I am not totally happy with my race. It's always good to win against strong rivals, but today I felt better than last week and I thought that I could run faster. I can improve the first part of the race. I ran better in the second half. The most important thing is to win my first races as Olympic champion. I will compete in Ancona at the National Championships. It will be my first race on Italian soil as Olympic champion. The goal is to reach my best at the World Indoor Championships in Belgrade.".
Men's 3000 metres:
World and olympic 3000m steeplechase silver medallist Lemecha Girma took a close win in the men's 3000 metres in 7:30.54 edging olympic 10000m gold medallist Selemon Barega (7:30.66) and Getnet Wale (7:30:99). Birhanu Balew finished fourth setting his PB with 7:31.77. Andreas Almgren improved the Swedish indoor record to 7:34.31 beating Jacob Krop (7:34.67) and Mohamed Katir from Spain (7:36.62).
Men's pole vault: Nilsen clears 5.91m
Olympic silver medallist Chris Nilsen cleared all of his heights in his first attempt to win the men's pole vault with 5.91m. Nilsen made three attempts at the North American record of 6.03m. Former olympic champion Thiago Braz Da Silva set his seasonal best of 5.81 in his first attempt to beat Menno Vloon on countback. Braz Da Silva has produced his best vault indoors since 2018.
Women's 800 metres: Goule sets world leading time
Olympic finalist Natoya Goule won a great race in the women's 800 metres setting the world leading time and Jamaican record of 1:58.46. Reigning world outdoor champion Halimah Nakaayi finished runner-up, also dipping under the 1:59 barrier with an Ugandan record of 1:58.58. Goule and Nakaayi are the only athletes to have broken the 2 minutes barrier this year. Eglay Nalianya from Kenya finished third in 2:00.26 ahead of Anzhelika Chichocka from Poland (2:01.62). Pacemakers went through the first 400m in 57.56. Goule maintained the fast pace and went through the 600m in 1:27.64. The Jamaican 800m specialist held off Naakayi in the final straight.
Natoya Goule: "I am happy with the world lead and my PB. I felt good during the race, but afterwards not that much. It's my first time here, in the stadium. I love it".
Men's 800 metres: Garcia wins his second World Indoor Tour race of the season
Spanish middle distance runner Mariano Garcia claimed his second World Indoor Tour race this season in the men's 800 metres a few days after his win in Staten Island clocking a seasonal best of 1:46.29. Elliot Giles, who had remained unbeaten in an indoor 800m race for two years, finished second with 1:46.50.
Women's long jump: Rojas takes the win
Olympic triple jump champion Yulimar Rojas took the lead with a national indoor record of 6.77m in the second round and improved by four leaping to 6.81m in the fifth round to clinch the win over Spanish jumpers Fatima Diamé (6.64m) and Maria Vicente (6.62m).
Women's 60 metres hurdles:
Laeticia Bapté from France won the women's 60m hurdles final in 8:00 edging Finland's Reetta Hurske (8:06) and Devynne Charlton from the Bahamas (8.11). Bapté had clocked the fastest time in the heats with 8.03.
Men's triple jump:
Two-time world under 20 champion Lazaro Martinez from Cuba leapt to a world leading mark of 16.97m in the opening round and improved to 17.21m in the second attempt, setting the third best performance of his career. Martinez jumped 16.82m in the third round and passed his final two attempts. Former European champion Max Hess from Germany finished runner-up with 16.76m.
Men's 2000 metres:
Samuel Zeleke from Ethiopia came from behind to take a narrow win in 4:57.00 holding off Olympic 1500m finalist Abel Kipsang by 0.21. Zeleke came close to the world leading mark held by Berihu Aregawi, who clocked 4:56.97 en route to his world leading time in the 3000m in Karlsruhe. Kipsang beat Frenchman Azzedine Abz by 0.01.
Men's 1500m results
| Rank | Name | Result |
| --- | --- | --- |
| 1 | J. INGEBRIGTSEN | 3:30.60WR |
| 2 | S. TEFERA | 3:33.70 |
| 3 | I. FONTES | 3:37.39SB |
| 4 | S. ORDONEZ | 3:37.99PB |
| 5 | M. ROZMYS | 3:38.82 |
| 6 | C. GRETHEN | 3:38.84 |
| 7 | M. LEWANDOWSKI | 3:44.87 |
| 8 | A. KASAYE | 3:45.15 |
| 9 | B. MISCHLER | 3:48.92 |
| 10 | V. KETER | 3:48.97 |
| DNF | I. DEBJANI | |
| DNF | J. RANC | |
| DNF | E. SOWINSKI | |
-->