Mathew Boiling long jumps 8.25m; Jonathan Jones runs 1:15.27 in the 600m at Clemson invite

Posted by:
Watch Athletics
Saturday, 15 January 2022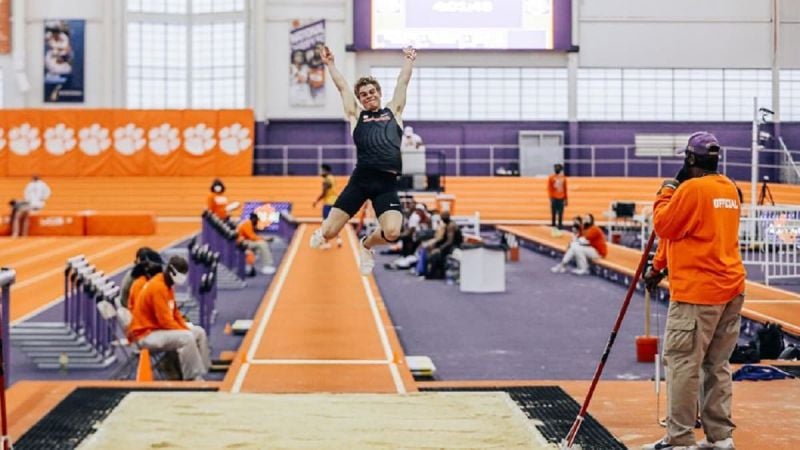 Matthew Boling (Univ. Georgia), set a massive long jump PB of 8.25m while Jonathan Jones from Texas clocked the 8th fastest 600m indoors at Clemson Invitational on Friday (14).
The 2021 NCAA indoor 200m champion, Boling, kicked off his season with a huge long jump PB of 8.25m to win the event in Clemson in a new school record His 8.25m effort is also a new World lead, and #13 all time in collegiate history. Steffin McCarter, who was contesting unattached was 2nd in the long jump with 8.09m leap, while Brandon Hicklin of North Carolina A&T took third place with an 7.85m jump. Boiling will return to action on Saturday afternoon to run the 200m dash.
Jasmine Moore (Florida) prvailed in the women's long jump with 6.58m.
In the men's 600m run Kameron Jones set an early World lead with 1:15.27 while Jonathan Jones, a 400m specialist from Barbados who competes for Texas University finished 2nd with the 8th fastest time in collegiate history of 1:15.61.
Keni Harrison (USA) opened her indoor season in the 60m hurdles with a World Leading mark of 7.91s ahead of Jamaica's Danielle Williams 7.92s.
In the men's 60m dash final Don'drea Swint from Florida State sizzled 6.53 seconds to set the fastest time in the World this year. Dedrick Vanover from Florida was second with 6.60 seconds while Javonte Harding from North Carolina A&T took third with 6.66 seconds.
In the women's 60m dash Talitha Diggs (Florida) set a new personal best in the 60m dash in Friday's prelims with a time of 7.24 before winning the final in 7.26 seconds, just 0.003 seconds ahead of Kynnedy Flannel (Texas).
Randolph Ross of opened his season with world-leading 45.37 to win the men's 400m.
Clemson Indoor invitational continues on Saturday, January 15. You can find results and live stream info here.
Women's 60m dash final (photo finish Don'drea Swint 7.251 vs Dedrick Vanover 7.253).
Men's 400m