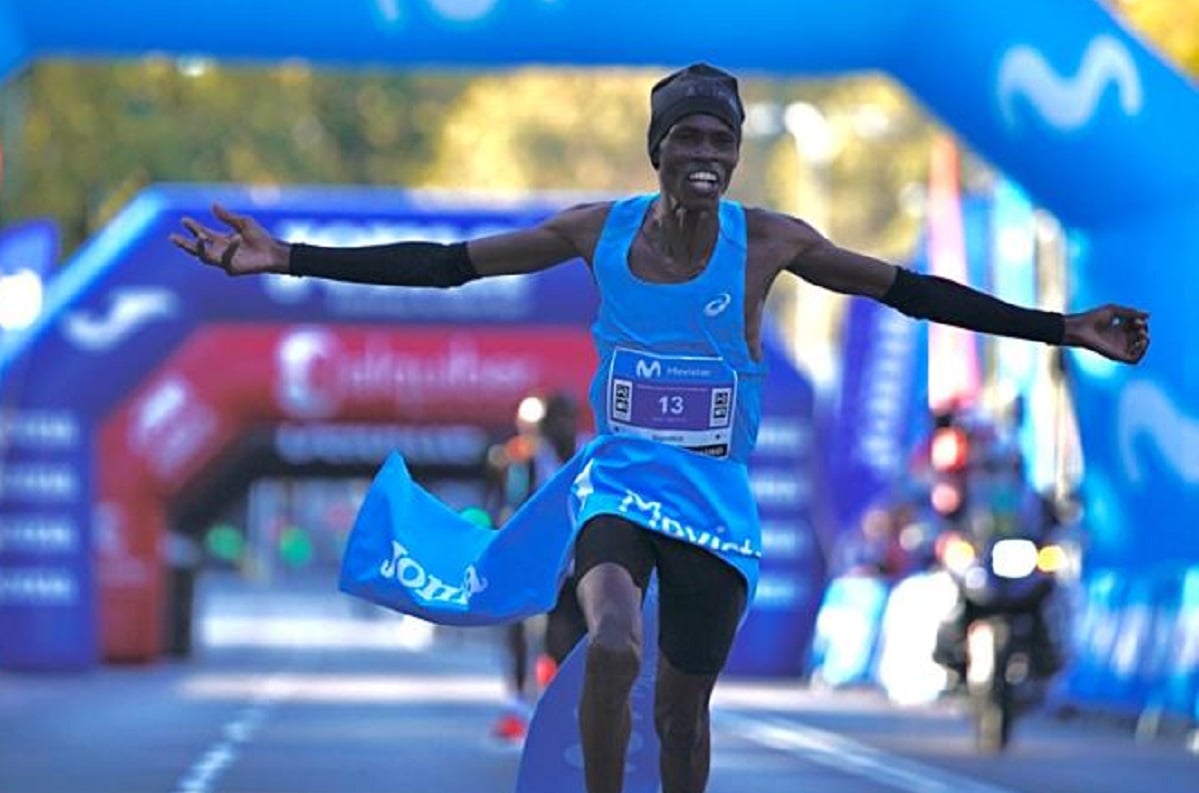 Kenya's Ronald Kiprotich rocked the Madrid Half Marathon, a World Athletics label road race, by breaking the course record on Sunday. Thanks to an easier (more flat) course that it used to be in the previous years the Kenyan was able to run the half marathon in Madrid in 59 minutes and 40 seconds officially.
In the women's race Nelly Jepchumba, also a Kenyan, broke the circuit record with an outstanding time of 1 hour, 7 minutes and 48 seconds.
Ronald Kiprotich was in the lead from the gun passing the 10km mark in blazing 28 minutes and 6 seconds. He was followed closely by a strong group of runners that included favorites Alfred Kipchirchir, Wisley Kibichi, Solomon Kirwa Yego, David Ngure Irungu, Ezra Kipketer and Joseph Karanaja. But in the end it was Kiprotich who managed to create a small gap between him and the rest of of the pack to the win race.
Behind Kiprotich it was a fierce battle for the 2nd and 3rd place as Ezra Kipketer Tanui, Solomon Kirwa Yego and lfred Kipchirchir Muche clocked the same time of 59:44 to finish 2nd, 3rd, and 4th respectively. David Ngure Irungu finished in 5th place in 59.45. Total of seven men in the men's race broke one hour barrier in the half marathon.
In the women's race, Nelly Jepchumba, the Bucharest half marathon winner in September, was a clear winner with a new course record of 1:07:48. In the early stages Jepchumba was sitting in the back of the lead pack which crossed the half way (10km) in a rolling pace of 32:12. After passing the 11 km Jepchumba took the lead and broke away from the lead group to win the race in a new circuit record. Ethiopia's Alemitu Tariku Olana in the final stages of the race managed to close the gap between her and Jepchumba, but it was not enough as she took second in 1:07:58. Ayinadis Teshome Birle completed the podium with 1:08:18.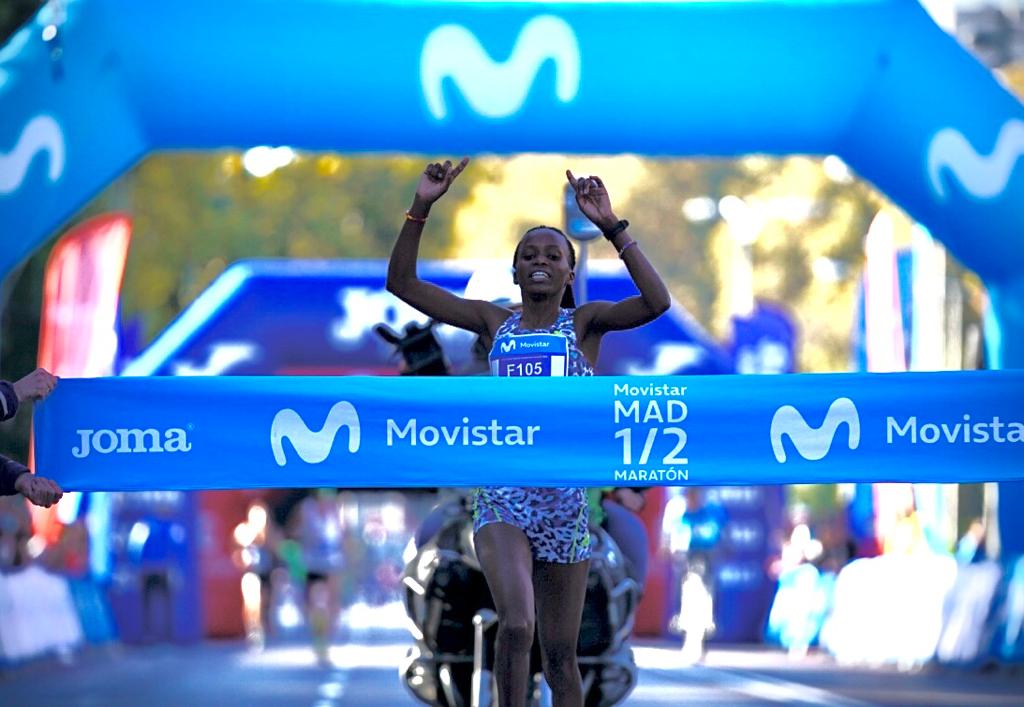 Nearly 19,000 runner took part at the the 2021 Madrid half marathon on Sunday.
Top results men
Ronald Kiprotich Kirui - 59:39
Ezra Kipketer Tanui - 59:44
Solomon Kirwa Yego - 59:44
Alfred Kipchirchir Muche - 59:44
David Ngure Irungu - 59:45
Joseph Karanja - 59:49
Wiseley Kibichi - 59:58
Top results women
Nelly Jepchumba - 1:07:47
Alemitu Tariku Olana - 1:07:58
Ayinadis Teshome Birle - 1:08:18
Winfridah Moraa Moseti - 1:08:22
Sandrafelis Chebet Tuei - 1:09:01
Tigist Gashaw Belay - 1:10:33
Nesphine Jepleting - 1:12:02
Irine Jepchumba Kimais - 1:12:31
Sheila Jebiwot - 1:12:48
See complete Madrid half marathon results here.