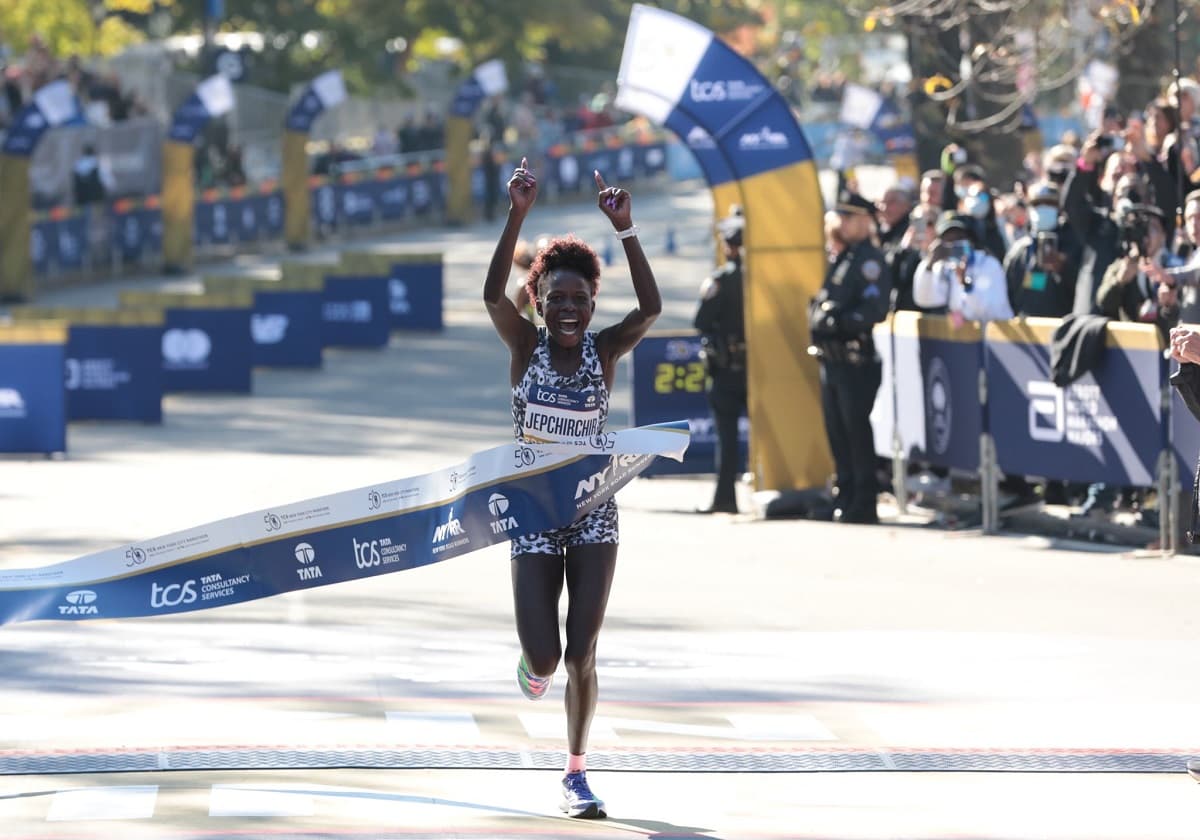 Peres Jepchirchir and Albert Korir claimed a Kenyan double winning at the 50th edition of the New York City Marathon.
Jepchirchir won the women's race on her debut at the New York City Marathon becoming the first woman to win a World Marathon Majors in autumn after claiming the Olympic gold medal.
Just three months after her Olympic triumph Jepchirchir crossed the finish-line in Central Park in 2:22:39, missing Margaret Okayo's 2:22:31 course record by just eight seconds. Jepchirchir set the third fastest time by a woman in New York Marathon history.
"The New York course is not easy. Toward the finish-line I felt something I have never felt before to finish a marathon. It was a great honour to be a winner of the New York Marathon, the only olympic champion to win the New York Marathon. It was a great opportunity for me and it was my plan. My preparation was short, but I tried my best. I knew myself and my finishing kick. When I am with people and I see the finish-line, I just get the some extra energy and I don't know where it has come from, but I knew it would lead to victory", said Jepchirchir
Jepchirchir led a Kenyan double beating her compatriot Viola Cheptoo Lagat, who finished runner-up in 2:22:44 in her debut over the marathon distance. Cheptoo Lagat, who won the Neaples Half Marathon in 1:06:47 in 2020, reached the Olympic semifinal in the 1500m in Rio de Janeiro and is the younger sister of two-time world champion Bernard Lagat, who was broadcasting the race for the NBC.
Ethiopia's Abebel Yeshaneh took third place in 2:22:52 ahead of Olympic marathon bronze medallist Molly Seidel (2:24:52) and world bronze medallist Helalia Johannes (2:26:29). Seidel, the first US woman since Deena Kastor in 2004 to win an Olympic medal, set the fastest time ever by an American in New York.
Former international runner Shalane Flanagan, who won the New York Marathon in 2017, ran her sixth marathon in six weeks after running in Berlin, London, Chicago, Boston and Portland. Flanagan achieved her goal of dipping under three hours in each of these races.
The three leading runners stayed together until Jepchirchir broke away from Lagat and Yeshaneh in the final 800 metres to win her third big marathon race after her previous triumphs in Valencia in 2:17:16 and at the Olympic Games in Sapporo in 2:27:20 last August.
The women's race started conservately. A group of nine runners reached the halfway mark in 1:12:43. Jepchirchir led on the First Avenue, as the pace picked up. At 27 km Jepchirchir, Aga, Yeshaneh and Seidel were still in the leading pack. Jepchirchir and Yeshaneh increased the pace at 30 km. Cheptoo caught up with the leading duo and joined them at 32 km.
The trio formed by Jepchirchir, Yeshaneh and Cheptoo ran together through the hills of Central Park and ran a close neck and neck race heading into the last mile. Jepchirchir stepped up the pace breaking away with a final mile clocked in 5:09.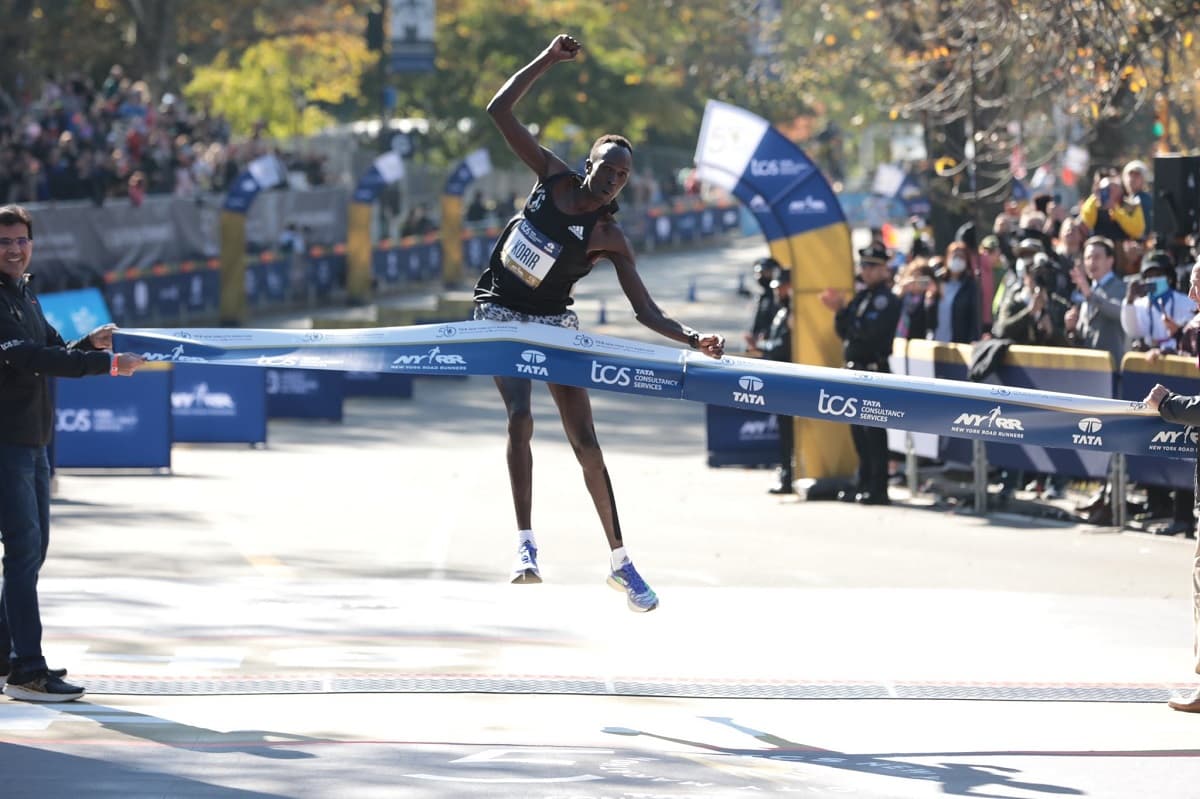 Men's race:
Korir, who finished second in New York in 2019, triumphed in the men's race in 2:08:22 ahead of Morocco's Mohamed El Aaraby (2:09:06) and Italian record holder Eyob Faniel (2:09:56). Faniel has become the first Italian runner to reach the podium in New York since 1997, when Stefano Baldini finished third. The Italian runner of Eritrean origin is the first European runner to finish in the top three in the past decade.
Olympic silver medallist Abdi Nageeye from the Netherlands crossed the finish-line in fifth place in 2:11:39 behind Elkanah Kibet, who ran the best race of his career setting his PB of 2.11:15. Four-time Olympic medallist Kenenisa Bekele ended up in sixth place in 2:12:52 just 41 days after finishing third in Berlin in 2:06:47. Ben True was the first US runner in seventh place in 2:12:53.
Faniel and El Aaraby (11th at the Olympic Games in Sapporo) took the early lead at 11 km after reaching the 10 km mark in 30:43. Faniel and El Aaraby went through the halfway mark in 1:03:57 with a gap of 51 seconds over the chasing group, which included Kandie, Kibet, Korir, Nageeye and Bekele.
Albert Korir and world half marathon record holder Kibiwott Kandie left Bekele and Nageeye behind and caught up with Faniel and El Aaraby at 29 km. The two kenyan runners pulled away after the 30 km mark.
Korir broke away from Kandie at 32 km and went on to win the biggest marathon race of his career so far. Kandie dropped back in the final 10 km and finished ninth in 2:13:49.
Korir has reached his first podium since his victory in Ottawa in 2019 in 2:08:03. He finished second to Geoffrey Kamworor by 23 seconds in the 2019 edition of the New York Marathon in 2:08:36.
"It was not an easy race, but I enjoyed it. I did not imagine that I would win today, but wasn't just a result of today. It began three months before, when I knew that I would be part of the New York Marathon", said Albert Korir.
Reigning Paralympic champion Marcel Hug from Switzerland won the men's wheelchair race in 1:31:24. Australia's Madison de Rosario crossed the finish-line in the women's wheelchair race in 1:51:01.