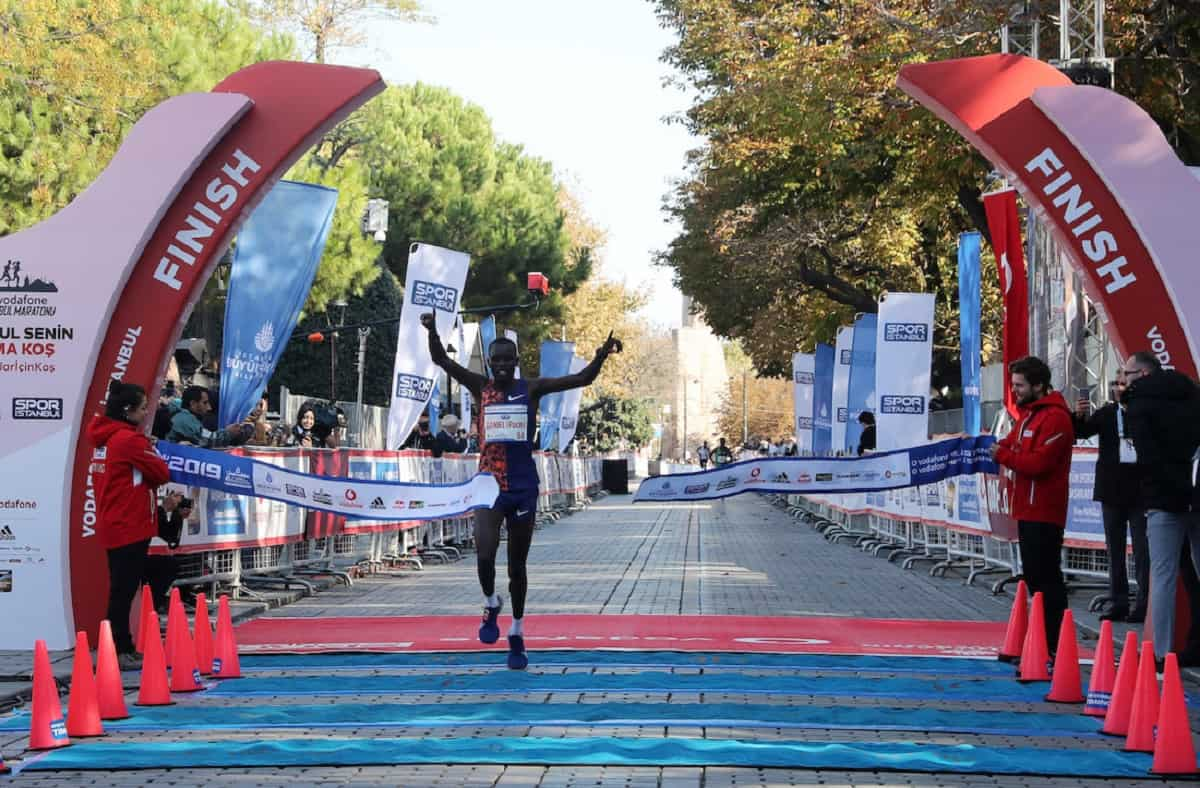 Defending champion Daniel Kibet intends to retain his title at the N Kolay Istanbul Marathon on Sunday. The Kenyan, who was inspired by former world record holder Paul Tergat, produced a surprise two years ago when he took the race as a pacemaker, improving the course record to 2:09:44. He may well have to break this record again to repeat his victory. With a dozen runners on the start line featuring personal bests of sub 2:10, organizers hope to regain the Turkish allcomers' record they lost to Izmir earlier this year. Ethiopia's Tsegaye Getachew won that race in 2:09:35 in April. Two Ethiopians are heading the start lists of the N Kolay Istanbul Marathon, which is a World Athletics Elite Label Road Race: Bazu Worku and Mamitu Daska feature personal bests of 2:05:25 and 2:21:59 respectively.
Watch Istanbul Marathon live stream
Including events at shorter distances the total number of entries is over 35,000 runners. This makes the N Kolay Istanbul Marathon one of the biggest races worldwide since the beginning of the pandemic. In view of the Covid 19 situation strict hygiene regulations are in place during the event. "We have completed all preparations and hope to have a Turkish allcomers' record in the men's race of the 43rd edition of the N Kolay Istanbul Marathon. The increase in the number of Turkish marathoners makes us happy. According to the forecasts the weather will be fine on Sunday which raises our hopes for the record," said Race Director Renay Onur, who is also the general manager of the event organiser Spor Istanbul.
"I am happy to be back in Istanbul and my aim is to retain my title," said Daniel Kibet. The 25 year-old is aware of the strong competition despite the fact that Ethiopia's sub 2:04 runner Herpasa Negasa had to cancel his start due to an injury. "I am ready for a faster time than in 2019, but my main focus will be on victory. The question always is: Will the favorites in the first group follow the pace of the pacemakers or will they sit back. You will not want to be the only athlete to go with the pacers," said Daniel Kibet, who has some experience in running the N Kolay Istanbul Marathon.
Back in 2018 he competed in Turkey's most prestigious marathon, which starts on the Asian side of the city and then leads into Europe, for the first time. "I was in really good shape, but got a hamstring problem after 32 kilometres which forced me to drop out," recalled Daniel Kibet. "I felt bad and wanted to come back to show what I am capable of." Early in 2019 he ran a big personal best of 2:06:49 in Sevilla. Then Daniel Kibet took third place in Buenos Aires with 2:06:52 in September. Although the race in Istanbul was only one and a half months later he decided to go for it. "I asked to be included as a pacemaker." After finishing his pacing duties Daniel Kibet went on to win.
"Knowing the course in Istanbul is an advantage. It is fast, but some parts are difficult. Especially the last three kilometres with some uphill sections are challenging", said Daniel Kibet, who has prepared for the N Kolay Istanbul Marathon for two and a half months. While he lives in Kapsait he trains in Kapsabet with a group of around ten marathon runners. "Most of them are faster than me." Sub 2:05 runners Marius Kipserem and Dickson Chumba are among his training partners.
Two of Kenya's alltime greats inspired Daniel Kibet to start running. "When I was at school our idols were world record holder Paul Tergat and the late Olympic Champion Sammy Wanjiru," said the 25 year-old who grew up in a family with ten siblings and lost his father at the age of 13. "He was a soldier but we have a farm which was then run by my mother." Today Daniel Kibet provides the main source of income for his mother, six brothers and four sisters. "I am the only professional runner, but my two younger brothers Philemon and Wisling have started training. I believe they will soon be competing internationally as well."
Four Ethiopians are on the start list in Istanbul, who have run faster than Daniel Kibet. Experienced marathon runner Bazu Worku heads the list with a personal record of 2:05:25, followed by Yitayal Atnafu Zerihun (2:06:21), Chele Dechasa (2:06:25) and Abayneh Ayele (2:06:45). Kenya's defending champion Benard Sang, who ran his PB of 2:11:49 in Istanbul last year, will return to the race.
The women's race will feature eight runners who have personal bests of sub 2:28. The former Dubai and two time Frankfurt Marathon champion Mamitu Daska is the fastest on the start list. However the 38 year-old Ethiopian was not able to get near her PB of 2:21:59 for some time. Jackline Chepngeno did show promising form recently. The Kenyan improved her half marathon personal best to 69:07 in Paris in September. She has a marathon PB of 2:24:38. Fellow Kenyans Janet Rono and Sheila Jerotich are number three and four on the start list with times of 2:26:03 and 2:26:06 respectively.
Elite runners with personal bests
Men:
Bazu Worku ETH 2:05:25
Yitayal Atnafu Zerihun ETH 2:06:21
Chele Dechasa ETH 2:06:25
Abayneh Ayele ETH 2:06:45
Daniel Kibet KEN 2:06:49
Robert Kipkemboi KEN 2:07:09
Vincent Rono KEN 2:07:10
Lemi DumechaETH2:07:43
Solomon Mutai UGA 2:08:25
Emmanuel Naibei KEN 2:08:27
Stanley Bett KEN 2:08:57
Brian Kipsang KEN 2:09:07
Yavuz Agrali TUR 2:10:41
Getaye Gelaw TUR 2:11:03
Mert Girmalegesse TUR 2:11:07
Benard Sang KEN 2:11:49
Victor Kiplangat KEN Debut
Phenus Kipleting KEN Debut
Women:
Mamitu Daska ETH 2:21:59
Jackline Chepngeno KEN 2:24:38
Janet Rono KEN 2:26:03
Sheila Jerotich KEN 2:26:06
Fetale Tsegaye ETH 2:27:06
Zinash Debebe ETH 2:27:15
Pamela Rotich KEN 2:27:48
Sofiya Shemsu ETH 2:27:51
Salina Jebet KEN 2:30:28
Judith Cherono KEN Debut
Gladys Jerono KEN Debut
More information is available at: https://maraton.istanbul
-->