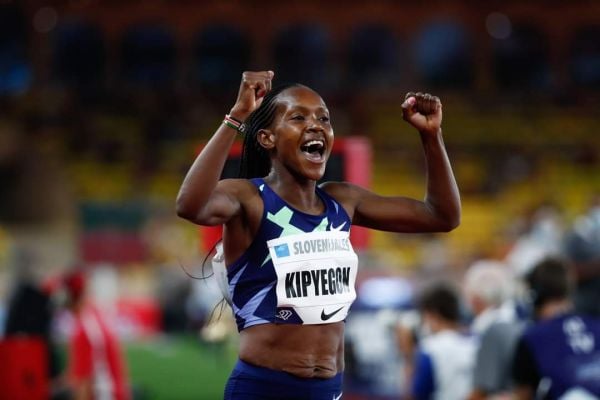 Faith Kipyegon, Timothy Cheruiyot and Karsten Warholm grabbed the headlines at the 35th edition of the EBS Herculis Wanda Diamond League meeting at the Louis II Stadium in Monaco.
Women's 1500 metres:
Reigning Olympic champion Faith Kipyegon kicked past Sifan Hassan in the final lap to improve her own Kenyan record,the world seasonal best and the fourth fastest time in history with 3:51.07. Kipyegon beat world champion Sifan Hassan from the Netherlands (3:53.60). Freweyny Hailu smashed her lifetime best with 3:55.28.
Faith Kipyegon: "I thought I could run faster than that. I knew Sifan was going for a fast a fast race and my gaol was to run a fast race here too. I am really looking forward to Tokyo and I know It will be a very hard competition. But I hope to go there".
Men's 1500 metres:
World champion Timothy Cheruiyot won the 1500m at the Herculis in Monaco for the fourth time in his career improving his PB to 3:28.28. Cheruiyot claimed his third consecutive win in the Diamond League circuit this season after Doha and Stockolm.
The Monaco race lived up to its reputation by producing three more times under the 3:30 barrier. Mohamded Katir from Spain set the national record with 3:28.78 to hold off Jakob Ingebrigtsen (3:29.35) and Stewart MsWeyn, who improved the Oceania record with 3:29.51. This year's Kenyan Trials Charles Simotwo set his PB with 3:30.30 to take sixth place ahead of Marcin Lewandowski, who improved the Polish record with 3:30.42. Samuel Tefera lowered his PB with 3:30.71.
Timothy Cheruiyot: "Today's race was good and I won for the fourth time in Monaco and I missed competition a lot after spending a lot of time in Kenya where I had few issues like my harmstring injury and after losing a relative in my family, on the day of the Kenyan Trials on the day of the day of the Kenyan Trials explaining why I missed out on making the team. I am therefore happy I am back again after all this. Hopefully that will be the deciding performance to make the team for Tokyo. Monaco is a nice place to be with a nice track and nice weather. My hope now is to be in another Olympics. That is where my mindset is and I will be very happy if I achieve that".
Men's 400 metres hurdles:
Karsten Warholm won the 400m hurdles for the second consecutive year in Monaco rimproving his own meeting record by 0.02 to 47.08, just one week after his world record at the Bislett Games in Oslo. Warholm clocked the fourth fastest time in his career. Alison dos Santos from Brazil finished second wit 47.51.
Karsten Warholm: "I am happy about breaking my own meeting record. For me it is about being consistent. It was an untidy race at the end that is something I need to learn to improve. I am consisten at a very high level.and that is very good thing to bring into a Championship. It was not the perfect finish today, but I think it was just me trying to be very eager to go fast with a little bit too much frequency in the curve and that was probably a little problem but I was able to make it up and perform a good time. I am now going back to Norway to have a training week there and then I am off to have a pre camp in Japan before travalling to Tokyo four of five day befoe the first round"
Men's 800 metres:
Nijel Amos won the men's 800 metres for the second time in his career setting the world seasonal best with 1:42.91. Emmanuel Korir from Kenya and Marco Arop from Canada also dipped under the previous world seasonal best with 1:43.04 and 1:43.25. Ferguson Rotich Cheruiyot set his seasonal best with 1:43.57 beating Elliot Giles from Great Britain (1:44.07).
Nijel Amos: "It is always a good feeling coming out here to Monaco. I always win out here. I always have a good time".
Men's 100 metres:
Ronnie Baker picked up his second consecutive Diamond League win in two Diamond League meetings in 9.91 beating fresh African record holder Akani Simbine, who clocked 9.98. Itaian record holder Marcell Lamont Jacobs broke the 10 seconds barrier for the second time this season with 9.99 beating André De De Grasse (10.00), US Trials winner Trayvon Bromell (10.01) and Fred Kerley (10.15).
Women's 200 metres:
Reigning Olympic 400 metres champion Shaunae Miller Uibo from the Bahamas took a close win in the 200m in 22.23 edging Marie Josée Ta Lou by 0.02. Shelly Ann Fraser Pryce took third place with 22.48 beating Mujinga Kambundji (22.75).
Shaunae Miller Uibo: We are focusing on the 200m at the moment and I want something new.We are getting the races in so we can get back in the best possible shape before Tokyo. The girls are running great times at the moment but there is nothing I love more than great competition. The current level we see out there is very motivating and I am very happy to see women on top of the sport to see women on top of the sport and making the headlines".
Women's 800 metres:
Laura Muir overtook the rest of the pack to win the women's 800 metres with her lifetime best of 1:56.73 holding off her training partner Jemma Reekie and Kate Grace, who also improved their PBs with 1:56.96 and 1:57.20 respectively. Natoya Goule from Jamaica finished fourth with 1:57.35 ahead of Habitam Alemu from Ethiopia (1:57.71) and Renelle Lamote (1:57.98).
Women's pole vault:
Katie Nageotte followed up her victory at the US Trials with a Diamond League win in Monaco with 4.90m: Nageotte missed three attempts at 4.96m. World champion Anzhelika Sidorova had a clean sheet until 4.80m before missing one attempt at 4.90m and two tries at 4.96m. Katerina Sidorova took third place with 4.80m on countback.
Women's triple jump:
Two-time world champion Yulimar Rojas took the lead with a second round jump of 15.12m but fouled four of her six attempts. The other athletes who qualified for the final 3 were Shanieka Ricketts (14.75m) and Patricia Mamona (14.66m). Ricketts took the win in the jump-off with 14.29m, while Rojas landed a huge jump, but she made a foul. Ricketts was the only jumper of the Final 3 to register a valid jump in the top 3.
Yulimar Rojas: "I am happy and at the same time a bit disappointed with the last two fouls I did today that were very big jumps but that is the way the competion is. Sometimes things do not always go according to plan, but I am leaving happy we have done and for the way I have been jumping lately. I thought it was a big jump and that probably I had achieved a WR but was foul. So now let's go back to work ahead of Tokyo".
Women's 3000m steeplechase:
Hyvin Kyeng took her second consecutive Diamond League win in the women''s 3000m steeplecahse with 9:03.82 beating world record holder Beatrice Chepkoech (9:04.94) and Winfred Mutile Yavi (9:05.05). Kyeng made a break from the pack after two kilometres, but she misjudged the remainng laps and kicked too early.
After crossing the finish line and hearing the bell for the actual final lap Kyeng found energy to run another lap. Emma Coburn challenged Kyeng, but the US Trials fell at the the final water jump. Kyeng croosed the finish-line first.
Coburn bounced back to cross the finish line in 9:09.02. Gesa Felicitas Krause was the first European to cross the finish line in fifth place with 9:15.03.
Men's 3000m steeplechase:
An official ran the bell a lap too early, but World silver medallist Lemecha Girma won the men's 3000m steeplechase setting the world seasonal best with 8:07.75 beating Abraham Kibiwot (8:07.81) and Djiali Bedrani (8:11.71).
Men's high jump:
Mikhail Akimenko sailed over 2.32m to take the win in a close men's high jump with 2.32m beating Canadian champion Django lovett. Akimenko and Lovett had a clean sheet after clearin all heights until 2.29 on the first attempt. Akimenko claimed the win by clearing 2.32m on the jump-off.
Men's long jump:
Thobias Montler took the lead in the third round setting his lifetime best with 8.27m. Reigning world champion Tajay Gayle overtook Montler with 8.29m in the fifth round. Miltiadis Tentoglou qualified for the Final 3 with 8.21m in the second round before winning the decisive jump-off with 8.24m, as Gayle and Montler registered a foul.
Women's javelin throw:
Maria Andrejczyk produced the best throw of the evening with 63.63m in the first round, and kept the lead until the fifth attempt, but forty-year-old Barbora Spotakova claimed the 21st career Diamond League win of her career with 63.08m in the decisive Final 3.
See the full meet results here
-->