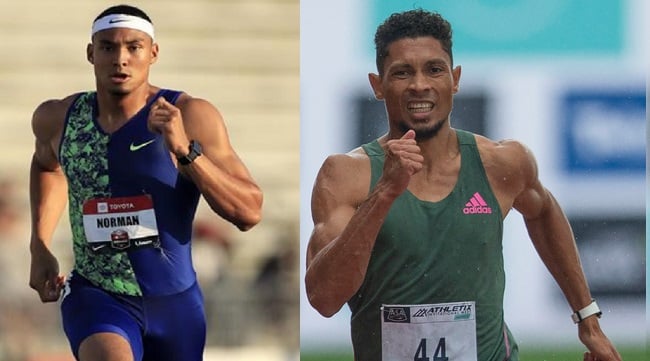 This year's US Olympic Trials champion Michael Norman will go head-to-head against Olympic champion and world record holder Wayde Van Niekerk for the first time in his career in a world-class 400m clash which also features the 2019 world champion, Steven Gardiner at the Gyulai István Memorial - Hungarian Athletics Grand Prix on Tuesday, July 4.
Here is the info on how to watch Gyulai István Memorial live.
Norman has remained unbeaten this year in his first three 400 races in Walnut (44.40), Doha (44.27) and at the US Trials in Eugene (44.07).
Van Niekerk has returned to his best form this year winning the 200m South African title in 20.38 and his first two European races in Madrid in 44.56 and Lucerne in 44.87,
Van Niekerk and Norman are the first two sprinters in history to have dipped under 10 seconds in the 100m, under 20 seconds in the 200m and under 44 seconds in the 400m.
Gardiner won the 400m in Szekesfehrvar three times and set the meeting record with 44.30 in 2015. He recently won the 400m national title in 44.52 in Nassau. The line-up also features Michael Cherry, who finished second to Norman in his lifetime best of 44.35 at the US Trials in Eugene.
110 metres hurdles: Holloway attacks Merritt's world record
Grant Holloway narrowly missed Aries Merritt's world outdoor record by 0.01 clocking 12.81 in the semifinal of the US Olympic Trials in Eugene. Holloway set the world indoor record in the 60m hurdles with 7.29 in Madrid last February. The Hungarian track has already produced sub-13 seconds times set by Omar McLeod with 12.96 in 2016 and Sergey Shubenkov with the meeting record of 12.92 in 2018.
Olympic silver medallist Orlando Ortega will return to Szekesfehrvar where he won last year in 13.21 beating Holloway by 0.01.
Sergey Shubenkov returns to the international circuit after clocking 13.24 in Cheboksary.
The line-up also features European Indoor bronze medallist Paolo Dal Molin, who recently broke the Italian record in the 110m hurdles with 13.27 at the National Championships in Rovereto, Rasheed Broadbell from Jamaica, who clocked 13.10 in Kingston earlier this year and made a winning return in Lignano Sabbiadoro last Saturday, Ronald Levy, who won the Jamaican Olympic Trials in 13.10.
Women's 400m hurdles:
European Indoor 400m champion Femke Bol from the Netherlands will renew her rivalry against Shamier Little just two days after their close head-to-head clash in Stockolm.
In the Swedish capital Bol smashed her national record with 52.37 missing Yulia Pechonkina's European record by just 0.03. Little finished second 0.02 behind in 52.39 bouncing back from her recent fourth place at the US Olympic Trials. Bol and Little have moved up to fourth and fifth in the world all-time list.
The line-up also features this year's Jamaican Trials champion Janieve Russell, European champion and Swiss record holder Lea Sprunger, 2016 Olympic bronze medallist Ashley Spencer. The Hungarian all-comers record of 53.37 could be under threat.
Women's 200 metres:
Reigning 400m Olympic champion Shaunae Miller Uibo will face Jamaica's Shericka Williams, who improved her PBs in the 100m and in the 200m to 10.77 and 21.82 when he finished second at the Jamaican Olympic Trials.
Miller Uibo, who is planning to run the 200m at the Olympic Games in Tokyo, clocked 22.03 in the 200m and 49.08 in the 400m. The Bahamian sprinter won the 200m in 22.18 and the 400m in 50.48 at the National Championships in Nassau at the end of June. The Bahamian sprinter won the 400m in 49.53 in the 2018 edition of the Szekesfehervar meeting.
The line-up will also feature world 200m bronze medallist Mujinga Kambundji, who won the Swiss 100m title in 11.05 in Langenthal, and two-time 200m world champion Dafne Schippers from the Netherlands.
Men's 200 metres: Bednarek clashes against Knighton
The line-up features 12 sprinters with PBs under 20 seconds. Kenny Bednarek and 17-year-old rising star Erryio Knighton will go head-to-head in a re-match of last June's US Olympic Trials in Eugene.
Bednarek won two Diamond League races in Gateshead and Doha and finished second in Eugene in 19.78 behind Noah Lyles. Knighton broke the world under 18 record clocking 20.04 in the heats and went on to improve Bolt's world under 20 record to 19.88 in the semifinal and 19.84 in the final to qualify for the Olympic Games for the first time in his career. Knighton has become the youngest US male athlete to make the US Olympic team since middle-distance runner Jim Ryun in 1964. He started his sports career as a wide receiver at the high school level before taking up athletics in his freshman year at college just three years ago. He was approached by first division schools to play American Football, but Knighton stuck to athletics.
The line-up also features reigning 200m olympic and world silver medallist André De Grasse, who finished second to Bednarek in Doha in 19.89 and won in Oslo in 20.09, Nigerian record holder Divine Oduduru, who won the 100m and 200m NCAA titles in 2019, African 100m champion Akani Simbine from South Africa, 2017 world champion Ramil Guliyev from Turkey and Alonso Edward from Panama, who won the 200m world silver medal behind Usain Bolt in Berlin 2009.
Women's 100 metres:
Shelly-Ann Fraser Pryce improved her PB to 10.63 becoming the second-fastest 100m sprinter in history. The Jamaican sprint legend qualified for the Olympic Games for the fourth time in her career after winning the 100m in 10.71 and the 200m in 21.79 at the Jamaican Olympic Trials.
Fraser Pryce will clash against US Gabby Thomas, who won the US Trials 200m final in 21.61 becoming the second-fastest sprinter in history behind Florence Griffith Joyner. Thomas graduated in neurobiology at Harvard University and is working on a master's degree in epidemiology.
Double Olympic champion Elaine Thompson Herah, who finished third at the Jamaican Olympic Trials in the 100m in 10.84 and the 200m in 22.02 and improved her meeting record to 11.03 into a -1.2 m/s headwind in Lignano Sabbiadoro last weekend. The line-up also features Nigeria's Blessing Okagbare, who won the 100m at the National championships in Lagos in a wind-assisted 10.63, three-time world medallist Marie Josée Ta Lou, who won the 100m in Oslo in 10.91 last Thursday, and European Indoor champion Ajla Del Ponte from Switzerland.
Women's 100m hurdles: Camacho Quinn aims at a fast time
Two-time 100m hurdles champion Jasmine Camacho Quinn from Puerto Rico is looking to continue her winning streak after winning in Gainesville in a world seasonal best of 12.32, Eugene in 12.46, Hengelo in 12.44 and Florence in 12.38. She could threaten Kendra Harrison's meeting record of 12.28 set in 2017.
Camacho Quinn will face Gabby Cunningham, who finished fourth at the US Olympic Trials in Eugene in 12.53, British sisters Cindy Sember and Tiffany Porter, second and third at the European Championships in Torun in the 60m hurdles, 2021 European Indoor finalist and four-time Italian 100m hurdles champion Luminosa Bogliolo, European outdoor champion Elvira Herman and Jamaican rising star Britany Anderson.
Men's high jump: Ivanyuk clashes against Tamberi and Nedasekau
Ilya Ivanyuk, who leads the world seasonal list with 2.37m, is aiming to win his third high jump competition on the European circuit after claiming victories in Doha and Rome with the same height of 2.33m.
Gianmarco Tamberi is aiming to bounce back after finishing second with 2.24m in Leverkusen. Tamberi cleared 2.35 indoor when he won the European Indoors silver with 2.35m behind Maksim Nedasekau, who improved his PB to 2.37. The line-up also features world outdoor silver medallist Mikail Akimenko and 2018 Diamond League winner Brandon Starc from Australia.
Men's triple jump: Zango clashes against Pichardo
World indoor record holder Fabrice Zango will clash against Pedro Pablo Pichardo on the Szekesfehervar, which has always produced great results. Zango, who beat Christian Taylor with 17.43m in last year's edition of this meeting, is looking to win his third win on the European circuit after jumping 17.67m in Montreal and a wind-assisted 17.83m in Madrid beating Pichardo, who bounded out to 17.69m.
Men's 800 metres: Murphy clashes against Rotich
Olympic bronze medallist Clayton Murphy will make his debut on European soil after winning the 800m final at the US Olympic Trials in Eugene in a world seasonal best of 1:43.17. Murphy will line up against world bronze medallist Ferguson Rotich, who won in Stockholm in 1:43.84, British indoor record holder Elliot Giles (1:43.63), Bryce Hoppel, who finished third at the US Olympic Trials and world finalist Marco Arop from Canada.
Men's 3000 metres:
The favourite is Ethiopia's Getnet Wale, who set the second-fastest ever time with 7:24.98 last February and won the 5000m race at the Olympic Trials in 12:53.28. Wale will square off against two-time world champion Muktar Edris, 2016 Olympic silver medallist Hagos Gebrhiwet, the world under 20 cross country champion Milkesha Mengesha, who qualified for the Olympic Games with his third place at the Ethiopian Trials with 12:58.28 and Mark Lokumet, who clocked 13:01.68 in Bergamo beating Selemon Barega.
Men's 100 metres: Simbine takes on Young
Akani Simbine has remained unbeaten this season in his eight 100m races. The South African sprinter won at the Golden Gala in Florence in 10.08 and in Lucerne in 10.11. He will face reigning European champion Zharnel Hughes from Great Britain, US Isiah Young, who is ranked fifth in the 100m world seasonal list with 9.89, and former European 200m champion Adam Gemili from Great Britain.
Men's discus throw:
World champion Daniel Stahl will be looking to repeat his last year's win in the Hungarian meeting. Stahl won nine of his ten competitions this year and set the world seasonal best with 70.55m in Kuortane. He won two consecutive Dimond League meetings in Oslo and Stockholm. He will face Piotr Malachocwki and Andrius Gudzius, who won the world title in 2015 and 2017 respectively, 2019 world silver medallist Fedrick Dacres, 2016 Olympic champion Christoph Harting and British record holder Lawrence Okoyo.
Kokhan and Wlodarczyk win the hammer throw
World record holder Anita Wlodarczyk won the women's hammer throw 74.76m on Monday afternoon beating France's Alexandra Tavernier (74.69m) and Malwina Kopron from Poland (74.02m). Ukrainian rising star Mykhaylo Kokhan, who finished fifth at the 2019 World Championships in Doha, claimed the win in the men's hammer throw with 80.78m on his fourth attempt beating European champion Wojciech Nowicki, who also threw over the 80m barrier with 80.52m, and four-time world champion Pawel Fajdek, who took third place with 78.78m.
-->