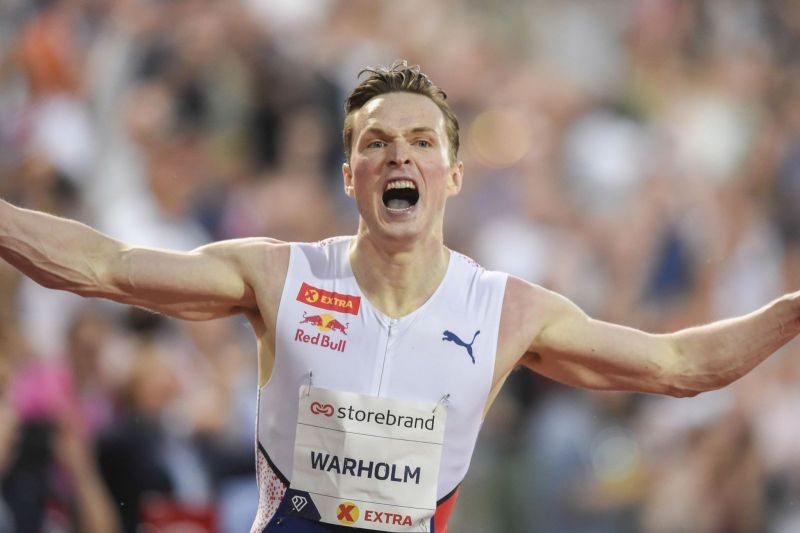 Karsten Warholm broke Kevin Young's 400m world record with a sensational 46.70 on a warm and cloudy evening in Oslo in front of 5000 spectators in the famous Bislett Stadium.
Kevin Young had held the previous world record with 46.78 since the Olympic Final in Barcelona in 1992. Warholm already set the European record with 46.87 last August in Stockolm. Just five days after Raj Benjamin's 46.83 win at the US Olympic Trials Warholm responded to his US rival in spectacular style with an impressive race against the clock from his favourite seventh lane.
Alison dos Santos from Brazil set the South American record with 47.38 to finish second ahead of 2016 Olympic bronze medallist Yasmani Copello (48.86) and Rasmus Magi (48.95).
Both women's and men's 400m hurdles records have been broken in the same week. Five days ago Sidney McLaughlin won the US Trials in world record of 51.90 in Eugene.
Warholm will face Raj Benjamin for the first time this season next week in the Wanda Diamond League in Monaco.
Karsten Warholm: "I knew that I had a fast time in my body. It feels like it has been there for a long time but you never know when it is right to do it. It is special to do it here in Bislett in front of a great crowd including my friends and family. This is my first 400m hurdles race of the season, so I really think there is more in the tank. It might take another world record to win the Olympics. There are such a lot of great guys out there at the moment who will be aiming to do it and win Gold. I am happy that there is such a great competition. I now have the World record and I am so happy. Your competitors are what really push you towards bigger things. If it was only me running quick times, I would not need to push it any further, but with people running fast times, I need to step up as well".
Men's pole vault:
World record holder Armand "Mondo" Duplantis set the Bislett Games record with 6.01m in his first attempt. The Swede had a clean sheet at 5.61m, 5.81m, 5.91m and 6.01m before making three unsuccessful attempts at the world record height of 6.19m.
Two-time world champion Sam Kendricks cleared 5.91m in the third attempt to finish second. Renaud Lavillenie took third place with 5.81m in his first attempt to beat his younger brother Valentin Lavillenie (5.71m).
Armand Duplantis: "I felt really good out there. We could really feel the energy in the stadium out there. Sometimes you just have that feeling and tonight I knew I could get 6m, but, of course, it is never easy. I really think I can get that record soon. It will come this season. For now I feel good; a month away from the most important meeting of the season I am in good shape; I am running well on the runway and keeping up the rhythm well".
Men's 3000 metres:
Yomif Kejelcha set the Diamond League record, the world seasonal best and the meeting record with 7:26.25. The top eight runners set their PB in a high-quality competition. Jacob Krop from Kenya finished second with 7:30.07 beating his compatriot Nicholas Kimeli (7:31.33), Birhanu Balew from Barhein (7:33.05), Filip Ingebrigtsen from Norway, who smashed his PB with 7:34.00, Justus Soget from Kenya (7:35.91), Tadese Worku from Ethiopia (7:37.48) and David McNeill from Australia (7:39.43).
Yomif Kejelcha: "I am working hard for the Olympics but it will be very difficult as there is a lot of competition. I have no more races now before Tokyo, so I will just train hard".
Men's Svein Arne Hansen Dream Mile
Stewart McSweyn won the Svein Arne Hansen Mile with an Oceania record and world leading time of 3:48.37 pushing three athletes under the 3:50 barrier. Marcin Lewandowski finished runner-up improving the national record to 3:49.11. Jye Edwards finished third with 3:49.27 ahead of Kenyan Trials 1500m winner Charles Simotwo, who also dipped under the 3:50 with 3:49.40.
Stewart McSweyn: "I am very happy tonight. My season is going in the right direction going into the Olympics. I want to try and stay healthy going into Tokyo. I still have a few things to work on. The 1500 metres is going to be a really tight competition but I am confident going into it. I considered doubling up with the 5000m but the heats are al too close together an di don't feel strong enough yet for that".
Women's 5000 metres:
Double world champion Hellen Obiri held off Fantu Worku in the final lap to win the 5000m in 14:26.30. Obiri claimed the 17th win of her career in the Diamond League. Worku finished second with 14:26.80 ahead of Margaret Chelimo Kipkemboi (14:28.24). Eilish McColgan set the British record clocking 14:28.55.
Men's discus throw:
World discus throw champion Daniel Stahl produced a solid series of throws that included the best throw of 68.65m in the fifth round and two more throws over 67 metres (67.26m and 67.17m). The Swedish thrower clinched the win with 65.72m in the Final 3. European Under 23 champion Kristjan Ceh from Slovenia threw the discus to 66.68m before taking the second place in the Final 3 with 65.72m. Lukas Weisshaidinger qualified for the Final 3 with 65.67m before throwing 61.03 in the final round.
Daniel Stahl: "I am happy with the win but not with this system. The rule is tough on everyone. 68.65m is a good throw so I am very happy with that. It is good to have a full stadium tonight with everyone cheering. I felt great out there this evening".
Women's 100 metres:
Three-time world medallist Marie Josée Ta Lou won her first Diamond League 100m race of the season setting a seasonal best of 10.91. Darryl Neita from Great Britain claimed second place with 11.06 beating European Indoor gold medallist Ajlia Del Ponte (11.16) and US Trials second placer Javianne Oliver (11.18).
Marie Josée Ta Lou: "When you start your season you just hope for no injuries, good training and to be ready for competition. There is a lot of good talent out there but I am always in competition with myself. I don't look at others. I am aiming for top three in Tokyo".
Women's long jump:
World champion Malaika Mihambo took the lead with 6.86m in the second attempt before claiming the Final 3 jump-off with 6.83m. World indoor champion Ivana Spanovic secured her spot in the Final 3 with 6.66m in the opening round and took second place in the Final 3 with 6.61m. Nastassia Mironchik Ivanova from Belarus leapt to 6.72m in the fifth round before taking third spot in the jump-off with 6.58m.
Malaika Mihambo: "The competition was quite good out there. I am getting used to the new format. I have been struggling with my approach but with every competition I am getting better. I am very happy with that tonight and I am getting closer to the 7 metres., which will come. I am fast on the runway, but I need to work on these three steps to get the right jump"
Men's 200 metres:
World and Olympic silver medallist André De Grasse from Canada won the men's 200 metres in 20.09 into a headwind of -1.0 m/s. The Canadian sprinter won his third race on the track of the Bislett stadium after his two consecutive victories in the 100m in 2016 and 2017. Aaron Brown completed the Canadian double by finishing second with 20.38 ahead of Isaac Makwala from Botswana (20.61).
André De Grasse: "I was happy with that today. There are a few things to work on but I only arrived a couple of days ago, so my body still needs to adjust after the jet leg. I am so excited for the Olympics after we waited so long for it and my plan is to bring some medals back to Canada"
Women's 400 metres hurdles:
Femke Bol set the Dutch record in the women's 400m hurdles in 53.33 to win her second consecutive Diamond League competition of the season following her victory in Florence with 53.44. European silver medallist Anna Ryzhikova finished second improving her PB to 54.15. Viktroriya Tkachuk took third place missing her PB by just 0.02 with 54.62.
Femke Bol: "I am really pleased to take another national record but I think I can go faster"
Women's 800 metres:
US middle distance runner Kate Grace bounced back from her seventh place at the US Trials with a win in the women's 800m in 1:57.60 setting the fifth fastest time in the world this year in a high-quality competition where the top five dipped under the 2 minutes barrier. Reigning world champion Halimah Nakaayi from Uganda finished second with 1:58.70 ahead of Lore Hoffman from Switzerland (1:59.06), Catriona Bisset (1:59.30) and Lovisa Lindh (1:59.81).
Men's triple jump:
Yasser Mohamed Triki from Algeria bounded out to 17.24m to take the lead in the first round. The African jumper, who studies in the USA for Texas A&M, took the win with 17.23m in the Final 3. Andy Diaz, who jumped 16.78m in the first round, pulled up injured in the Final 3. Tiago Pereira qualified for the Final 3 with 16.64m but made a foul in the final attempt.
Women's javelin throw:
Maria Andrejczyk took the lead with 62.46m in the second attempt, but 2018 European champion Christin Hussong overtook her Polish rival with a 62.62m throw in the fourth round. Andrejczyk regained the first place with 62.67m. The third athlete to qualify for the Final 3 was Kelsey Lee Barber with 60.86m. Hussong snatched the win in the Final 3 with 60.95m.
Christin Hussong: "I only threw 62 metres today, so I am a little disappointed with that but happy for the win. There is always a lot of pressure on that sixth throw, so I was very happy with the 60.95m for that one. It does feel that Maria threw further and yet I won. The mental pressure is a good experience for Tokyo".
See the full Oslo Diamond League results here.
-->