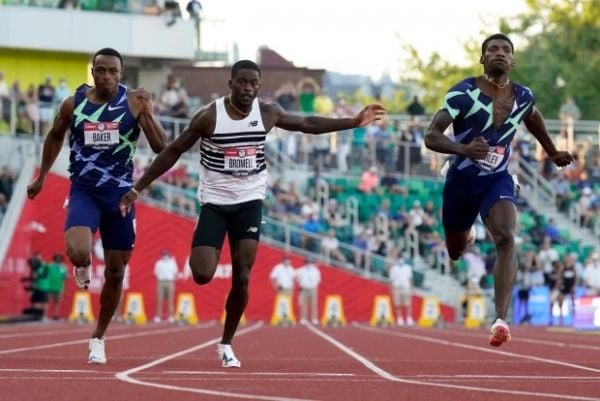 Trayvon Bromell solidified his status as the fastest man in the U.S. and in the World by winning the men's 100-meter final in 9.80 at the U.S. Olympic Track and Field Trials on Sunday in Eugene Oregon.
Ronnie Baker (9.85) and Fred Kerley (9.86), the former 400m runner, took second and third respectively to claim the two remaining Olympic team spots. Kenny Bednarek finished in fourth place in 9.89 while the World 200m champion Noah Lyles after a bad start crossed the line in a disappointing seventh in 10.05.
After battling with Achille's injury for several seasons, Bromell returned to competition this year in the best shape of his life. On June 5, he clocked a new personal best and World lead of 9.77at the NACAC New Life Invitational in Miramar, Florida. The 25-year-old is now favouriteto win the gold meda in Tokyo.
"It's a marvelous feeling," Bromell said. "Everybody who knows me knows that I'm a spiritual runner. I run for God. I run for Christ. He tells us in scripture when things like this happen, 'You won't be surprised,' so when I won, I was happy."
Rudy Winkler sets American hammer throw record
In the men's hammer throw Rudy Winkler surprised not only by winning the event but also by braking the American Record. After his opening throw of 80.75m Winkler unleashed a huge throw of 82.71m to break Lance Deal's 25-year-old American record of 82.52. During his series, Rudy produced five throws over 80m, two went over 82m mark. Daniel Haugh (79.39m) and Alex Young (78.32) threw new personal best marks to take second and third place respectively.
Rudy Winkler's 82.71m is jow the second-best hammer thrower in the world this year.
"I was more prepared for this than I have been for anything in my life," said Winkler. "To throw 5 over 80m is a bit unbelievable. If you saw me during the competition, I would walk out of the circle throwing 80 saying, 'This is crazy.' It felt effortless. In the past, in 2016, I was throwing 70, 72, and then I popped off a 76."
Women's 400m
Quenara Hayes won the 400m final finishing after 49.78, just 0.06 shy of the personal best from the 2017 US championships.
The 35-year-old Allyson Felix made her fifth Olympic team after a dramatic second-place finish. Before the final 100m, Felix was in 5th but she managed to pass 3 runners and finished in 2nd place in 50.02 just 0.01 seconds ahead of Wadeline Jonathas who was third with 50.03. Kendall Ellis clocked 50.10 to take fourth place.
Men's 400m
Michael Norman won the men's 400 in 44.07. Micahel Cherry clocked a new personal best of 44.35 to finish second while the world leader Randolph Ross came in third in 44.74.
Just nine days ago on the same track at the NCAA championships, Ross ran a world-leading time of 43.85.
The World record holder Kendra Harrison, won a tough women's 100m final with a time of 12.47. Harrison crossed the line just 0.01 ahead of Olympic champion Brianna McNeal. Christina Clemons and Gabbi Cunningham both clocked 12.53 and were separated by only five-thousandths of a second to finish third and fourth respectively. With four women finishing inside 12.54, it's the highest quality 100m hurdles race in history outside of global championships.
See the full meet results here.
-->