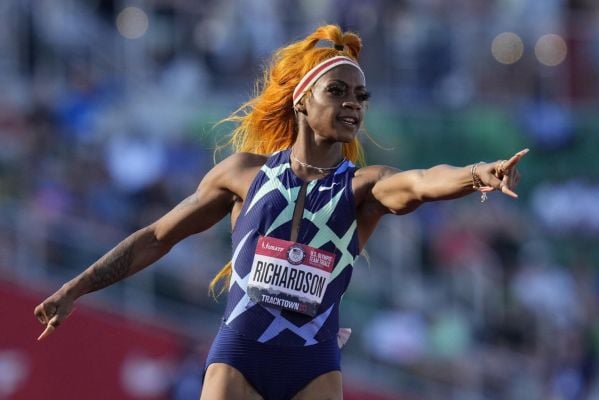 Sha'Carri Richardson dominated the women's 100m at the U.S Track and Olympic team trials on Saturday night in Eugene, Oregon.
The 21-year-old Richardson led the semi-finals with a very impressive but wind-aided (+2.6m/s) 10.64 seconds. She was so far ahead of her competitors, that she had time to point to the clock with about 25 meters to go. Seven women went under 11 seconds in the semi-finals however all the marks were achieved with a +2.6m/s tailwind.
One hour later Richardson once again blew away the field with a wind-legal 10.86 seconds and booked her ticket to Tokyo Olympics. Javianne Oliver was second with 10.99 while Teahna Daniels took third with 11.03 seconds. The top three women automatically qualified for the Olympics.
"I just want the world to know that I'm that girl," Richardson told NBC Sports after the 100m final. "Every time I step on the track, I'm going to try to do what it is that me, my coach, and my support team believe I can do, and with the talent that God blessed me to have."
Richardson's fastest wind-legal time is 10.72 seconds, set April 10.
Jamaica's Shelly-Ann Fraser-Pryce holds the fastest time in the world this year in the women's 100 meters with 10.63 seconds from June 5, while Richardson is the second-fastest 100m performer this term.
Women's 100m semi-final heat 1 video
Women's 100m Final Results US Track and Field Olympic Trials
Wind +1.6m/s
1. Sha'Carri Richardson 10.86
2. Javianne Oliver 10.99
3. Teahna Daniels11.03
4.Jenna Prandini11.11 SB
5. Gabby Thomas 11.15
6. English Gardner 11.16
7. Aleia Hobbs 11.20
8. Kayla White 11.22
9. Candace Hill 11.23
-->