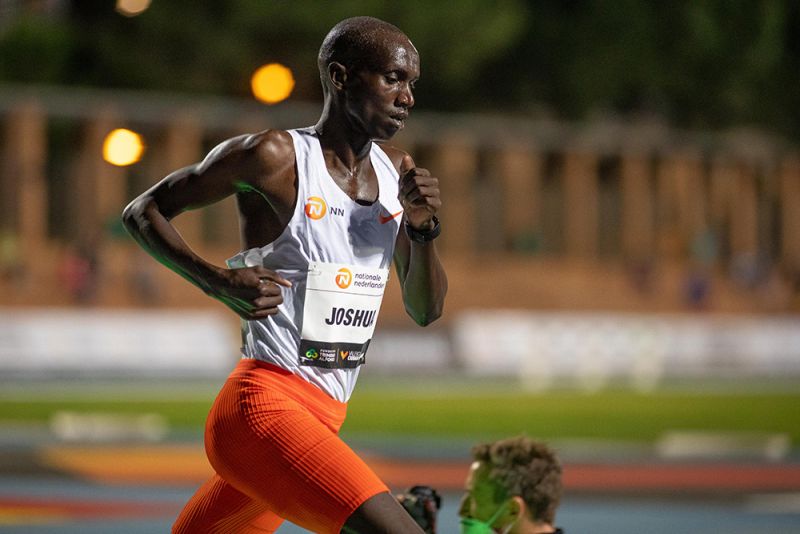 World 5000m record holder Joshua Cheptegei, world 200m champion Dina Asher-Smith, middle distance running stars Sifan Hassan, Faith Kipyegon and Laura Muir and double high jump world champion Mutaz Barshim will headline a spectacular edition of the Golden Gala Pietro Mennea at the ASICS Firenze Marathon Stadium named after former FIDAL President Luigi Ridolfi. The Italian leg of the WANDA Diamond League has moved from Rome to Florence because the traditional venue is not available for athletics due to the European Football Championships in the Olympic Stadium.
See the live stream, results, schedule here.
Men's 5000 metres:
Joshua Cheptegei will face Ethiopian middle distance running stars Selemon Barega and Hagos Gebrhiwet, who clocked the fifth and sixth fastest times in the world all-time list with 12:43.02 and 12:45.82 in Brussels 2018, the other Ethiopian runner Muktar Edris, double world 5000m champion in London 2017 and Doha 2019, and reigning 1500m and 5000m European champion Jakob Ingebrigtsen from Norway.
Cheptegei set the 5000m world record clocking a sensational 12:35.36 in the 5000m in Monaco last August and went on to break Kenenisa Bekele's world 10000m with 26:11.00 in Valencia last October. The phenomenal Ugandan runner ran the 3000m in 7:33.24 in the Continental Tour in Ostrava last May.
"I think that the meeting record is in danger tomorrow with a good organization of pacemakers. I hope I can target 12:40 or faster on Thursday. I will face Jakob Ingebrigtsen, who is the athlete of the moment", said Cheptegei.
Ingebrigtsen set the European Indoor record in the 1500m with 3:31.80 in Liévin, won the 1500m and 3000m European Indoor gold medals in Torun and made a winning debut in the 1500m in the Diamond League meeting in Gateshead in 3:36.27. Ingebrigtsen broke the Norwegian 3000m record at last year's edition of the Golden Gala with 7:27.05.
Barega set his indoor PBs in the 1500m with 3:32.97 in Torun and in the 3000m with 7:26.10 in Liévin last February and won the 10000m at the Ethiopian Trials in 26:49.51 earlier this week.
The meeting record and the Italian all-time record set by Eliud Kipchoge with 12:46.53 in the 2004 edition of the Golden Gala in Rome are under threat.
European 10000m bronze medallist Yeman Crippa will run his second 5000m race of the season after claiming the win at the European Team Championships in 13:17-23. Crippa set the Italian 3000m record with 7:38.27 at last year's edition of the Golden Gala in Rome.
Women's 1500 metres:
The women's 1500 metres race will be headlined by a talented field featuring reigning world 1500m and 10000m Sifan Hassan from the Netherlands, Olympic 1500m champion Faith Kipyegon, 3000m steeplechase world record holder Beatrice Chepkoech, and reigning 1500m European outdoor champion Laura Muir from Great Britain.
Hassan won the 1500m world gold medal in Doha with a phenomenal European record of 3:51.95 and set the world 10000m record with 29:06.82 in Hengelo. However her record was short-lived, as Letesenbet Gidey improved Hassan's record two days later with 29:01.03 at the Ethiopian Trials.
The Dutch runner also broke the world record in the mile with 4:12.33 in Monaco in 2019 and holds European records over all distances in the 3000m (8:18.49), in the 5000m (14.22.12) and in the half marathon (1:05:15).
Kipyegon won the world silver medal in the 1500m in Doha 2019 with her PB of 3:54.22. The Kenyan middle distance running star made a winning start to her Diamond League season in Doha in 1:58.26 in the 800m
Muir, who holds the 1500m British record with 3:55.22, won her first races over this distance this season in Eugene with 4:01.54 and in Gateshead in 4:0373. Last February she set the British indoor record with 3:59.58 in Liévin. Muir finished second with 3:56.73 in the 1500m in 2019 and third in the 800m in 2:00.49 in her previous two appearances at the Golden Gala.
Chepkoech set the world record in the 3000m steeplechase with 8:44.32 in Monaco in 2018 and the 5 km road all-time best with 14:43 at the Monaco Run last February.
The best Italian runner in the field is two-time Italian indoor champion Gaia Sabbatini, who won the 1500m at the European Team Championships and improved her PB to 4:08.14 in Ostrava.
Women's 200 metres:
World 200 champion and 100m silver medallist Dina Asher-Smith will be looking to win her second Diamond League race this year after claiming the 100m in 11.35 in rainy weather conditions and into a strong headwind in Gateshead. The British star will run her second 200m race this year after winning in Savona in 22.56. She will make the second appearance of her career at the Golden Gala two years after finishing second in the 100m in 10.94.
"I feel honoured to be in this amazing city. I have never looked at the ceiling so much in a press conference. I am excited to run in Florence. I did a good block of training and I hope to put together another good performance. I am impressed by Shelly-Ann Fraser's 10.63 in Kingston last Saturday", said Asher-Smith.
Asher-Smith will face double 200m world champion Dafne Schippers from the Netherlands, three-time world medallist Marie Josée Ta Lou from Ivory Coast, who finished third in Gateshead and won the 100m in Montreuil in her seasonal best of 11.06, and world 200m bronze medallist Mujinga Kambundji from Switzerland. The best Italian sprinter in the field is Dalia Kaddari, who finished second at the European Team Championships in Chorzow in her PB of 22.89.
Men's high jump:
The men's high jump is shaping up as a preview of the Olympic Games final, as it features jumpers with a PB of 2.33m or more. The line-up is headlined by two-time world outdoor champion Mutaz Barshim, who is second in the world all-time list with 2.43m and set the Golden Gala record in Rome in 2014 with 2.41m. Barshim will renew his rivalry against Ilya Ivanyuk, who set the world outdoor seasonal best with 2.37m in Smolensk. Ivanyuk beat Barshim with 2.33m to 2.30m in the first Diamond League of the season in Doha. Gianmarco Tamberi will open his outdoor season after winning the European Indoor silver medal in Torun with 2.35m after a hard-fought battle with Maksim Nedaseku, who won the gold medal with a world indoor seasonal best of 2.37m. The line-up also features 2018 Commonwealth Games gold medallist Brandon Starc from Australia, reigning European outdoor champion Mateusz Przbylko from Germany, Loic Gasch, who set the Swiss record with 2.33m in Lausanne this year, and 2019 Italian champion Stefano Sottile, who cleared a lifetime best of 2.33m two years ago in Bressanone.
Mutaz Barshim: "I am very happy to return to Italy. It's fantastic to be in Florence. I love history and art. I don't know if I will have the chance to visit the city, but I want to return here with my family in the future. I was proud to defend my world title in Doha in 2019 in front of my fans after a difficult season. I want to build up to the Olympic Games step by step. I have won the Diamond League three times and I have a good place in my house for another Diamond Trophy. Competing against the best athletes helps me perform better. I love pressure."
Women's long jump:
World and European champion Malaika Mihambo from Germany will face world silver and European Indoor gold medallist Maryna Beck Romanchuk from Ukraine, three-time European Indoor champion Ivana Spanovic, world indoor under 20 record holder Larissa Iapichino from Italy, Chantel Malone from the British Virgin Islands, who set the national record with 7.08m, Nastassia Mironchyk Ivanova from Belarus (PB 7.08m). The line-up also features olympic triple jump champion Caterine Ibarguen from Colombia, who won the double Diamond League title in the long and triple jump in 2018.
Iapichino set the world indoor under 20 record with 6.91m at the Italian Indoor Championships in Ancona. Laura Strati, who finished sixth at the European Indoor Championships, will be aiming to achieve the qualifying standard for the Olympic Games.
Women's pole vault:
Olympic and European champion Katerina Stefanidi will square off against world champion Anzhelika Sidorova and this year's European Indoor bronze medallist Holly Bradshaw. Stefanidi finished fourth in the first Diamond League competition of the year in Doha with 4.74m, as Sidorova cleared 4.64m. The Greek vaulter set her seasonal best of 4.80m in Walnut.
Holly Bradshaw improved the national outdoor record to 4.82m in Huelva last week. The line-up also features Tina Sutej and Iryna Zhuk, who cleared 4.74m, Roberta Bruni, who improved the Italian record to 4.70m and cleared 4.64m in Huelva, this year's European Indoor champion Angelica Moser, 2017 world bronze medallist Robelylis Peinado from Venezuela and the two-time world under 20 champion Angelica Bengtsson from Sweden
Men's 100 metres:
Akani Simbine from South Africa will be looking to win the men's 100 metres at the Golden Gala for the second consecutive year after finishing first in Rome in 9.96 last September.
The line-up also features Arthur Cissé, who set his PB with 9.93 in Leverkusen in 2019, 4x100 world champion Michael Rodgers, and Chijidu Ujah from Great Britain, who won the Diamond League final in Zurich and the world and European 4x100 relay gold medals in 2017 and 2018, Jak Ali Harvey from Turkey Emmanuel Matadi from Liberia, Cejhae Greene from Antigua and Barbuda and Yupun Abeykoon from Sri Lanka.
Men's 400 metres:
Anthony Zambrano from Colombia will run the second Diamond League race of his career after finishing second in Doha in 44.57 on 28 May. The Colombian 400m sprinter won the world silver medal in the 400m in a South American record of 44.15. He will face Isaac Makwala from Botswana, who recently clocked 20.15 in the 200m and 400m in 44.65, Machel Cedenio, who finished fourth at the Olympic Games in 44.01 in Rio de Janeiro 2016, Davide Re, who broke the Italian record with 44.77 in La Chaux de Fonds in 2019 and clocked 44.85 in the World Championships semifinal in Doha later that year, and Edoardo Scotti, who won the 400m at last year's edition of the Golden Gala in Rome improving his 400m PB to 45.21.
Men's 110m hurdles:
Olympic 110m hurdles champion Omar McLeod from Jamaica will make his first appearance at the Golden Gala. McLeod, who became the first athlete to clock under 13 seconds in the 110m hurdles with 12.90 and under 10 seconds in the 100m in 9.99, set a seasonal best of 13.11 in Irvine this year. McLeod will square off against 2019 world bronze medallist Pascal Martinot Lagarde, and all three medallists of the 2021 European Indoor Championshps, Wilhelm Belocian from France (gold), Andrew Pozzi from Great Britain (silver) and Paolo Dal Molin from Italy (bronze), three-time US champion Devon Allen from the USA, who clocked 13.22 in Jacksonville this year, and Shane Brathwaite from Barbados, who finished sixth at the World Championships in Doha 2019.
Women's 100m hurdles:
The women's 100m hurdles race will be headlined by Jasmine Camacho Quinn from Puerto Rico, who set the world seasonal best with 12.32 in Gainesville and clocked 12.46 at the Continental Tour in Eugene, Devynne Charlton from the Bahamas, who clocked 12.61 in Walnut, Megan Tapper from Jamaica, 2018 European outdoor champion Elvira Herman from Belarus, who won in Montreuil last Tuesday, Pia Skrzszowswka, who reached the European Indoor Championships final and won the 100m and 100m hurdles at the European Team Championships in Chorzow, Italian hurdles specialists Luminosa Bogliolo and Elisa Maria Di Lazzaro, who dipped under 13 seconds this year with 12.84 and 12.90 in Savona.
Women's 400m hurdles:
This year's European 400m indoor champion Femke Bol will be bidding to win the 400m hurdles for the second consecutive year at the Golden Gala after taking the victory in Rome with 53.90. Bol improved the Dutch Indoor record five times to 50.63 and started the outdoor season with a National record of 50.56 in Oordegem. Bol will take on Olympic silver medallist Sara Slott Petersen from Denmark and European silver medallist Anna Ryzhikova from the Ukraine, Tia Adama Belle from Barbados (World Under 18 silver medallist in Donetsk 2013), Jessica Turner, who won in Oordegem with 54.77 and Samorin in 54.89, and 2019 World University Games champion Ayomide Folorunso from Italy.
Men's 3000m steeplechase:
Olympic and world champion Conseslus Kipruto will run his first 3000m steeplechase since winning the world gold medal in Doha 2019 at 8:01.35. Kipruto reached the World Championships podium four times winning two silver medals in 2013 and 2015 and two gold medals in 2017 and 2019 and claimed three wins at the Golden Gala in Rome in 2016, 2017 and 2018.
Kipruto will take on Ethiopia's Getnet Wale, who won the Diamond League final in Zurich 2019 and the second-fastest ever indoor performer in the 3000m with 7:24.98 in Liévin, Morocco's Soufiane El Bakkali, who won the world bronze medal in Doha 2019 and improved his 1500m PB to 3:31.95 in Doha this year, Chala Beyo from Ethiopia, who clocked 8:06.48 in Rabat 2019, Fernando Carro from Spain, European silver medallist in Berlin 2018, Djilali Bedrani from France, who set a lifetime time of 8:05.23 in the Doha Diamond League in 2019, Albert Chemutai (fourth at the World Under 20 Championships in Tampere 2018) and Italy's Osama Zoghlami, who set the Olympic qualifying standard with 8:20.29 in Ostrava.
Men's shot put:
Tom Walsh from New Zealand is aiming to produce the first 22 metres in the history of the Golden Gala. The shot putter from New Zealand won the world bronze medal in the greatest shot put competition of all time, when he finished third with 22.90m. He won the first Diamond League competition of the season in Doha.
Walsh will face Michal Haratyk, who won the silver medal at the European Indoor Championships in Torun and claimed the victory at the European Team Championships, this year's European Indoor champion Tomas Stanek, Serbia's Armin Sinancevic, who equalled the Serbian record with 21.88m in Doha, Konrad Bukowiecki, who won the European Under 23 title in 2019 and the Golden Gala two years ago with the meeting record of 21.97m, European Indoor bronze medallist Filip Mihaljevic from Croatia, Florence native Leonardo Fabbri, who improved his seasonal best to 20.77m at the European Team Championships in Chorzow, and Fabbri's training partner Zane Weir, who improved his PB to 21.11m last February and finished fifth in the Doha Diamond League meeting with 20.26m.
Women's discus throw:
Sandra Perkovic won three editions of the Golden Gala in 2013, 2015 and 2018. The Croatian star won two Olympic gold medals and two world titles. She has held the Golden Gala record with 68.93m since 2018. She set her seasonal best to 66.11m in Montreuil.
Perkovic will take on reigning world champion Yaime Perez, who has already come close to the 70 metres barrier with 68.99m in L'Avana and won the Doha Diamond League meeting.
The line-up is completed by Denia Caballero from Cuba (world champion in Beijing 2015), Liliana Cafrom Portugal, winner at the European Team Championships in Chorzow, German throwers Claudine Vita (fourth at the 2018 European Championships) and Kristin Pudenz, Olympic silver medallist Meiina Robert Michon.
Italian thrower Daisy Osakue is aiming to improve her seasonal best of 61.19m set last March in the United States.
-->