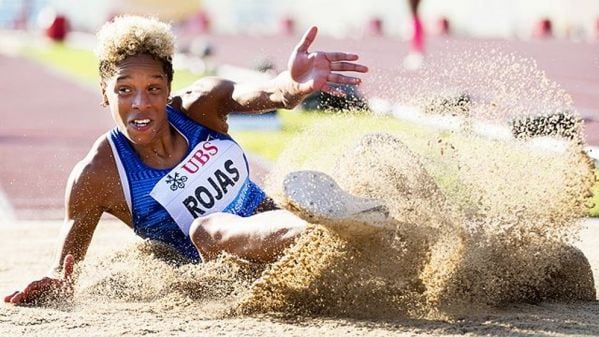 Yulimar Rojas, Sha'Carri Richardson, Hellen Obiri and Mutaz Barshim are set to put on a great show at the Doha Diamond League at Qatar's Sports Club, which features 32 medallists from the 2019 World Championships, including 12 world champions.
Watch Doha Diamond League live
Women's triple jump:
World indoor record holder Yulimar Rojas returns to Doha, where she won the second world outdoor title with 15.37m. The Venezuelan star jumped 15.43m last Saturday in Andujar missing Inessa Kravetz's world outdoor record by seven cm set at the 1995 World Championships in Goteborg two months before Rojas was born. Rojas also backed up this record with a jump of 15.31m in the final round.
Rojas will take on reigning olympic champion Catherine Ibarguen from Colombia in all- South American clash. Ibarguen won the Olympic gold medal in Rio de Janeiro 2016 with 15.17m ahead of Rojas and two world outdoor gold medals in Moscow 2013 and Beijing 2015. The Colombian 37-year-old star set the sixth best performance in history with 15.31m in Monte-Carlo.
World silver medallist and 2019 Diamond League champion Shanieka Ricketts from Jamaica is in good shape and won the first triple jump competition of the 2021 Diamond League season in Gateshead.
The women's triple jump is shaping up as a preview of the 2021 Olympic Games in Tokyo, as it features Kimberly Williams from Jamaica (fourth at the World Championships in Doha 2019 and world indoor silver medallist in Birmingham 2018), Keturah Orji (US record holder with 14.92m in 2021), Olga Saladukha from the Ukraine (world outdoor champion in Daegu 2011), Paraskevi Papachristou from Greece (European outdoor champion in Berlin 2018), Olga Rypakova from Kazakhstan (Olympic champion in London 2012).
Women's 100 metres:
World under 20 record holder Sha'Carri Richardson leads a star-sudded 100m line-up at the Wanda Diamond League meeting in the Qatar's Sports Club in Doha.
Richardson will face reigning four-time world champion Shelly Ann Fraser Pryce from Jamaica, three-time world medallist Marie Josée Ta Lou from Ivory Coast and 2018 world 200m bronze medallist and reigning 100m Commonwealth Games gold medallist Blessing Okagbare from Nigeria.
Richardson set the world seasonal best with 10.72 at the Miramar Invitational (World Continental Silver). The 21-year-old US sprinter has moved up into sixth place in the world all-time list. She went on to clock 10.74 and 10.77 into a headwind of -1.2 m/s in Walnut. In her first two European races she won the 200m in Ostrava in 22.35 and finished second in Gateshead in 11.44 in the 100m into a strong headwind of -3.1 m/s.
Sha'Carri Richardson: "As I embark on this next journey of my life as a professional athlete, I am honoured to participate in the historic Wanda Doha Diamond League meet. I know what I have to work on and just want to show the world and the women in my sport that I am here to stay".
Fraser Pryce won the fourth world title in Doha 2019 with 10.71 missing her PB by 0.01. The Jamaican 34-year-old star won twice in the Doha meeting in the 200m in 22.48 in 2013 and in the 100m in 11.13 in 2014.
Ta Lou, who set her 100m PB with 10.85 in Doha in 2018, finished third in Gateshead in 11.48 edging Fraser Pryce by 0.03.
The line-up also features 2018 world 60m indoor champion Murielle Ahouré from Ivory Coast, this year's European 60m indoor champion Ajla Del Ponte from Switzerland, 2018 US 60m indoor champion Javianne Oliver and Hanna Cunliffe, who set her PB of 10.99 in 2016.
Women's 3000 metres:
Double world 5000m champion Hellen Obiri from Kenya will face world record holder Letesenbet Gidey in a world-class 3000 metres.
Obiri won three world titles on the track (two outdoor in the 5000m in London 2017 and Doha 2019 and one indoor in the 3000m in Istanbul 2012), the World Cross Country gold medal in Ahrus 2019 and three races in the Doha Diamond League meeting in 2014, 2019 and 2020.
The 31-year-old Kenyan star clocked 8:22.54 in the 3000m in the 2020 edition of the Doha meeting and set the meeting and Kenyan record with 8:20.68 in 2014. She also made her half marathon debut clocking 1:04:51 in Istanbul last April.
Obiri beat Gidey in their most recent clash over 5000m in the Monaco Diamond League in 14:22.12.
Hellen Obiri: "Doha is also the place where I won my last World Championships in 2019, but it is all about the Olympic Games as that is the only major gold medal that I am missing and I am working hard to change that this year. The 3000m and the 5000m races are very competitive at the moment and I expect we will see some fast times in the next few months and in Tokyo."
Gidey won the 10000m world silver medal in Doha 2019, two world under 20 cross country titles in 2015 and 2017 and finished third behind Obiri in the senior race at the 2019 World Cross Country Championships. Last October the young Ethiopian runner broke the world 5000m record in Valencia with 14:06.62.
Letesenbet Gidey: "I am happy to start my season in Doha. It will my first race as a world record holder and I feel excited to see where I am in terms of condition. It will be a very important stepping stone towards the Olympic Games later in the season".
The other top runners in the field are Margaret Kipkemoi Chelimo and Lillian Rengeruk, who finished third and fifth in the 5000m World Championships in Doha 2019, Beatrice Chebet, 2019 world under 20 cross country champion in 2019.
Men's high jump:
Mutaz Barshim returns to action in his home city, where he won the second world outdoor gold medal in a packed Khalifa International Stadium in front of his fans. Barshim won twice a row in the Doha Diamond League meeting in 2017 with 2.37m and in 2018 with 2.40m. During the 2021 season Barshim cleared 2.25m in a competitive test in Doha and 2.30m in the Continental Tour meeting in Tokyo.
Barshim will face Maksim Nedasekau, who won the European Indoor gold medal in Torun 2021 with 2.37m, 2019 world outdoor bronze medallist Ilya Ivanyuk, who set the world outdoor seasonal best with 2.37m in Smolensk on 17 May, 2014 European outdoor silver medallist Andiy Protsenko from the Ukraine, 2018 Diamond League champion Brandon Starc from Australia, reigning olympic champion Derek Drouin from Canada, former world champion Donald Thomas and Jamal Wilson from the Bahamas and US Trey Culver (PB 2.33m).
Mutaz Essa Barshim: "Following the World Championships in Doha I was in very good shape, but with the pandemic and the associated restrictions, I did not feel I had a good reason to compete last year. All of my efforts have been focused on this summer's Olympic Games and I believe I have used my time wisely to prepare and train well. Now it's time to compete and I am looking forward to opening my Diamond League campaign in Doha.
Men's 400 metres hurdles:
Local star Abderrhaman Samba will line up US Raj Benjamin for the first time since the World Championships 400m hurdles final in Doha. Benjamin won the world silver medal medal in 47.66 ahead of Samba.
Samba headlined the 2018 edition of the Doha Diamond League meeting by winning the 400m hurdles in 47.57 and broke the Diamond League record four times in five appearances that year. He started the 2021 season clocking 45.43 over the 400m flat in Potchefstroom.
Benjamin set the world seasonal best time of 47.13 in Walnut on 9 May, the third fastest time in his career.
The line-up features four more sub-48 performers: two-time Diamond Trophy winner Kyron McMaster from the British Virgin Islands and Alison Dos Santos from Brazil, who improved their PBs to 47.50 and 47.68 in Walnut earlier this month, 2016 Olympic bronze medallist Yasmani Copello from Turkey (PB 47.81) and 2018 European bronze medallist Thomas Barr (47.97).
Men's 400 metres:
Michael Norman will run his third 400m race this season after claiming two Continental Tour wins in Eugene in 44.67 and in Walnut in 44.40. The US star set the fourth fastest time in history with 43.45 and dipped under 20 seconds with 19.70 in the 200m in Rome in 2019 and under 10 seconds in the 100m with 9.86 in Fort Worth in 2020.
Norman will face Anthony Zambrano from Colombia and Fred Kerley, who finished second and third in the World Championships final in Doha 2019. Kerley dipped under the 10 seconds this season with 9.91 in Miami and 9.96 in the 100m in Ostrava and equalled his PB with 20.24 in the 200m
Former olympic champion Kirani James from Grenada will run in Doha for the first time since he finished fifth in the 2019 World Championships final in 44.54. He dipped under the 45 seconds with 44.88 in Phoenix and 44.74 in the Continental Tour meeting in Ostrava.
Men's 200 metres:
US rising star Kenny Bednarek is aiming to win his third consecutive 200m race after finishing first in Ostrava in 19.90 and Gateshead in 20.33 with a strong headwind of -3.1 m/s. Bednarek also finished second to Noah Lyles in 19.94 in Walnut.
André De Grasse will return to Doha, where he won the silver in the 200m, the bronze in the 100m and the 4x100 relay at the 2019 World Championships.
Justin Gatlin will run on the track where he set his PB in the 100m wit 9.74 in 2015.
The line-up will also feature 2017 world champion Ramil Gulyev, who won in the Doha meeting in 2019 with 19.99, 2014 European Championships champion Adam Gemili from Great Britain, Aaron Brown from Canada, who finished eighth at the 2019 World Championships in the 100m in Doha, and Arthur Cissé from Ivory Coast, who set the national record with 20.23.
Women's pole vault:
The Doha Diamond League line-up will reunite the three medallists of the 2019 World Championships: Anzhelika Sidorova (gold), Sandi Morris (silver) and Ekaterini Stefanidi (bronze).
Sidorova won the the world outdoor title with a lifetime best of 4.95m, two world indoor silver medals in 2014 and 2018 and the European outdoor gold medal in 2014.
Anzhelika Sidorova: "I have made some good progress throughout the indoor season and I am looking forward to building on that form when I open my Wanda Diamond League season in Doha. I achieved my personal best of 4.95m at the 2019 World Championships, so I have happy memories of competing in this city".
Sandi Morris finished second in the past two editions of the World Championships in London 2017 to Stefanidi and Sidorova in Doha 2019 and won the world indoor gold medal in Birmingham 2018. During the 2021 season the US vaulter cleared 4.88m indoors in Fayetteville and 4.80m at the Texas Relays in Austin.
"I can't wait to get back to international competitions. In spite of the pandemic I have been fortunate to enjoy a number of competitive opportunities in the US, but the prospect of lining up with these girls is what makes us tick, expecially going into an Olympic summer", said Morris.
Stefanidi won the Olympic gold medal with 4.85m beating Morris on countback and the world outdoor title with a national record of 4.91m. The Greek vaulter improved her seasonal best to 4.80m in Walnut earlier this month.
The line-up also features Katie Nageotte, who cleared a world leading mark of 4.93m this year, Alysha Newman, national record holder with 4.82m, and Holly Breadshaw from Great Britain, who won the European Indoor bronze medal in Torun 2021.
Women's discus throw:
All three world championships medallists Yaime Perez, Denia Caballero and Sandra Perkovic will be in action in Doha. Perkovic set the Diamond League record with 71.38m in Doha in 2018 and won two more editions of this meeting in 2013 and 2015. The Croatian star won her only competition this year with 65.25 at the National Throwing Championships in Split with 65.25m.
Perez won her first world title in Doha with 69.17m. The Cuban recently improved her seasonal best to 68.99m in L'Avana last week.
The third thrower in the field with a PB over the 70m barrier is US Valarie Allman, who improved her PB to 70.15m last year. The line-up also features two-time world medallist Nadine Muller and 2017 European Under 23 medallist Claudine Vita from Germany.
Men's shot put:
Double world indoor champion Tom Walsh will take on Tomas Stanek ad Filip Mihaljevic, who finished first and third at the European Indoor Championships in Torun 2021, Serbian record holder Armin Sinancevic, who set his PB of 21.88m this year, Italy's Zane Weir, who improved his lifetime best to 21.11 last winter in Potchefstroom, and Egyptian shot putters Mohamed Hamza and Mostafa Hassan, who hold PBs of respectively 21.31m and 21.29m. Walsh won the world outdoor bronze medal with his PB of 22.90m in the best ever competition in history.
Men's 1500 metres:
World outdoor champion Timothy Cheruiyot won his first world outdoor title in Doha 2019 in 3:29.26 and won the Diamond Trophy in 2017, 2018 and 2019, but he has not won the 1500m race at the Doha meeting. The Kenyan middle distance runner lost his only race in 2019 in the edition of the Doha meeting, when he finished second in 3:32.47. He set his PB of 3:28.41 in Monaco 2018.
Timothy Cheruiyot: "I can't wait to be on a start line again. I have great memories of competing in Doha, especially winning gold at the 2019 World Championships. With Doha being my season's opener, it is an important race to assess my shape at the start of an Olympic summer. I look forward to delivering a confident performance".
Cheruiyot will line up against Stewart McSweyn, who set the Australian record in the 1500m with 3:30.51 in Doha last year, Adam Ali Musab, who set the world seasonal best with 3:32.41 in Doha last February, Selemon Barega, world silver medallist in the 5000m in 2019, Samuel Tefera, reigning world indoor champion and Ugandan record holder Ronald Musagala and world indoor 3000m bronze medallist Bethwell Birgen from Kenya.
Women's 3000 metres steeplechase:
Reigning world 3000m steeplechase champion and world record holder Beatrice Chepkoech will face US Emma Coburn and Germany's Gesa Felicitas Krause, who finished second and third respectively in the 2019 World Championships in Doha.
Chepkoech has not run a steeplechase race so far this year, but she set the world all-time best of 14:43 at the Monaco 5 km Run and an indoor PB in the 3000m of 8:31.72 in Torun last winter. The Kenyan finished third in the 2020 edition of the Doha meeting improving her PB to 8:22.92.
Beatrice Chepkoech: "I am looking forward to competing in Doha. It's the place where I became world champion. 2021 is a special year with the Olympic Games coming up and I would like to start my outdoor season in a nice year".
Coburn won the Olympic bronze medal in Rio de Janeiro 2016, the 2017 world title and set her PB of 9:02.35 at the 2019 World Championships in Doha 2019. She set her indoor PB over the 3000m with 8:39.19 in New York earlier this year.
Krause improved the German record to 9:03.30 when she won the bronze medal in Doha.
The line-up is completed by 2015 world champion Hyvin Kyeng, Norah Jeruto (PB 8:59.62), Winfred Yavi Mutile, who finished fourth at the World Championships in Doha 2019.
Women's 800 metres:
Olympic 1500m champion Faith Kipyegon steps down in distance to run the 800 metres. The Kenyan middle distance runner will be aiming to win the 800 metres in Doha for the second consecutive year after claiming the victory in a PB of 1:57.68. She also won the 1500m world silver in the 2019 World Championships.
European Indoor champion Keely Hodgkinson will be aiming to improve her recent European Indoor Under 20 record of 1:59.89.
The other top names lining up are Norwegian record holder Hedda Hynne (PB 1:58.10), Habitam Alemu from Ethiopia (fourth at the 2018 World Indoor Championships), Jamaican record holder Natoya Goule (PB 1:56.15), Rababe Arafi (PB 3:58.4 in the 1500m), US Hanna Green (3:58.84 in the 1500m) and Uganda's Winnie Nanyondo (fourth at the 2019 World Championships).
Men's 800 metres:
Amel Tuka and Ferguson Cheruiyot Rotich will clash in a re-match between two medallists of the 2019 World Championships in Doha. Rotich won the 800m in last year's edition of the Doha meeting in 1:44.16. Daniel Rowden, who set his PB with 1:44.09 in Zagreb in 2020, will make his seasonal debut. The line-up also features 2018 Commonwealth Games gold medallist Wycliffe Kinyamal, European Indoor silver medallist Jamie Webb from Great Britain, and Cprnelius Tuwei (PB 1:43.62 in Monaco 2018).
-->