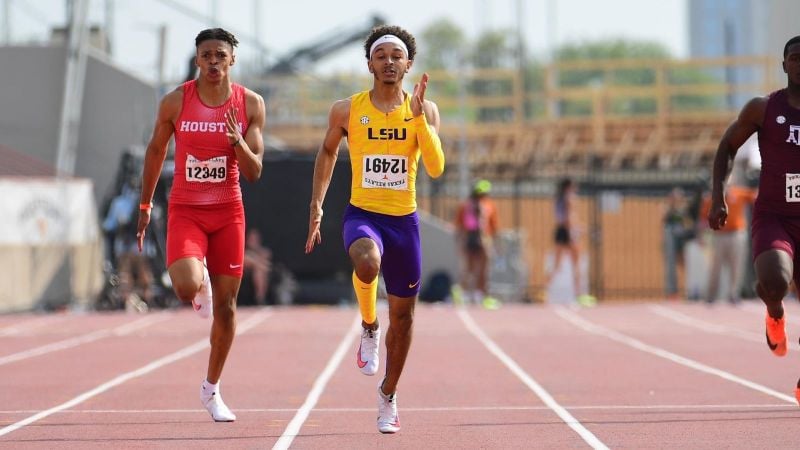 Terrance Laird, a freshman from Louisiana State University, clocked an incredible 19.82 to win the 200m at the Southeastern Conference (SEC) championships in College Station, Texas on Saturday (15).
On the final day of the SEC championships the 22-year-old, Laird won a total of three titles. First, he anchored his team to a 4x100m victory followed by a wind-aided (+3.2m/s) 100m victory in 9.80. Finally, just one hour after the 100m final he dominated the 200m final with storming 19.82 seconds.
In the women's 400m final, 18-year-old Athing Mu (Texas A&M [FR]) broke the 50-second barrier to win the race in 49.84. Her time is a new North American U20 400m record and #3 NCAA all-time. Mu joined a historical group of eight women who have clocked the sub-50 for the 400m and sub-2:00 for the 800m. On February 28 Mu broke World Junior 800m record indoors with 1:58.40 and later in April she opened her outdoor season with a new NCAA 800m Record of 1:57.73.
List of sub 50 (400m) sub 2.00 (800m) according to track and field statistician Jon Mulkeen @JonMulkeen
47.99/1:53.28 Kratochvilova (31)
49.58/1:58.36 Neubauer (21)
49.75/1:58.11 Bussman (26)
49.61/1:54.44 Quirot (25)
49.40/1:56.40 Miles-Clark (29)
49.77/1:57.24 Kotlyarova (28)
49.62/1:54.25 Semenya (27)
49.84/1:57.73 Mu (18)
Tamara Clark (Alabama [JR]) won the 100m and 200m finals. She clocked a wind-assisted (2.7m/s) 100m final in a blazing 10.87 seconds and then went to win the 200m final in 21.89 which was sisted by +4.1m/s strong headwind.
In a very fast men's 400m final three went under 45 seconds. Noah Williams (LSU) held off Bryce Deadmond (Texas A&M [SR]) and Elija Godwin (Georgia [SO]) to win the race 44.37. Deadmond and Godwin clocked 44.50 and 44.61 respectively.