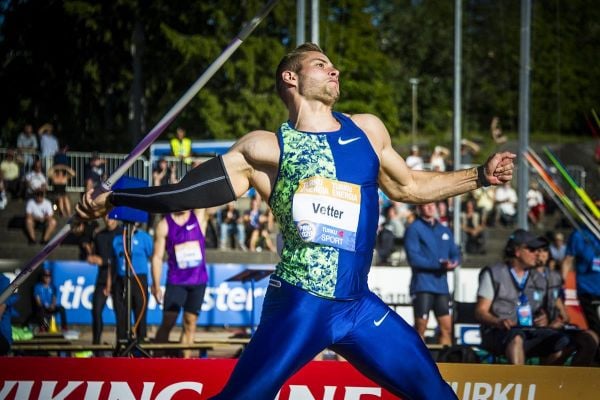 Germany's Johannes Vetter highlighted the opening day of the European Throwing Cup in Split, Croatia on Saturday, May 8 with a fantastic series of throws.
The 2017 World champion, Vetter, launched javelin over 90 meters-mark in his very first two throws. His best throw came in round one with a huge 91.12m. In the second round, he also surpassed the 90 meter-line with 90.43m effort. Vetter continued his impressive series with 91.12m 89.63m 88.34m 84.20m 88.23m throws.
"I felt good today," said Vetter. "It was quite tough because the runway was too soft for my speed and bodyweight. It was a little bit slippery and the wind was not that good but I asked my coach at the beginning of the week what the goal should be for the week: he told me two times over 90 meters so I think I did a good job."
On 6 September 2020 at the Kamila Skolimowska Memorial Vetter set his personal best of 97.76 m, only 72 centimeters shy of Jan Železný's world record.
Moldova's Andrian Mardare surprised with a new national record throw of 86.66m in the third round to take second place and to hit the Tokyo Olympics qualifying mark.
"We are very satisfied because this is a qualifying for the Olympic Games," said Mardare. "Over 85 meters was our goal with my coach [Valeriu Lungu] and we hope to repeat this all season."
Two Belorussian athletes Pavel Mialeshka and Aliaksei Katkavets surpassed the 80m mark with 82.55 and 82.01m to finish 3rd and 4th respectively.
See the full day one results here.
-->