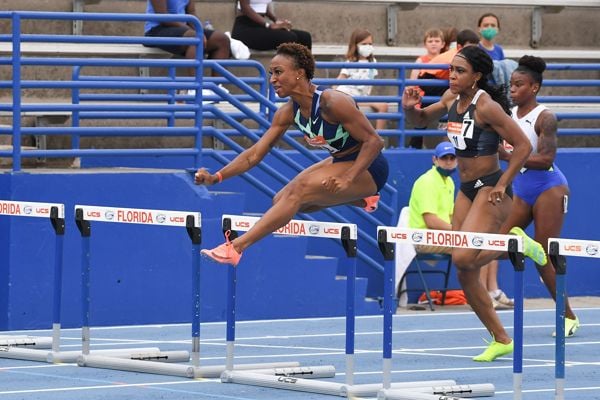 The Puerto Rican Jasmine Camacho-Quinn clocked a stunning 12.32 seconds (w +1.7m/s) and moved to #7 on the all-time list in the 100m hurdles at the Tomas Jones Memorial in Gainesville, Florida Saturday (17).
Tokyo Olympics gold medal favorite, Camacho-Quinn shaved massive 0.18 seconds from her previous personal best she set back in 2018. The 24-year-old also destroyed the current World of 12.54 seconds by Kendra Harrison.
Tiffany Porter (GBR) and Cindy Sember who crossed the line miles behind Camacho-Quinn both clocked 12.62 seconds, but the foto finish showed Porter was second with Sember and 3rd.
In the men's university 100m dash final, JoVaughn Martin equaled the current World lead with a massive personal best time of 9.94 (wind +1.6).
In the men's Olympic development race the 39-year-old Justin Gatlin clocked 9.98 (wind +1.4) to prevailed over Andre de Grasse 9.99, Kenny Bednarek 10.03 PB and Noah Lyles who finished in a disspointing 4th place with 10.08 seconds.
Jayla Kirkland won the women's dash 100m final in 11.13 seconds with Jada Baylark in 2nd in 11.19 seconds.
Sha'Carri Richardson, who one week ago at Miramar Invitational clocked 10.72 in the 100m, ran the second-fastest 200m this year in the World of 22.11 (wind 1.0m/s). The World junior U20 record-holder Lynna Irby was second with 22.57.
See the full meet results here.
Women's Olympic 100m hurdles video
-->