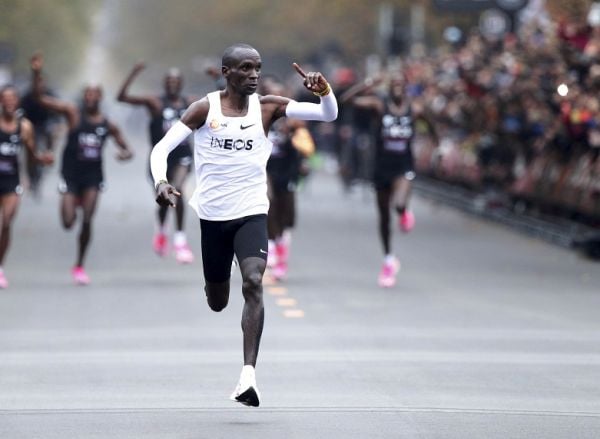 Reigning marathon Olympic champion and world record holder Eliud Kipchoge will be in the spotlight at the NN Mission Marathon at the Twente Airport in Enschede on Sunday, April 18.
Kipchoge will use the Enschede Marathon to prepare for the defense of his Olympic title next August in Sapporo, where the Olympic marathon races will take place.
The Kenyan marathon legend will be looking to bounce back from his first marathon defeat in seven years at last October's London Marathon, where he finished eighth. It was the first time that Kipchoge had finished out of the top two in a marathon and his first defeat over this distance since Berlin in April 2013.
Kipchoge made his marathon debut in Hamburg in 2013 in 2:05:30 and since then he has won 10 of his next 12 races over the 42 km distance, including four wins in London in 2015, 2016, 2018 and 2019. He won the Berlin Marathon for the third time in his career in 2018 setting the world record with 2:01:39.
"My number one goal is to run a good race. We are in a situation where a lot of us have been down but I feel we are now in a transition towards a brighter future. A beautiful race will give people hope. It is a step that we are taking on the road to normality. Physically, I am fit. Mentally I am fit. I am ready to go for the next challenge now", said Eliud Kipchoge.
The second fastest runner in the field is Filex Chemonges from Uganda, a training partner of 2012 Olympic marathon champion Stephen Kiprotich. The Kapchorwa-based runner set his PB of 2:05:12 when he finished third at the 2019 Toronto Waterfront Marathon. He clocked 2:10:08 in his most recent appearance at the Lake Biwa Marathon in 2020.
Stephen Kiprotich will be bidding to return to the podium in a big marathon race for the first time since the Hamburg Marathon in 2019 when he finished third in 2:08:31. Kiprotich became the second-ever Olympic champion from Uganda in London 2012. One year later Kiprotich scored the double by winning the world championships gold medal in Moscow 2013. He set the national record of 2:06:33 at the 2015 Tokyo Marathon.
Kipchoge will also face his 35-year-old training partner Laban Korir, who won the Toronto Marathon in 2014 in 2:08:15 and set his PB of 2:05:54 when he finished fourth at the 2016 Amsterdam Marathon.
Jonathan Korir, a friend and neighbor to Kipchoge, will be looking to improve the 2:06:45 lifetime best he set in 2019 when he finished fourth at the Berlin Marathon. The 34-year-old Kenyan runner made his marathon debut in Nairobi in 2017 with 2:17:40 and smashed his PB by more than 10 minutes with 2:06:51 in Amsterdam 2018.
Augustine Choge is looking to complete his first full marathon in Enschede. Choge won a silver and a bronze in the 3000m at the World Indoor Championships and clocked 3:29,47 in the 1500m, 7:28.76 in the 3000m and 12:53.06 in the 5000m.
The line-up is completed by Goitom Kifle from Eritrea, who clocked 27:32.00 in Eugene in the 10000 meters in 2013 and 2:08:09 at Ljubljana Marathon in 2019, Hiskel Tewelde from Eritrea, who ran 2:08:49 in Ljubljana in 2018, Geoffrey Kusuro from Uganda, who clocked a lifetime best of 2:08:46 in Kobe 2019, Jo Fukuda from Japan, who set his 2:09:52 in the marathon in Gold Coast 2018 and Michel Butter from the Netherlands, who set his lifetime best of 2:09:58 in Amsterdam in 2012.
Kenya's Gladys Chesir and Mexico's Madai Perez start as the favorites in the women's race. Chesir won the women's 3000m at the 2010 Youth Olympic Games in Singapore and set her career-best of 2:24:51 at Amsterdam Marathon in 2017.
Perez is aiming to qualify for her fourth consecutive Olympic Games. The 41-year-old Mexican runner clocked a lifetime best of 2:22.59 in Chicago 2006.
The best European runner in the field is Sara Moreira from Portugal, who ran the marathon distance in 2:24:49 in Prague 2015.
The German contingent is led by Katharina Steinruck, who set her PB of 2:27:26 in Frankfurt in 2019, and Rabea Schoeneborn (PB 2:28:42 in Valencia 2020).
The NN Mission Marathon is organized by the NN Running Team, Global Sports Communication, Hamburg Marathon, and the City of Hamburg and will serve up as a fast race to give athletes the best possible chance to reach the qualifying standard for the rescheduled Olympic Games in Tokyo.
The race was first planned on 11 April in Hamburg, but the current Covid-19 pandemic forced race organizers Hamburg Marathon and Global Sports Communication to postpone the event by a week and find a different venue. The Enschede Marathon organization helped out with a specially designed course on Twente Airport.
The race will take place around a looped course and attract 70 invited élite runners and will be closed to the public.
See the complete start lists here.