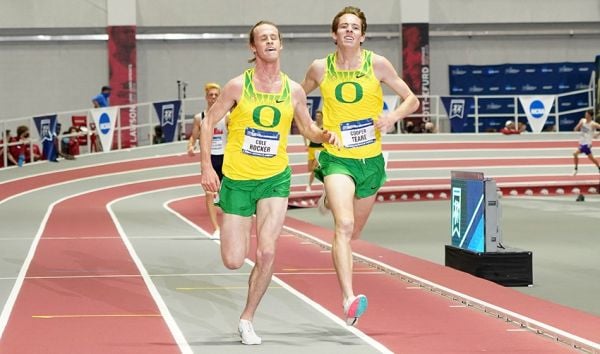 Cole Hocker from Oregon impressed by successfully completing a tough mile and 3000m double on the final day of the 2021 NCAA Indoor Championships in Fayetteville, Arkansas on Saturday (13).
Hocker used a blazing final lap of 25.81 to finish the mile in a new championships record of 3:53.71. He finished more than two seconds ahead of runner-up Eliud Kipsang of Alabama at 3:55.93.
Just one hour later Hocket returned to track and won a thrilling 3000m final in a new personal best time of 7:46.15. He edged his teammate Cooper Teare teammate by 0.08.
"I definitely feel like I'm in the best shape of my life. Better than three weeks ago when we ran 3:50," cole said, referring to his Feb. 12 mile time.
19-year-old Hocker became the youngest American ever to win the mile and youngest of any country to win such a distance double at indoor NCAAs.
In the women's 60m final Kemba Nelson (JAM) of Oregon clocked a new NCAA record of 7.05 seconds for the win.
In the men's 400m finals Noah Williams of Louisiana State University in heat 2 clocked an impressive 44.71 to move up to No. 3 on the all-time collegiate chart and No. 4 on the all-time world list. In heat 1 Randolph Ross from N. Carolina A&T clocked 44.99 seconds to take second place. He moved to 10th place on the all-time world list.
In the highly anticipated women's 400m final seasonal leader Athing Mu of Texas A&M, was defeated by defending champion Kaelin Roberts of USC.
Running in lane 3, Roberts beat Mu to the pole position as the runners broke from their lanes to finish the first lap and then held Mu at bay for the remainder of the race to personal best in 50.84. Mu, who had run 50.52 earlier this year, finished second in 51.03.
Men's 400m final
Aaliyah Miller of Baylor clocked the new NCAA championships record to win the 800 meters final. She opened the race with 27.71 seconds in the first 200m. Miller split 56.90 at the 400 and 1:27.46 at the 600.
Finally, she cruised home to win in 2:00.69. Miller broke the meet record of 2:01.09 set by Oregon's Raevyn Rogers in 2017 and tied her for No. 2 on the all-time collegiate list.
Laurie Barton of Clemson (2:01.21) edged Arkansas's Shafiqua Maloney (2:01.22) to take 2nd place.
Matthew Boling won the 200m in a blazing PB of 20.19. The 20-year-old Boling became the 6th fastest 200m performer of all time.
Oregon men won the team title with 79 points, the fifth indoor national title in program history. Arkansas took the women's NCAA team title with 68 points.
See the full meet results here.
-->