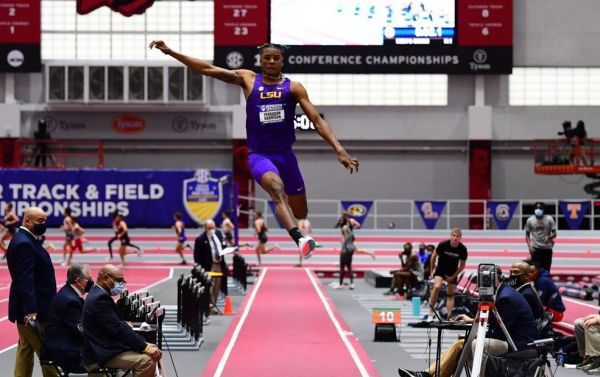 JuVaughn Harrison of Louisiana State University (LSU) made history by winning the long jump and high jump double in a single day at the 2021 NCAA indoor track and field championships in Fayetteville, Arkansas on Friday, March 12.
The 21-year-old Harrison, just two hours after winning the NCAA high jump title with 2.30m leaped to a new personal best of 8.45m to win the long jump title.
His 8.45m performance is the best ever one-day high jump / long jump double in history and puts him eight on the world indoor all-time list and third on the US indoor all-time list, ahead of outdoor World record holder Mike Powell and two-time world indoor champion Larry Myricks.
In the women's long jump Tara Davis set a new collegiate record in the women's long jump with a massive 6.93m (22-9ft).
In the women's pentathlon, Tyra Gittens of Texas A&M won the NCAA title with a new personal record of 4031 points breaking Kendell Williams' 5-year-old championships record. Gittens also set the Trinidad & Tobago's record and became the best pentathlete from a Caribbean nation. Her 4031 points put her 35th on the world indoor all-time list.
Wesley Kiptoo of Iowa State led from the gun in the 5000 meters and didn't look back. He crossed the finish line in a new championships record of 13:23.77 held by Lawi Lalang of Arizona at 13:25.11.
Kiptoo finished 6 seconds ahead of Eric Hamer of Colorado State who took second place with the new PB of 13:29.60.
See the complete NCAA indoor championships results here.
-->