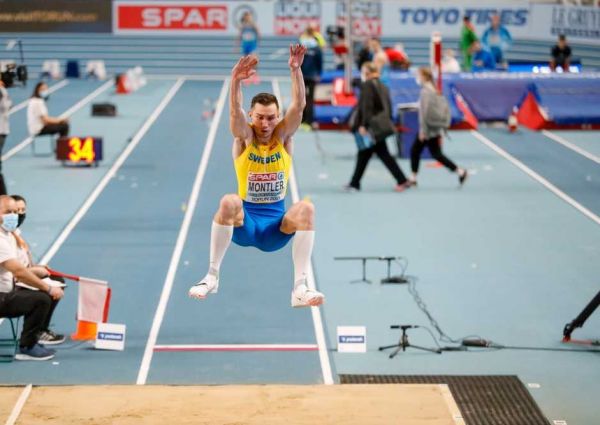 The first session of the European Indoor Championships got underway at the Torun Arena on Thursday evening.
Men's long jump: Reigning European outdoor and indoor champion Miltiadis Tentoglou was the only other jumper to leap over the 8 metres mark with 8.04m. Maximilian Entholzner from Germany finished third with 7.91m ahead of Vladyslav Mazur from the Ukraine (7.85m) and Kristian Pulli from Finland (7.81m). Izmir Smajlaj from Albania, who won the European Indoor title in Belgrade 2017, did not get the qualifying round with 7.69m.
Thobias Montler: "The track is very fast. I like fast tracks and we have to take advantage of it".
Men's high jump qualifying round: Reigning European Indoor champion Gianmarco Tamberi from Italy, European outdoor silver medallist Maksim Nedasekau from Belarus and European outdoor champion Mateusz Przybylko from Germany cleared 2.21m at the first attempt to get through the qualifying round. Tamberi did not sport his trademark half-shave but a new blonde hair look.
Gianmarco Tamberi: "I needed more jumps and I wanted to jump more. The track here is not so bouncy like in some other places but I like it very much. It is a good surface. It is hard to predict what happens in the final, but I will do my best.. I am not a half-shaved man anymore. I wanted to be like Legolas so I dyed my hair like this. I did it one week ago just for these championships. The season has started well. The recent results have given me confidence. We have worked hard in the past few years. It's the Olympic year and I think that I will be able to achieve good results"
Men's 1500 metres heats: Ignacio Fontes from Spain clocked the fastest time in the second heat with 3:38.68 beating Piers Copeland from Great Britain (3:38.88). European indoor 3000m champion Jakub Ingebrigtsen easily qualified with his second place in the third heat in 3:39.89 behind Great Britain's Neil Gourley (3:39.84). Four-time European Indoor champion Marcin Lewandowski cruised through to the final by winning the fourth heat with 3:39.78. Spain's Jesus Gomez won the first heat in 3:40.75 holding off Poland's Michal Rozmys (3:40.92). Former world outdoor bronze medallist Filip Ingebrigtsen did not get through the qualifying round after finishing fourth in the heat.
Jakob Ingebrigtsen: "These championships are not one of our main goals, but it's good to break out of a period of hard training with a fun championship like this. I am in shape and Marcin Lewandowki is getting older. He is nearly twice as old as me, but I remember what happened in Glasgow two years ago, so I am expecting a good fight in the final. Today I was just trying to save as much energy as possible".
Women's 3000 metres heats: Verity Ockenden from Great Britain won the second heat running the fastest time with 8:52.60. Favourite Marusa Mismas crossed the finish-line first but she was disqualified for stepping inside the track. Amy Eloise Markovc from Great Britain took the win in the first heat with 8:56.26 ahead of Germany's Elena Burkard.
Women's shot put:
Former European Indoor champion Christina Schwanitz set the best qualifying mark with 18.86m to finish ahead of Aliona Dubitskaya from Belarus (18.74m). Maria Belen Toimil broke the Spanish indoor record with 18.64. This year's World Indoor Tour winner Auriol Dongmo finished fourth with 18.55m. The other qualifiers are Jessica Schilder from the Netherlands (PB 18.45m), Fanny Roos from Sweden (18.45), Sara Gambetta from Germany (18.43m) and Marketa Cervenkova from Czech Republic (18.16).
See the results, live stream, start lists, and schedule.
-->