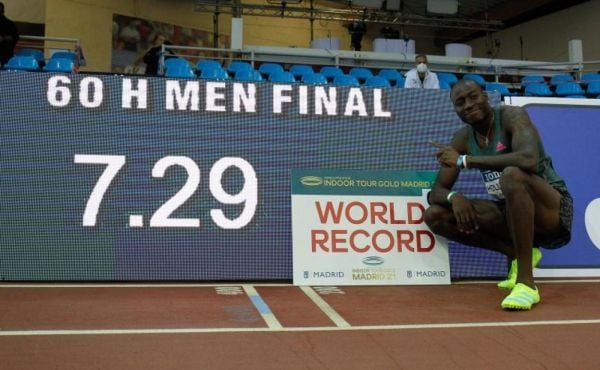 Grant Holloway broke Colin Jackson's long standing world indoor record in the men's 60 metres hurdles by 0.01 with 7.29 in the final of the Villa de Madrid meeting, the fifth and final leg of the World Indoor Tour Gold. Jackson set the previous world indoor record with 7.30 in Sindelfingen in 1994.
Holloway won the final by 0.22 over world Indoor champion Andrew Pozzi, who finished second with a seasonal best of 7.51. European Indoor silver medallist Paolo Dal Molin from Italy repeated his third place from Liévin with 7.57.
Earlier today Holloway had showed his excellent form in the heats when he clocked 7.32 equallling his North American record and smashed Pozzi's meeting record.
This winter the world 110m hurdles champion won all his races in Fayetteville (7.38), Liévin (7.32), Val de Reuil (7.41), Torun (7.38) and Madrid (7.29) and smashed the 7.40 barrier seven times including the heats. He secured the overall win in the World Indoor Tour and extended his impressive winning streak in indoor races to 54 consecutive victories. He was last beaten in an indoor sprint race in 2014 when he was 16 years old.
Grant Holloway: "I knew I was in good shape. My coach Mike Holloway and I are very excited. I wanted to have fun. It ws my first race in Madrid. I knew that this track had a reputation of being fast. Multiple world records have been set in Madrid".
Holloway's initial time was recorded at 7.32, but one minute later the official time was corrected to 7.29.
"They lied to me. They said it was 7.32 at first"
Women's 3000 metres: Tsegay sets WL
Fresh world indoor 1500m record holder Gudaf Tsegay from Ethiopia set the world leading time this season and a meeting record clocking an impressive 8:22.65. Tsegay moved up to second in the world all-time list behind her compatriot Genzebe Dibaba, who holds the world indoor record with 8:16.60. Lemlem Hailu also broke the 8:30 barrier finishing runner-up with 8:29.28 ahead of Kenya's Beatrice Chebet, who set her PB with 8:37.06.
Women's 60 metres hurdles: Visser equals WL
European Indoor champion Nadine Visser won the women's 60m hurdles final equalling the world seasonal best with 7.81 after winning the heat in 7.89 earlier today. Teresa Errandonea from Spain finished a distant second with 8.13.
Women's 800 metres: Alemu breaks the 1:59 barrier again
Ethiopia's Habitam Alemu won her second World Indoor Tour Gold race in the women's 800 metres with 1:58.94 one week after setting her indoor PB with 1:58.19. Esther Guerrero from Spain finished second with 2:01.13 ahead of Ireland's Nadia Power (2:01.55).
Men's 800 metres: Garcia sets indoor PB
Spain's Mariano Garcia took a home win in the men's 800m in his indoor PB of 1:45.66 edging world outdoor silver medallist Amel Tuka from Bosnia Herzegovina and 2017 world outdoor champion Pierre Ambroise Bosse, who clocked the same time of 1:45.95.
Men's 1500 metres: Barega wins World Indoor Tour title
World 5000m silver medallist Selemon Barega from Ethiopia secured the World Indoor Tour title with his second consecutive 1500m win after Liévin in 3:35.42 improving the meeting record set by Ayanleh Souleiman in 2018.
Men's 400 metres: Maslak edges Richard by 0.02
Three-time world indoor champion Pavel Maslak from Czech Republic took a narrow win in the men's 400 metres edging US Tyrell Richard by just 0.02 in a seasonal best of 46.12. European indoor silver medallist Oscar Husillos from Spain finished third in a seasonal best of 46.37 ahead of Italian outdoor champion Edoardo Scotti, who improved his PB with 46.61.
Pole vault: Zhuk sets national indoor record
Iryna Zhuk from Belarus took the win in the women's pole vault setting the national indoor record with 4.67m at the first time of asking before failing three attempts at 4.72m. Slovenian record holder Tina Sutej had a clean sheet at 4.32m, 4.47m and 4.57m before failing three attempts at 4.67m. Sutej beat Canadian record holder Alysha Newman on countback.
Men's 60 metres: Cissé takes this third win this winter
Arhur Cissé from Ivory Coast won his third 60 metres race this winter in 6.59 edging Mouhamadou Fall from France by 0.01 and Jaris Van Gool from the Netherlands by 0.02.
Men's long jump: Echevarria clinches World Indoor Tour title with his third seasonal win
World indoor champion Juan Miguel Echevarria clinched the World Indoor Tour title by claiming his third win this season with 8.14m in the first round in his only jump over the 8 metres barrier. Earlier this winter Echevarria had won in Karlsruhe with 8.18m and Liévin with 8.25m. Ukraine's Vyadislav Mazur narrowly missed the 8 metres barrier to finish second with 7.98m.
Women's 1500 metres: Meshesha wins her first indoor race
Ethiopian 20-year-old runner Hirut Meshesha (world under 18 bronze medallist in the 800m) won the first 1500m indoor race in her career with 4:09.42 beating Marta Miguel Perez from Spain (4:10.34) and double European 3000m steeplechase champion Gesa Felicitas Krause from Germany (4:12.02).
-->