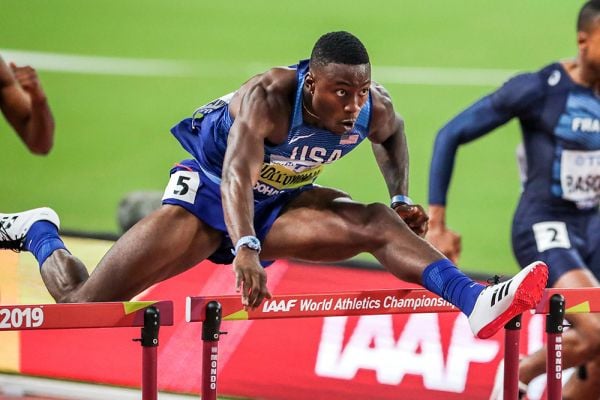 World 110m outdoor champion Grant Holloway will be in the spotlight in the men's 60m hurdles at the Copernicus Cup in Torun, the fourth leg of the World Indoor Tour Gold.
Holloway will try to attack the world indoor record set by Colin Jackson with 7.30 in Sindelfingen in 1994, three years before Holloway was born. Holloway broke the US indoor record with 7.32 in Liévin last week in his first European 60m hurdles race and won two more races in Fayetteville in 7.35 and Val de Reuil in 7.41. The US hurdler clocked three of his six fastest indoor times in history.
Holloway will face Frenchman Wilhelm Belocian, who won in Karlsruhe in 7.49 and leads the World Indoor Tour ranking, world indoor silver medallist Jarret Eaton, winner in Lodz in 7.51, and US Aaron Mallett, who set his seasonal best with 7.57 in Liévin.
The meeting record held by Orlando Ortega with 7.48 since 2017 could be under threat.
Women's 3000 metres: Chepkoech takes on Dibaba
World 3000m steeplechase champion and record holder Beatrice Chepkoech will line up in the women's 3000m just three days after breaking the 5 km road record with 14:43 at the Monaco Run last Sunday. Chepkoech started the season with a win in the 3000m in the first leg of the World Indoor Tour in Karlsruhe and continued her indoor season with an indoor PB of 8:34.21 in Liévin. The 29-year-old runner will line up against Genzebe Dibaba, who won three world indoor titles in the 3000m and holds the world indoor record over this distance. The Ethiopian runner won the Valencia Half Marathon in 65:18 last December. The line-up also features Ethiopian runner Lemlem Hailu, who won the 3000m in Liévin setting her indoor PB with 8:32.55 and hold the world under 20 indoor record with 4:01.57.
Men's 1500 metres: Barega bids for his third PB this year
World outdoor 5000m silver medallist Selemon Barega started the 2021 indoor season with two PBs in the 1500m in Metz with 3:36.62 and in the 3000m in Liévin with 7:26.10. The 21-year-old Ethiopian runner has become the third runner in history after Haile Gebrselassie and Augustine Choge to dip under 7:30 in the 3000m and 3:35 in the 1500m indoors. Barega will launch an attack to the meeting record held by Samuel Tefera with 3:35.57 since 2017.
Barega will take on European 1500m indoor champion Marcin Lewandowski from Poland, world indoor 3000m bronze medallist Bethwell Birgen from Kenya, who won the 3000m in Karlsruhe in 7:34.12.
Men's pole vault: Kendricks-Obiena re-match
Double world outdoor champion Sam Kendricks won his first pole vault competition this winter with 5.86m in Lodz beating Ernest John Obiena from the Philippines on countback. Obiena, who set two national records this winter with 5.81m and 5.86m, will be looking to take a re-match against the US outdoor record holder. The line-up also features world bronze medallist and Polish outdoor record holder Piotr Lisek, Olympic champion Thiago Braz Da Silva, and Matvey Volkov from Belarus, who set the world under 18 record with 5.60m in Lodz.
Men's high jump: Tamberi looking to win World Indoor Tour title
Reigning European Indoor champion Gianmarco Tamberi leads the World Indoor Tour after winning the Banska Bystrika competition with 2.31m. Tamberi, who leads the European indoor list with 2.32m in home city Ancona last January, will take on European indoor silver medallist Andy Protsenko, who cleared 2.28m this winter, and European silver medallist Maksim Nedasekau from Belarus.
Men's shot put: Haratyk takes on Bukowiecki, Fabbri, Storl and Stanek
Pole Michal Haratyk set the European Indoor seasonal best with 21.83m on home soil in Lodz and will be looking to continue his winning streak against an all-European field featuring Leonardo Fabbri, who improved the Italian Indoor record with 21.59m last year in Stockolm, European Under 23 Konrad Bukowiecki from Poland, Tomas Stanek from Czech Republic, who put 21.48m this winter, and two-time world outdoor champion David Storl from Germany. Torun will be a preview of next March's European Indoor Championships.
Women's 60 metres: Oliver set to continue her unbeaten streak
US sprinter Javianne Oliver won her first three 60m indoor races this winter in Metz, Liévin and Val-de-Reuil and set her seasonal PB and the second fastest time in the world with 7.10. In the final women's 60m race of this year's World Indoor Tour Oliver will renew her rivalry against Swiss indoor and outdoor champion Ajla Del Ponte from Switzerland, who improved her lifetime best to 7.14. Oliver and Del Ponte share the lead in the World Indoor Tour standings with 10 points.
Women's 60 metres hurdles: Clemons faces Neziri
Christine Clemons set the second fastest time in the world this year in the women's 60m hurdles with 7.83 in Berlin and finished second in 7.91 sharing the same time as Nooralotta Neziri in a very close race in Liévin. Clemons will face Neziri once again in a re-match in Torun. Neziri showed impressive form this winter winning her first World Indoor Tour race in Karlsruhe in 7.92 beating Nigeria's Tobi Amusan by 0.02. Amusan also finished fourth in Liévin in 7.99, but fell in the final in Val de Reuil last weekend.
Women's 400 metres: All-Dutch clash between Bol and Klaver
Training partners and close friends Femke Bol and Lieke Klaver are set to continue their impressive season. Bol won her first two 400m races in Vienna in 50.96 and Metz with 50.81 setting two Dutch records in both races. Last summer the 20-year-old Dutch athlete set the fastest time in the world in the 400m hurdles with 53.79 and won the Rome Diamond League race. Klaver improved the Dutch indoor 200m record twice with 23.17 in Vienna and 23.10 in Metz. The two Dutch athletes will line up against European 400m hurdles champion Lea Sprunger from Switzerland and European 400m and 4x400 relay champion Justyna Swiety from Poland.
Men's 800 metres: Giles bids for third seasonal win
Former European indoor bronze medallist Elliot Giles will be bidding to win his third win this winter after finishing first in Karlsruhe in 1:45.50 and Liévin in 1.45.49. The British middle distance runner will face world indoor champion Adam Kszczot from Poland, last year's Torun and meeting record holder Collins Kipruto from Kenya, European silver medallist Andreas Kramer from Sweden and European Indoor silver medallist Jamie Webb from Great Britain, who finished second last weekend in New York in 1:46.26.
Women's 800 metres: Alemu starts as the favourite
Habitam Alemu will run her third 800m race this winter after finishing first in 2:00.85 in Metz and second in Liévin in 2:00.86. The Ethiopian middle-distance runner will start as the favourite against Uganda's Winnie Nanyondo, who finished fourth in the 800m world final in Doha, Poland's Joanna Jozwic and ireland's Nadia Power.
Women's triple jump: Wide open contest
US record holder Tori Franklin will battle against European champion Paraskevi Papahristou from Greece, Kristina Makela from Finland and Viyaleta Skvartsova, who finished second and third in Karlsruhe in a wide open competition.
Live stream and TV coverage
The Copernicus Cup in Torun will be streamed live on Youtube and broadcast live on TV in more than 140 countries around the world. See the complete live stream and TV coverage info.
-->