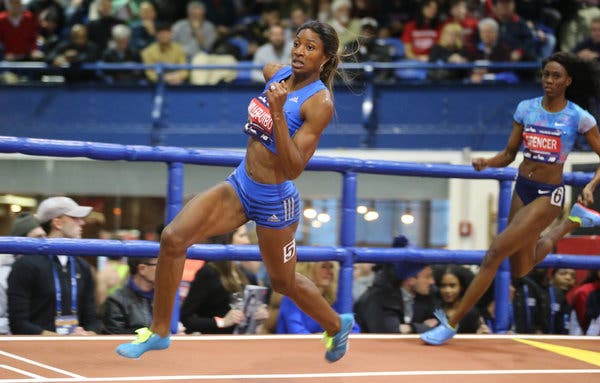 Shaunae Miller Uibo, Michael Norman and Trayvon Bromell headlined the World Indoor Tour Gold meeting at the New Balance Indoor Grand Prix at the Ocean Breeze Athletic Complex on Staten Island in New York. Donovan Brazier, Bryce Hoppel and Ellen Purrier set three US Indoor records in middle-distance races.
Reigning Olympic 400m champion Shaunae Miller Uibo dominated the women's 400 metres setting the eighth time in the world in history and a national indoor record with 50.21. US Wadeline Jonathas finished a distant second with 51.95.
Men's 400 metres: Norman takes a narrow win over Benjamin
Michael Norman took a narrow win over his close friend and training partner Raj Benjamin in a very tight men's 400 metres in 45.34. Benjamin set his indoor PB with 45.39. Tyrell Richard finished a distant third with 46.25 ahead of Vernon Norwood (46.48).
Men's 800 metres: Brazier improves his national indoor record
World outdoor champion Donovan Brazier clinched his fifth win at the New Balance Indoor Grand Prix improving his US indoor record by 0.01 with 1:44.21. Jamie Webb from Great Britain took second place improving his indoor PB with 1:46.26. Brazier set one of the three US indoor records in middle distance races at this meeting.
Women's 2 Miles: Purrier set the national record and world seasonal best
US Ellen Purrier won the women's 2 miles setting the world seasonal time and a new national record with an impressive 9:10.28 beating former world 3000m steeplechase Emma Coburn, who clocked her PB with 9:15.71.
Men's 1000 metres: Hoppel breaks the US indoor record
Reigning NCAA champion and world championships fourth placer Bryce Hoppel won the men's 1000 metres setting a national indoor record and a world indoor seasonal best with 2:16.27. Canada's Marco Arop finished second with 2:17.10 ahead of Charlie Grice, who improved Jake Wightman's British indoor record with 2:17.20.
Women's 60 metres hurdles: Harrison starts the season with a world leading time
World indoor champion Kendra Harrison improved Christina Clemons' world seasonal best by 0.01 with 7.82 in a high-quality race, where four hurdlers dipped under the 8 seconds barrier. Three-time world indoor medallist Tiffany Porter from Great Britain finished second with 7.89 sharing the same time with Gabrielle Cunningham, who set her lifetime best. Jamaica's Brittany Anderson took fourth place with 7.99.
Men's 60 metres: Bromell narrowly misses the world seasonal best by 0.02
Former world indoor Trayvon Bromell won the 60m final setting the second fastest time in the world this year with 6.50 with plenty of daylight on Demek Kemp (6.65) and Maurice Eaddy (6.67). Bromell narrowly missed his world seasonal best time of 6.48 set in Fayetteville on 24 January.
Men's 1500m metres: Hoare sets the Australian indoor record
Oliver Hoare pulled away from Jake Wightman with 300m to go to take the win in the men's 1500m smashing Stewart McSweyn's Australian indoor record with 3:32.35. Wightman improved his indoor PB with 3:34.48 beating Sam Tanner from New Zealand, who improved the national record with 3:34.72.
Women's 300 metres: Gabby Thomas runs the fifth fastest time in history
US Gabby Thomas (NCAA Indoor champion in the 200m) won the women's 300m race setting the fifth fastest indoor time in history with 35.73. Thomas also missed Quanera Hayes' US indoor record by just 0.02.
Former NCAA 400m outdoor champion Lynna Irby finished second with 35.99 ahead of Kendall Ellis (36.69).
Women's 60 metres: White sets PB
US Kayla White clinched a narrow win in the women's 60m final in 7.15 beating Hannah Cunliffe (7.17), former world under 18 and under 20 champion Candace Hill (7.19) and Jenna Prandini (7.19) in a blanket finish.
Men's 200 metres: Lyles beats Lendore in his first indoor 200m race since 2017
World outdoor 200m champion Noah Lyles edged Trinidad and Tobago's Deon Lendore by 0.12 with 20.80. Lyles has run his first indoor 200m race since 2017. The US star set his indoor PB of 20.63 on this track in 2016 when he was an under 20 sprinter.
Men's 300 metres: Richards holds off Taylor
Former 200m bronze medallist Jereem Richards from Trinidad and Tobago took the win in the men's 300 metres in 32.71 holding off former 400m world under 18 gold medallist Christopher Taylor, who set the Jamaican indoor record with 32.80. Khamari Montgomery finished third in 32.96.
Women's 800 metres: Wilson wins on season debut
World outdoor bronze medallist Ajée Wilson won her first 800 metres of the indoor season with 2:01.79 ahead of Keela Edwards (2:02.17).
Women's Pole vault: Morris wins the third competition this winter
World indoor champion Sandi Morris won her third competition this winter with 4.60m in her third attempt before missing three attempts at 4.75m. Olivia Gruver cleared 4.45m at the first time of asking before missing her three attempts at 4.60m.
Men's high jump: Culver sets the world seasonal best
US Trey Culver won the men's high jump improving Gianmarco Tamberi's world indoor seasonal best with 2.33m in his second attempt. Jeron Robinson (2.25m) and Erik Kynard (2.20m).
Men's 2 miles: Knight takes the win
US Justyn Knight took the win in the 2 miles in a world leading time of 8:13.92 beating Joe Klecker (8:14.20) and Morgan McDonald (8:14.92).
Women's 1500m:
Heather Maclean took first place in 4:06.32 ahead of Cory McGee (4:07.21) and Ireland's Siofra Clerigh-Buttner (PB 4:09.67).
See the full meet results here.
-->