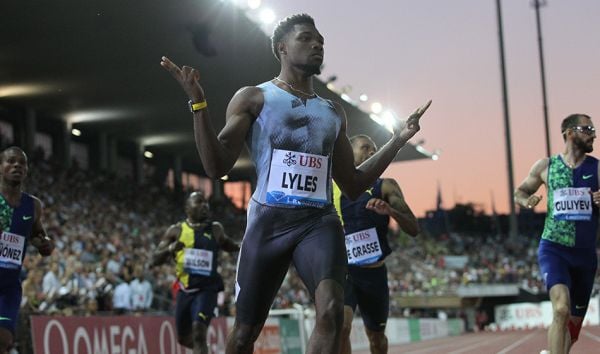 The New Balance Indoor Grand Prix, the third leg of the World Indoor Tour Gold, will be held at the Ocean Breeze Athletics Complex on Staten Island in New York this year, as the Boston's Reggie Lewis Centre (the traditional venue) is currently serving as mass vaccination centre to fight against the covid-19 pandemic.
Men's 400 metres: Norman clashes against his friend Benjamin
Michael Norman will clash against his close friend and training partner Raj Benjamin in a world-class men's 400 metres. Norman clocked the fastest 400m indoor time in history at the NCAA Indoor Championships in College Station in 44.52 in 2018. Later that year he also won the NCAA outdoor title in Eugene in 43"61. He improved his outdoor PB to 43.45 in Walnut in 2019 and won the Diamond League in Brussels two years ago. In a rare appearance over the 100m Norman set the fastest time in the world in 2020 with 9.86 in Fort Worth beating Benjamin, who improved his PB with 10.03.
Benjamin clocked a 400m indoor PB with 45.94 but ran faster outdoors with 44.31 in 2019. He won the 400m hurdles world silver medal in Doha and dipped under the 47 second over this distance with 46.98 in the Diamond League Final in Zurich in 2019.
Norman won all his eight head-to-head races against Benjamin. In a Diamond League 200m race in Paris in 2018 Norman won in 19.84 beating Benjamin, who dipped under 20 seconds with 19.99.
Men's 200 metres: Lyles makes his third appearance at the New Balance Indoor Grand Prix
World 200m champion and four-time Diamond League winner Noah Lyles will be making his third appearance at the New Balance Indoor Grand Prix. The US star will compete in his first professional 200m indoor race.
Lyles set his indoor PBs of 6.57 in the 60m in Boston in 2018, 20.63 in the 200m in New York in 2016 when he was still an under 20 sprinter and broke the 300m world all-time best of 31.87 in Albuquerque in 2017. Outdoors he set the fourth-fastest time in history with 19.50 in Lausanne in 2019. Last year he clocked the 200m world seasonal list with 19.76 in Monaco.
In Staten Island Lyles will run the 60m heats and opt out the final to focus on the 200 metres, where he will take on two-time 400m world indoor bronze medallist Deon Lendore from Trinidad and Tobago and US Jeron Flournoy, who set his outdoor PB with 20.09 last year.
Men's 60 metres: Bromell leads the field
US Trayvon Bromell leads the 60m line-up against 2020 New Balance Indoor Grand Prix winner Demek Kemp and 2014 world indoor silver medallist Marvin Bracy.
Bromell returned to his best form after dealing with a serious Achilles tendon injury at the 2016 Olympic Games in Rio de Janeiro. The 2016 world indoor gold medallist clocked 9.90 in the 100m last summer and set the fastest time in the world in the 60m this winter with 6.48 in Fayetteville, missing his PB by 0.01.
Women's 400 metres: Miller Uibo targets indoor PB
Reigning Olympic champion and world silver medallist Shaunae Miller Uibo from the Bahamas started her 2021 indoor season on a high note with an impressive 200m national record of 22.40, the ninth fastest time in the world indoor all-time list. In Staten Island Miller Uibo will target a fast time in the 400m. The Bahamian sprinter clocked an indoor PB of 50.88 in 2013 when she was still a junior. Miller Uibo is one of the few sprinters to dip under 11 seconds (10.98) in the 100m, under 22 seconds (21.74) in the 200m and under 49 seconds in the 400m (48.37). She will face US sprinters Wadeline Jonathas (fourth at the World Championships with 49.60) and Phyllis Francis (world champion in the 400m and 4x400 relay).
Women's 60 metres hurdles: Harrison clashes against McLaughlin
World 100m record holder Kendra Harrison will run her first 60m hurdles race this winter after setting her 300m indoor record with 36.83 and the 60m in 7.26 in Fayetteville. Harrison set the US indoor record in the 60m hurdles with 7.70 when she won the world indoor gold medal in Birmingham 2018. Outdoors she won the world silver in Doha 2019.
Harrison will face 400m hurdles world silver medallist and Diamond League champion Sydney McLaughlin and three-time world indoor medallist Tiffany Porter from Great Britain, who won in Fayetteville last week in 7.95 and set a seasonal best of 7.89.
McLaughlin clocked 8.17 in her last 60m hurdles race when she was 15. Two hours later she will return to the track to run the 500 metres, the final event of the New York meeting. The 21-year-old US star won the 500m at the New Balance Indoor Grand Prix with 1:09.46 in 2019.
Women's 60m: Hobbs faces Prandini
Aleia Hobbs (US National and NCAA champion in 2018) will face Jenna Prandini, who narrowly missed her PB with 22.55 in the 200m at the American Track League in Fayetteville last week. The line-up also features 2020 US indoor champion Mikiah Brisco, 4x100 Olympic champion Morolake Akinosun, 10.99 performer Hannah Cunliffe and double 100m and 200m world under 20 champion Briana Williams from Jamaica.
Women's 300m: Thomas targets second consecutive win at New Balance Indoor Grand Prix
Former NCAA 200m indoor champion Gabby Thomas will be aiming to improve her recent 300m indoor PB of 35.92 set in Fayetteville. She will take on Lynna Irby (2018 NCAA champion and 2020 Monaco Diamond League winner in the 400m), 2017 world 400m hurdles champion Kori Carter.
Women's pole vault: Sandi Morris aims at improving her seasonal best
World indoor champion and Olympic silver medallist Sandi Morris will contest her third women's pole vault competition after clearing 4.81m and 4.88m in two legs of the American Track League in Fayetteville. Morris aims at vaulting the 5m barrier after making three attempts at the world record of 5.07m last week.
Morris will take on Canadian record holder Alysha Newman, who cleared 4.82m in 2019, and US Olivia Gruver, second in Fayetteville with 4.78m.
Olympic silver medallist Eric Kynard will clash against 2007 world champion Donald Thomas from the Bahamas and world finalist Jeron Robinson in the men's high jump.
Great middle distance races with Brazier, Hoppel and Gebrhiwet
World 800m outdoor champion and US record holder Donovan Brazier will target his fifth win at the New Balance Indoor Grand Prix after finishing first in the 800m in 2018 and 2019 and in the 600m in 2017 and 2020. He set the national indoor record with 1:44.22 and won the world outdoor title breaking Johnny Gray's US record with 1:42.34 in Doha. He clocked the world indoor best in the 600m with 1:13.77 in Staten Island in 2019.
Brazier will face 2016 world indoor bronze medallist Erik Sowinski and 2019 European Indoor silver medallist Jamie Webb, who clocked an indoor PB with 1:46.45 in Ostrava.
Bryce Hoppel, who won the 2019 NCAA title in the 800m and finished fourth at the World Championships in Doha later that year, will target his second consecutive win in the 1000m at this meeting. The 23-year-old 800m runner set the fastest time in the world this year with 1:44.37 in Fayetteville, missing Brazier's national indoor record by 0.15.
Olympic 5000m bronze medallist Hagos Gebrhiwet will pursue his fourth win in Boston in the 2 miles. The Ethiopian runner won the 3000m three times and set the meeting record of 7:32.87 over this distance.
Jake Wightman starts as the favorite in the men's 1500m against two-time Olympic medallist Nick Willis from New Zealand. Wightman set the second quickest British time with 3:29.47 in Monaco last summer.
Pan American champion Natoya Goule from Jamaica will face Adelle Tracey from Great Britain in the women's 800m and the 15-year-old US rising star Sophia Gorrieran, who set the world under 18 indoor best with 2:02.44.
Former 3000m world champion Emma Coburn will start her season in the women's 2 miles.
See complete entry lists here.
See live stream and TV coverage info here.
-->