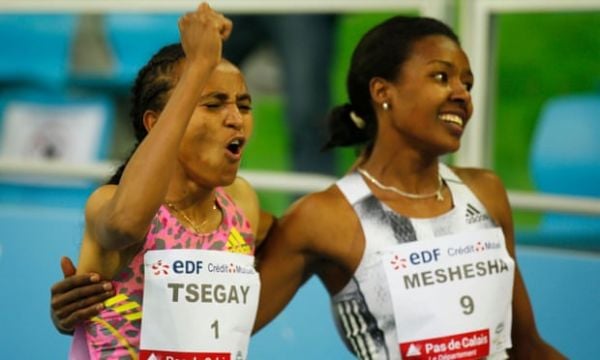 World outdoor bronze medallist Gudaf Tsegay smashed Genzebe Dibaba's world indoor record by more than two seconds with a sensational time of 3:53.09. Dibaba set the previous world record with 3:55.17 in Karlsruhe in 2014. Reigning European Indoor 1500m and 3000m champion Laura Muir finished second setting a European indoor seasonal best and a British record with 3:59.58. Great Britain's Melissa Courtney Bryant took third place in 4:04.79.
Gudaf Tsegay: "I am very happy to set a world indoor record. I have been training really hard and I set a target to break the world indoor record".
Women's 1500m Results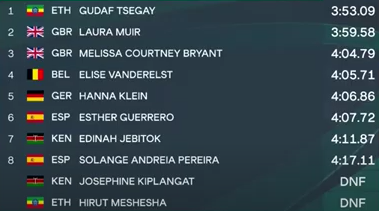 Men's 1500 metres: Ingebrigtsen breaks the European record
Double European outdoor champion Jakob Ingebrigtsen picked up where he left off last year by winning the men's 1500m in a new European record of 3:31.80. The Norwegian star smashed the previous continental record set by Andres Manuel Diaz with 3:33.22 in 1999 and set the fifth fastest time in the world in history, missing Samuel Tefera's world record by 0.76. He also broke Hicham El Guerrouj's meeting record. European indoor champion Marcin Lewandowski from Poland finished second with 3:36.8 ahead of Spain's Mohadem Katir (3:36.89).
Jakob Ingebrigtsen: "Of course I always want to run fast, but it was my first race in 2021, so you never really know. I have been training very hard and today it was very easy. I am always happy to run races but training is also very important. My big goal is the Olympic Games. I guess Hicham El Guerrouj is slower than me !"
Men's 3000 metres: Wale misses the world record by 0.08
Ethiopia's 3000m steeplechase specialist Getnet Wale won an outstanding men's 3000m race setting the second fastest time in history with 7:24.98 and broke Haile Gebrselassie's Ethiopian indoor record of 7:26.15. The 2019 Diamond League 3000m steeplechase champion missed Daniel Komen's world record by 0.08. World outdoor silver medallist Selemon Barega set the third fastest time in history with 7:26.10, also overtaking Gebrselassie in the world all-time list. World steeplechase silver medallist Lemecha Girma and Berihu Aregawi also dipped under the 7:30 barrier clocking respectively 7:27.98 and 7:29.24.
Men's 60 metres hurdles: Holloway breaks the US indoor record and meeting record
World 110m outdoor champion Grant Holloway won the first European 60m indoor race of his career setting a North American record with 7.32. The US hurdler missed Colin Jackson's world indoor record by 0.02 and improved the meeting record of 7.40 held by his compatriot Allen Johnson in 1995. Frenchman Wilhelm Belocian from France finished second with 7.52 ahead of 2013 European Indoor silver medallist Paolo Dal Molin from Italy, who set the second fastest time in his career with 7.55 beating US Aaron Mallet (7.57) and Poland's Damian Czykier (7.57).
Grant Holloway: "I am not really surprised. I executed a good race. I am happy that I run consistently under 7.40. I need to keep this form".
Men's triple jump: Zango takes his third win in Liévin
World indoor record holder Fabrice Hugues Zango from Burkina Faso clinched the third win of his career in Liévin with 17.82m. Frenchman Melvin Raffin (European Under 20 bronze medallist in Grosseto 2017) came close to the 17m barrier in second place with 16.94m beating US Donald Scott (16.90m) and Italy's Tobia Bocchi (PB 16.89).
Men's pole vault: Duplantis beats Nilsen on countback
World record holder Armand Duplantis cleared 5.86m on his first attempt to win in Liévin for the second consecutive year beating US Christopher Nilsen on countback. Former world record holder and Olympic champion Renaud Lavillenie finished third with 5.80m.
Women's pole vault: Bradshaw clinches second consecutive win
Former European Indoor champion and British record holder Holly Bradshaw won her second indoor pole vault competition on French soil with 4.75m four days after clearing 4.85m in Rouen. Olympic champion Ekaterini Stefanidi took second place with 4.63m on countback over Iryna Zhuk.
Men's 60 metres: Jacobs breaks his indoor PB
Three-time Italian 60m champion Marcell Jacobs won the men's 60 metres final with a European seasonal best and Indoor PB of 6.54. Jacobs clocked the same time earlier this evening in the heats. Jacobs set the second fastest Italian time in history, missing the national record by 0.03. The Italian 4x100 record holder beat Michael Rodgers (6.60) and Arthur Cissé from Ivory Coast (6.61).
Marcell Jacobs: "A win in such a great race gives me confidence. We had problems with the start. I ran four races this winter and I set four PBs. These results give me hope for the European Indoor Championships in Torun. The race was very easy. My start from the blocks was not as good as last week in Berlin where I clocked 6.55. I want to improve my start in my next race in Lodz"
Women's 60 metres hurdles: Visser takes photo-finish win
Reigning European Indoor champion Nadine Visser from the Netherlands took a photo-finish win in the women's 60 metres hurdles with her seasonal best of 7.91 sharing the same time as this year's Karlsruhe winner Nooralotta Neziri and world seasonal leader Christina Clemons. Visser had previously won the heat in 7.96 edging Neziri by 0.01.
Nadine Visser: "It was a good race. I am happy with my consistency. It's all preparation for the Olympic Games next summer".
Women's 60 metres: Oliver wins her second race on French soil
Javianne Oliver won her second 60m race on French soil with 7.10 equalling the second fastest time in the world this year she set in Metz last Saturday. The 2018 US Indoor champion beat Brazil's Rosangela Santos (7.17), US Dezerea Bryant (7.21) and Swiss indoor and outdoor champion Ajla Del Ponte (7.23).
Women's 3000 metres: Hailu breaks Szabo's meeting record
Ethiopian 19-year-old rising star Lemlem Hailu won the women's 3000m in 8:32.66 improving the previous meeting record set by Gabriela Szabo with 8:34.09 in 1999. Hailu beat 1500m and 10000m world champion Sifan Hassan from the Netherlands (8:33.62) and world 3000m champion and record holder Beatrice Chepkoech, who improved her indoor PB with 8:34.21.
Men's 800 metres: Giles repeats Karlsruhe feat
Former European outdoor bronze medallist Elliot Giles clinched his second win in this year's edition of the World Indoor Tour in 1:45.49 improving his previous indoor PB set in Karlsruhe by 0.01. Kenya's Cornelius Tuwei finished a distant second in 1:46.88 ahead of Elliott Crestan (1:46.93).
Men's long jump: Echevarria takes the win in the final attempt
World Indoor champion Juan Miguel Echevarria took the win with a world seasonal best of 8.25m in the sixth attempt after five fouls. The 22-year-old Cuban jumper overtook Miltiadis Tentoglou, who had equalled the previous world leading mark held by Marquis Dendy in the third round with 8.21m. European indoor silver medallist Thobias Montler from Sweden finished third with 8.03m.
Women's 800 metres: Reekie makes a winning debut
Double European under 23 champion Jemma Reekie made her debut in the 2021 indoor season with a win in 2:00.64 beating Ethiopian Abitam Alemu (2:00.86), 2020 world outdoor seasonal leader Hedda Hynne (2:00.92 national record) and the fresh world under 20 record holder Keely Hodgkinson (2:01.71).
Women's shot put: Dongmo takes her second World Indoor Tour win of the season
Portugal's Auriol Dongmo took her second win in the World Indoor Tour this winter with 19.18m in the third round beating 2015 World champion Christina Schwanitz (18.93m) and US Raven Saunders (18.66m).
See the full meet results here.
-->