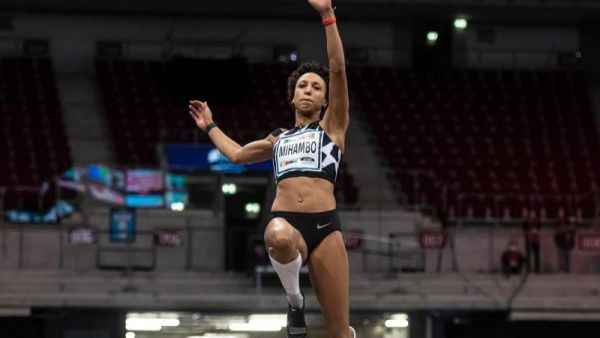 Two world leading marks were among a number of fine performances at the ISTAF INDOOR in Berlin's Mercedes-Benz Arena on Friday evening. Christina Clemons of the US won the 60 m hurdles in 7.83 seconds while Malaika Mihambo took the long jump with 6.77 m. For Mihambo it was her third victory in a row at Berlin's ISTAF INDOOR. And actually there was a hat-trick of world leading performances in this venue for Germany's sports person of the year. The meeting was allowed to go ahead with strict hygiene registrations in place. There were no spectators allowed in the arena.
After victories in Düsseldorf and Berlin Arthur Cissé and Malaika Mihambo are in very good positions to take the inaugural ISTAF-Trophy. The final event of this series will take place at the ISTAF in Berlin on 12th September.
"Athletics and the ISTAF INDOOR have produced spectacularly in Berlin once again. During these challenging times I am especially happy that our detailed hygiene concept worked perfect. The response from the athletes is overwhelming and a confirmation for making this meeting possible with our great partners in the sports metropolis Berlin," said Meeting Director Martin Seeber.
Women's events: Malaika Mihambo happy and targeting European Indoors
With a very strong start Christina Clemons left her rivals trailing from the very first step of the 60 m hurdles final. While Nadine Visser of the Netherlands and Finland's Nooralotta Neziri managed to slightly close the gap in the second half of the race there was no way catching the American. Visser clocked a season's best of 7.90 seconds while Neziri was rewarded with a national record of 7.91. Belgium's Anne Zagre was fourth with 8.05. "A world lead is exactly what I have been training for. I could have been a little more aggressive in the middle of the race but I was able to recover and ran a really good time. I want to make this my best indoor season so far," said Christina Clemons, who ran 7.83 and will now head for the meeting in Lievin. "My coach and I are striving for the world record!"
The Mercedes-Benz Arena is always a good venue for Gernany's world long jump champion Malaika Mihambo. For the third time in a row she achieved a world leading mark at Berlin's ISTAF INDOOR. Two years ago Mihambo jumped 6.99 while in 2020 she achieved a remarkable 7.07. Today the 27 year-old won with a first attempt of 6.77 m. As in Düsseldorf five days earlier Mihambo had a very good looking final attempt which was close to seven meters, however she had slightly stepped over. "I am happy with my performance. There were more good attempts, however the were invalid. It felt better than in Düsseldorf. Generally these indoor meetings are very important for us. We need competition to prepare for the Olympic Games," said Malaika Mihambo who targets the European Indoor Championships. Maryna Bekh-Romanchuk of the Ukraine was second with 6.64 while Taliyah Brooks took third. The American jumped 6.49 m.
Hopes for a domestic winner in the 60 m did not materialize. After a very good start Slovenia's Maja Mihalinec-Zidar held on and crossed the line in 7.23 seconds. Closing the gap in the final section of the race Lisa Mayer of Germany finished second in 7.26 while Greek sprinter Rafalia Spanoudaki-Chatziriga followed close behind with 7.27.
Men's events: Shock moment for Robert Sobera as pole breaks
Arthur Cissé turned the tables when he took the 60 m final in 6.53 seconds, with which he equalled his own national record established at the ISTAF INDOOR in 2019. The sprinter from the Ivory Coast had been narrowly beaten by Italy's Lamont Marcell Jacobs in the first round with both given a time of 6.56. In the final they were leading together after the start. However Cissé then moved slightly ahead in the middle section and held on. Jacobs was rewarded with another personal best of 6.55 while Germany's Kevin Kranz followed in third with 6.62. "This result is fantastic. I wanted to run faster, but I am very happy. My goal is to break the African record of 6.45," said Arthur Cissé, who now plans to compete at two meetings in France.
As in Düsseldorf five days ago the 60 m hurdles produced a photo finish. Aaron Mallett of the US was the winner with 7.64 seconds. Spain's Orlando Ortega closed the gap in the final few strides and was given the same time. However he could not quite pass his American rival. Erik Balnuweit of Germany took third in 7.70. "Beating a guy like Ortega and the rest of the field, I was happy with that. And this time I am first in the photo finish," said Aaron Mallett, who was second in Düsseldorf.
There was a shock moment for Robert Sobera of Poland in the Pole Vault. The European Champion from 2016 was in the lead with a clearance of 5.62 at his season's debut when he attempted a first time clearance of 5.72 and his pole broke. Sobera managed to come down on the mat and artistically avoided a fall on his head. Apart of what looked like a bruise on his hand he seemed fine. Sobera then passed the height to recover and attempted 5.80 m. Although he did not clear the height it was courageous to go for it. He did well attempting it three times and looked fine. "I don't know why it happened as it was a new pole that I had never touched before. I am quite shocked and confused," said Robert Sobera. "I had a similar situation a few years ago. But that was much more dangerous then. My hand was not too bad, so I tried to jump the next height."
While Robert Sobera finished fourth there was a slight upset for Torben Blech. Germany's pole vaulter had improved to 5.86 m in Düsseldorf and looked the favourite. But despite a 5.80 m clearance at his second attempt he had to settle for second place. Ernest John Obiena of the Philippines took this height with his first attempt and won the competition. The 25 year-old Asian Champion established a national indoor record with his 5.80 m clearance. Germany's Oleg Zernikel was third with a personal best of 5.72 m. "I do not really know how this was possible," said Ernest John Obiena.
ISTAF-Trophy: Arthur Cissé and Malaika Mihambo in pole positions
With clean sheets after two of the three ISTAF meetings sprinter Arthur Cisse and long jumper Malaika Mihambo are in pole positions to win the ISTAF-Trophy. Athletes competing in one of the following six indoor/oiutdoor events can win the new trophy: 60 m/100m Men/Women, 60 m/110 m hurdles M, 60 m/100 m W, long jump W, pole vault M. Each winner collects eight points while the runner-up will get five points and for sixth place there will be one point. The final is scheduled in Berlin's Olympic Stadium on 12th September. The total prize money for the new trophy is 30,000 Euros.
More information is available at: www.istaf-indoor.de
-->