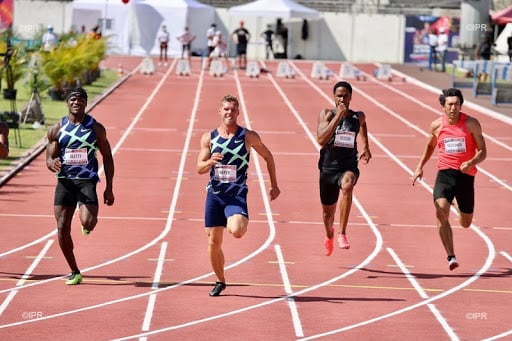 World record holder Kevin Mayer won the decathlon at the Meeting de la Réunion at the Stade Saint Paul on the Indian Ocean setting the qualifying standard for the Olympic Games with 8552 points in the first leg of the 2021 World Athletics Combined Events Challenge.
Mayer got off to a flying start by winning the 110 metres hurdles with an outstanding 13.54 with a tailwind of +1.8 m/s for a 5385 tally. Mayer ran 0.1 slower than the world all-time best performance for a decathlon competition set by Canada's Damian Warner with 13.44 at the Hypo meeting in Goetzis in 2015.
The world decathlon record holder improved his previous PB of 13.55 set on 24 August 2019 during a triathlon competition at the Paris Charlety Diamond League meeting.
Mayer extended his lead to 361 points over Makenson Gletty, who also improved his PB to 14.11 to maintain his second overall place with 5024 points ahead of another Frenchman Axel Hubert, who clocked a lifetime best of 14.15 for a 4965 score.
Mayer threw the discus to 50.32m in his second attempt to extend his lead to 471 points over Gletty. Taavi Tsernjavski from Estonia, who was fourth after the first day, moved up to third in the overall ranking with 5780 points after setting a lifetime best of 14.55 in the 110m hurdles and producing a throw of 48.15m in the discus.
Mayer entered the pole vault competition at 4.35m and cleared this height at his first attempt. He then cleared 4.45m and 4.65m at the first time of asking. Tsernjavski cleared 4.75m to move up to second in the overall ranking.
Mayer threw the javelin to 67.66m in his third attempt. In the final 1500 metres race he clocked 4:47.74 to set the world leading performance and the fourth best performance in his career.
Kevin Mayer: "I had some ups and downs but I really enjoyed the competition. I am happy with my shape. I did not feel pain. I have run my first 400 metres race since 2019 and I felt quite well. I was a bit below my standard in the field events in the first day, but I am happy with my performances. I am happy that I finished my first decathlon since 2018. I had not run a 1500 metres since Talence 2018".
Estonia's Taavi Tsernjavski clocked 4:34.94 in the 1500 metres to finish second with 8030 points ahead of his compatriot Risto Lillemets (7993 points) and Frenchman Axel Hubert (7980 points).
Aguilar takes a close win over Klaup in the women's heptathlon
South American record holder Evelis Aguilar from Colombia triumphed in the women's heptathlon with 6055 points beating Estonia's Mari Klaup (6014) and world under 20 champion Sarah Lagger from Austria (6010 points).
Aguilar won the long jump with 6.12m to move up from third to first place with 4400 points with a gap of 46 points over overnight leader Cassandre Aguessy Thomas, who leapt to 5.68m. Former world under 20 champion Sarah Lagger improved her position from sixth to third with 4326 points after jumping 5.90m.
Aguilar maintained her lead with 5255 points after finishing third in the javelin with 47.69m. Mari Kaup produced the major change to the overall ranking when she produced the longest throw with 53.07m to move up from sixth to second in the overall ranking with 5209 points, 46 behind Aguilar. Lagger finished fourth in the javelin with 47.67m to maintain her third spot in the overall ranking with 5141 points.
The top-three defended their positions after the final 800 metres race. Aguilar clocked 2:21.75 to win by a close margin of just 41 points over Kaup, who produced the third best performance of her career with 6014 points. The Estonian athlete missed her 6080 PB set in Tallin last August by just 66 points. Lagger finished second in the two-lap event with 2:16.66 to finish third with 6010 points.
Former world champion Hanna Kasyanova, who ranked second after the first day, finished fourth with 5782 points.
See complete meeting results here.
-->