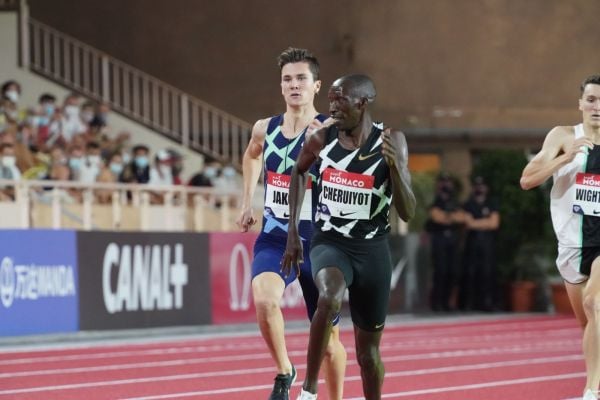 Several Olympic games and World championships medalists will headline the 2020 Bauhaus Galan, the second official Diamond League meeting which takes place at the historic Olympic stadium in Stockholm, Sweden on Sunday, August 23.
The local star Armand Duplantis, the pole vault World record holder indoors, will face one of his biggest rivals the 2019 World champion, Sam Kendricks of the United States. Duplantis, who has been undefeated this year, tops the 2020 Wordlist with 6.00m while Kendricks sits in the 7th place in season lists with 5.81m.
Another Swedish superstar to compete at the Bauhaus Galan is the reigning World champion in the discus throw, Daniel Stahl, who will try to improve his formidable 71.37m World lead. Stahl will try to extend his impressive 11 competition win streak. Stahl's biggest rivals on Sunday will be Lithuania's 2017 World Champion, Andrius Gudzius, with SB 68.69m, and Slovenia's 21-year-old rising star Kristjan Ceh who set SB/PB 68.75m earlier this year.
In the men's 800m the 2019 World championships gold medalist Donovan Brazier, silver medalist Ferguson Cheruiyot, and bronze medalist Amel Tuka will clash for the second time since Monaco Diamond League last week where Brazier set the World lead of 1:43.15 while Cheruiyot (1:45.48) and Tuka (1:45.97) finished 8th and 9th respectively. Another runner to watch is the 18-year-old, Max Burgins of Great Brittain, who clocked a sensational 1:44.75 to break his own European junior U23 record at the British Milers Club Gold Standard Race in Stretford on 11 August.
Kenya's Timothy Cheruiyot's and Norway's Jakob Ingebrigtsen's rivalry will resume in the men's 1500m. In Monaco, the reigning world champion Cheruiyot edged Jakob with a storming World-leading time of 3:28.45, with 19-year-old Jacob finishing right behind in a new European record of 3:28.68.
The women's 1500m promises to be very exciting with World 5000m champion Hellen Obiri going against the European champion and British record holder Laura Muir and Irish women Ciara Mageean. Muir clocked the 6th fastest 1000m (2:30.82) in Monaco while Mageean has made a major breakthrough in the last 4 weeks by setting the Irish records in the 800m record with 1:59.69 in Bern and 1000m with 2:31.06 in Monaco.
Great Britain's heptathlon World Champ Katarina Johnson-Thompson will lead an innovative long jump. Instead of the winner being decided by the best mark from six rounds, the top three jumpers after five rounds will contest in a one-jump final. The men's long jump will be led by Swedish Thobias Montler, who holds season-best mark of 8.15m and Finland's Kristian Pulli who set a national record of 8.27m in Espoo on 11 June.
In the women's high jump, Ukrainian teenager Yuliya Levchenko, the 2019 world championships silver medallist, will face her compatriot Yaroslava Mahuchikh, the world junior U20 record-holder. Earlier this week in Bydgoszcz, Levchenko cleared a world-leading 2.00m to beat Mahuchikh (1.94m).
How to watch and live stream Stockholm Bauhaus Galan Diamond League:
The event will be streamed live on the Wanda Diamond League Youtube channel and Facebook page and locally on cable/satellite networks. For more detailed live streaming and TV info see page here.
-->