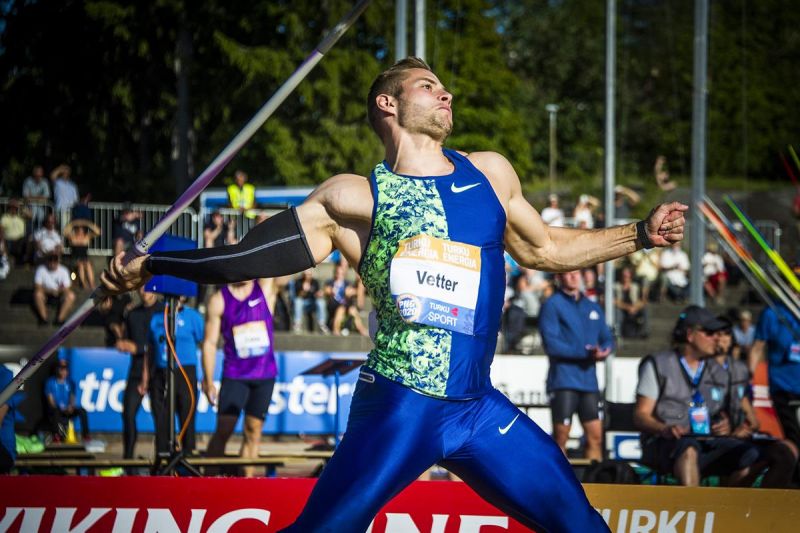 The long-awaited Paavo Nurmi Games, the opening leg of the World Athletics Continental Tour Gold Level series, kicked off on Tuesday (11) in Turku, Finland.
Germany's Johannes Vetter, the 2017 World champion, with his monster 91,49m World Leading throw in the opening round was the highlight of the meet. It is the best mark in the World in 2020 and his best performance in two years.
"The huge throw was a surprise for me," said Vetter, who won German title just two days earlier with 87.36m. "I didn't want to risk too much because I felt a little bit tired." 
"Thanks to the fans, the atmosphere here was great," Vetter added.
Another German thrower Andreas Hofmann, threw his season's best of 85,24 to take second place while Latvian Gatis Cakšs was third with 82,65.
In the men's discus throw Daniel Stahl produced a 69.23m to set a new meeting record. In his penultimate throw, Stahl achieved 70.20m, but it was later deemed a foul. 
"I only heard that my 70.20m throw was disqualified when I came to the mixed zone. If the judge says it's a foul, it's a foul. I didn't feel it in the circle, that I was fouling, but I'm pretty happy that I showed the people that I could throw 70m with a tailwind." said  Stahl.
World-class times were achieved in the men's and women's short hurdle races. British athlete Andrew Pozzi, the World indoor champion over 60m hurdles, clocked the second-fastest time in his career and a World lead of 13.18 seconds to win the men's 110m hurdles. Nadine Visser of Netherlands claimed the women's 100m hurdles in the fastest time this year in the World of 12,68 seconds missing her personal best time by 0.04 seconds. 
Lamont Marcell Jacobs of Italy won the men's 100m final in 10.11 seconds over British sprinter Chijindu Ujah (10.17) and Netherlands Joris van Gool (10.28). Olympic medalist Christophe Lemaitre of France did not finish the 100m final as he suffered a painful groin injury in the early stages of the race.
Great Brittain's Melissa Courtney-Bryant, the European indoor bronze medallist, dominated the women's 1500m with a new meeting record time of 4:03.69.
More than 6000m spectators attended the 2020 Paavo Numri Games which was so far the best-attended sporting event in Europe during coronavirus pandemic.