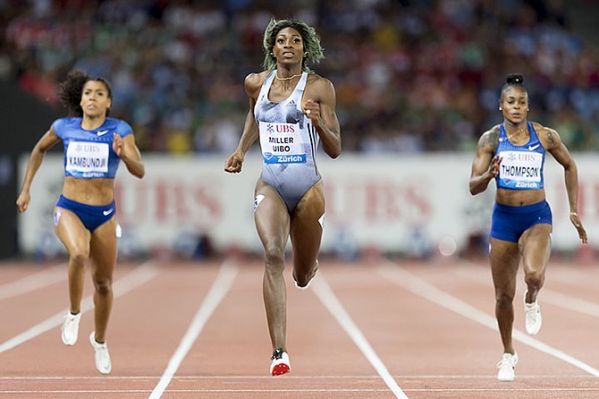 The Weltklasse Zürich billed as "Inspiration Games" will bring together some of the biggest track and field stars in a very distinctive athletics competition via TV screens on Thursday, July 9.
Athletes from 12 nations will compete in eight events in seven different athletics venues from around the globe simultaneously. In each event, there will be three athletes competing.
The event organizers say that the video footage from the different venues will be edited in Zurich so that fans can watch each throw, each run, and each jump in almost real-time.
One of the highlights will be the women's 150m race between Bahama's Olympic champion Shaunae Miller-Uibo, American legend Allyson Felix, and Swiss sprint star Mujinga Kambundji. Miller-Uibo opened her season on Saturday at the Showdown in OTown with a very strong 400m/200m double clocking 50.52 and 22.61 respectively. For Felix and Kambundji it will be the first outdoor race in 2020.
The men's 200m will feature American World champion, Noah Lyles, who will compete from Florida. He will be challenged by France's world and Olympic medallist Christophe Lemaitre and Netherlands sprinter Churandy Martina. Lemaitre will race in Zurich while Martina will contest in Papendal/Arnhem, Netherlands.
In the women's 300m hurdles world champion and world record holder, Dalilah Muhammad will try to beat the world record of 38.16 set by the Czech Republic's Zuzana Hejnova in 2013. Hejnova who will compete from Papendal/Arnhem, Netherlands will also try to beat the record.
Other stars to compete on Thursday are Greece's Katerina Stefanidi and American Sandi Morris in the pole vault.
Canada's sprint superstar Andre de Grasse, France's Jimmy Vicaut and Jamaica's Omar McLeod, the current 110 m hurdles Olympic and former World champion, will race over 100 yards.
Live Stream and TV Info
The Inspiration games will start at 17:35 GMT and will be broadcast and streamed live across the World. Most of the fans will be able to watch live streams on Diamond League's YouTube and Facebook pages.
See live stream and TV info here.
-->