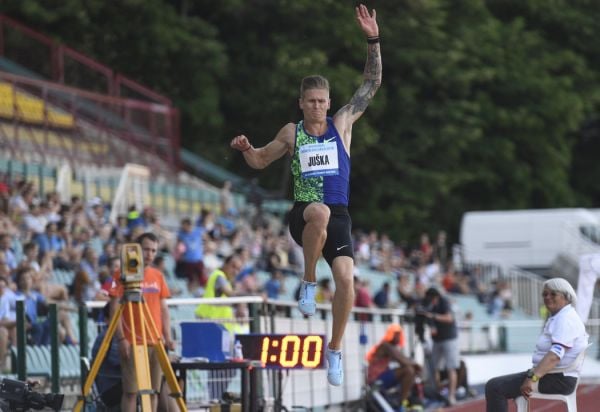 The Czech Republic's Radek Juska set a new European long jump lead with 8.03m (W1.5m/s) leap at the 27th Josef Odlozil Memorial (World Athletics bronze level athletics meet) on Monday, June 8.
Radek Juska the European Indoor silver medalist from 2015 and World indoor championships finalist produced the first 8m jump in Europe with his 8.03m leap in round 5 to seal the victory in the long jump.
In the men's 100m Czech sprinter Jan Veleba took the win clocking 10.21 seconds beating Slovakian sprint star Jan Volko into second place. Pavel Maslak, the 3-time World indoor champion, was 5th with 10.41 seconds.
Less than an hour later Maslak held off Volko to win the 200m with a time of 20.82 seconds. Volko was second (20.86) while the 100m winner Veleba finished in 4th place in 20.96 seconds.
In the women's javelin, Nikola Ogrodníková (CZE) took the win with the second best mark in the World in 2020 of 64.22m.
Jakub Vadlejch (CZE), the World Championships silver medalist, was the winner in the men's javelin contest with a decent 83.78m performance. Petr Frydrych (CZE), the 2017 World championships bronze medalist was second with 81.22m throw.
Women's 800m winner Diana Mezulianikova (CZE) clocked 2:04.68 for the win.
Austrian middle-distance runner Andreas Vojta, the 2-time Universiade bronze medalist, claimed the men's 1500m race with a time of 3:42.94.
Because of coronavirus pandemic, mostly Czech and Slovak and a handful of athletes from other European countries participated in the meeting.
Czech Athletics made a massive effort to stage the meet despite lack of sponsorship and other difficulties caused by the Worldwide coronavirus pandemic.
The event was streamed live on CT Sports webiste free World-wide. You can watch the replay of the meet here.