• Duplantis Clears 6.00m, Almost Breaks 6.17m World Record in Dusseldorf

Posted by:
Watch Athletics
Wednesday, 05 February 2020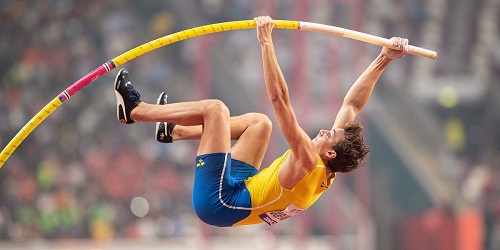 Reigning European pole vault champion and world silver medallist Armand "Mondo" Duplantis from Sweden cleared 6.00m in his first competition of the year setting a world seasonal lead, a meeting record and a national indoor at the PSD Bank meeting in Dusseldorf, the third leg of the 2020 World Athletics Indoor Tour. 
Duplantis improved the world seasonal best three times at 5.90m and 5.95m in the first attempt with a big margin over the bar and 6.00m at the second time of asking. "Mondo" made three good attempts at breaking Renaud Lavillenie's world record at 6.17m and came very close to clearing the bar in his second attempt. Duplantis equalled the sixth world indoor best performance and became the 11th vaulter in history to clear the 6.00m barrier indoors.
"Training has been going really well. I feel very fit and in very good shape. That second attempt at 6.17m was as good as I could have expected. You don't think that everything is going to be put together in your first meet just because you are physically fit, but it came together nicely. I am excited about the rest of the season", said Duplantis.
The Dusseldorf meeting produced five more world seasonal best performances (Selemon Barega in the men's 3000m, Flip Ingebrigtsen in the men's 1500m, Beatrice Chepkoech in the women's 1500m, Filip Mihaijevic in the men's shot put and Neele Eckhardt in the women's triple jump). World silver medallist Selemon Barega made a winning start to his indoor season in the 3000m with a world leading time and a meeting record of 7:35.71 holding off his compatriot Getnet Wale (7:36.03) and Kenya's Bethwell Birgen, who set his PB with 7:36.71. Birhanu Balew from Barhein finished fourth setting a new Asian record of 7:38.67.
Former European champion Filip Ingebrigtsen from Norway won the men's 1500 metres setting a world seasonal best of 3:36.33. Belgian Ismael Debjani finished second with 3:39.05 ahead of Vincent Kibet (3:39.49).
World 3000m steeplechase record holder Beatrice Chepkoech won the women's 1500m setting a world leading time and a national record with 4:02.09 holding off Ethiopia's Axumawit Embaye (4:02.96) and Uganda's Winnie Nanyondo, who set a national record with 4:06:13. Croatia's Filip Mihaijevic (world indoor bronze medallist in Portland 2016) set a world seasonal best in the men's shot put with 21.52m beating Konrad Bukowiecki (20.92m) and Tomas Stanek (20.89m). Mihaijevic also produced a second best release of 21.37m in the third round and two more puts over the 21m barrier.
Germany's Neele Eckhardt equalled the world seasonal best in the women's triple jump with 14.17m beating Patricia Mamona (14.09m) and Lithuania's Dovile Kilty (14.06m).
German 23-year-old Marc Reuther followed his impressive 1:45.39 in Erfurt with his first international win in the men's 800 metres in 1:46.13 in front of his home fans. Reuther held off three-time European champion and 2018 world indoor gold medallist Adam Kszczot from Poland (1:46.42) and 2019 world silver medallist Amel Tuka (1:47.29).
"Having the crowd behind me really helped push me past Kszczot", said Reuther. World indoor silver medallist Christina Clemons won the women's 60m hurdles final in 7.91 ahead of 2017 European Indoor champion Cindy Roleder (7.94) and this year's Karlsruhe meeting winner Tobi Amusan from Nigeria (7.96).
World Championships semifinalist Mohamed Yaqoub Al Youha produced the surprise of the evening by winning the men's 60m hurdles final in a PB of 7.54 ahead of Greece's Konstantinos Douvalidis (7.61) and Hungary's Valdo Szucs (7.62). 
Great Britain's Chijndu Ujah equalled his PB with 6.53 to edge out Brandon Carnes (6.56) and European Indoor champion Jan Volko (national record of 6.57) in the men's 60 metres. Last year's world championships 200m finalist Gina Bass from Gambia won the 60m final in a national record 7.16 beating Switzerland's Ajla Del Ponte, who equalled her seasonal best with 7.27. Karlsruhe winner Shania Collins finished third in 7.28.
Lisanne De Witte from the Netherlands took the win in the A 400m race setting her PB with 52.30 edging Justyna Swyety Ersetic (52.49). European 400m hurdles champion Lea Sprunger prevailed in the B heat race with 52.50.
See full meet results here.