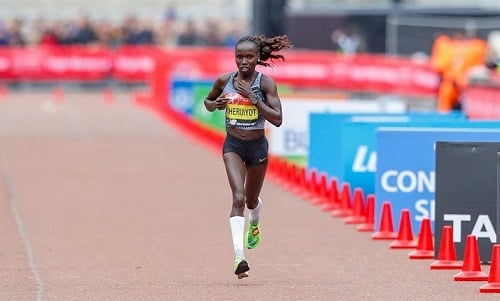 One of the last marathons of the year, the Valencia Marathon Trinidad Alfonso EDP 2019 includes participation of elite runners to position itself in top five of the fastest in the world.
December comes with the most important marathon in Spain, the Valencia Marathon Trinidad Alfonso EDP 2019. This year, elite runners come from all over the world making it a race never seen in Spanish soil. The make it to the top five of the world's fastest circuits, the 42.195 KM must be run in less than 2:04:31 by a male runner.
Male runners
If we look at the male athletes that will participate, there are several runners who may be able to break the 2:04:31 mark. For example, we have three strong Ethiopian runners Leul Gebresilase (2:04:02), Herpasa Negasa (2:03:40) and Getaneh Molla (2:03:34). In fact, Molla established in January the Dubai marathon as the world's third fastest circuit with his time. Let's see if he can do it again.
Very close in the race is Kenyan athlete Emmanuel Saina. Although his best time is 2:05:02, he has run seven times below 2:06:00 between 2018 and 2019. In the same group, we have runners such as Tsegaye Kebede, from Ethiopia, whose best mark is 2:04.38 from over ten years ago and the Eritrean Ghirmay Gebreselassie, world champion in 2015 and New York Marathon winner in 2016. Other runners to watch are Norbert Kigen (2:05:13) and Felix Kiprotich (2:05:33) from Kenia, whose times are also below 2:06:00.
Other than the record overall, we should pay attention to those attempting to break the European record. They are Turkish runner Kaan Kigen Ozbilen (2:05:27), who is 16 seconds below the mark and Norwegian runner Sondre Moen (2:05:48), 37 seconds apart. The last one, has certain advantage as he has done the Valencia circuit already in 2017.
Female Runners
The goal among female runners is to break the 2:21:14 mark and just by looking at the contenders, we are sure there is a good chance for it to happen. There are several women who have done it already. Top of the list is Olympic champion and four times world winner, Vivian Cheruiyot from Kenya, with a record of 2:18:31.
The list is not less impressive as we review the other names. For example, three Ethiopian women are close contenders. Birhane Dibaba (2:19:51) is the winner of the half Copenhaguen Marathon 2019 and has victories in Tokyo 2015 and 2018. In 2012, when she was only 19 years old, she already won the Valencia Marathon. The other Ethiopian star is Dereje Roza (2:19:17) winner of Dubai 2018 and a powerful young contestant. The last of the three is the young first timer, Zeineba Yimer who run 1h:05.46 in Ras Al Khaimah Half Marathon. Other runner ups are Prisca Jeptoo (2:20:14) and Purity Rionoripo (2:20:55) from Kenya, and Workenesh Edesa (2:21:05) who are very close to the mark. There are other 15 women with times under 2:28:00 so there are many candidates.
Valencia Marathon and the Personal Best 2019 Program
The Valencia Marathon brings an extra motivation for elite national and international athletes. The Personal Best 2019 Program, that takes place among contenders, awards 2,000 and 4,000 euros to male athletes who run below the 2:20:00 mark and female athletes who run below the 2:45:00 mark. As 2019 is the year right before the Tokyo Olimpics, a special prize will be awarded to athletes whose marks qualify them for the Games.
An interesting feature is that the Valencia Marathon Trinidad Alfonso EDP 2019 "does not accept athletes in the programme if they have been penalised for doping infractions considered grave or very grave by the IAAF, WADA, or AESPAD. This ban applies regardless of when the infraction occurred, and whether or not the penalty has expired". Prizes are awarded once the anti-doping test results are known after the race.
See full elite athletes field here.
Watch live stream here.