• 4 Things to Know about Nike's Vaporfly Shoes

Posted by:
Watch Athletics
Tuesday, 05 November 2019
Nike's Vaporfly shoes are the talk-about topic in marathon racing. Keep reading to learn about the most important points of this debate.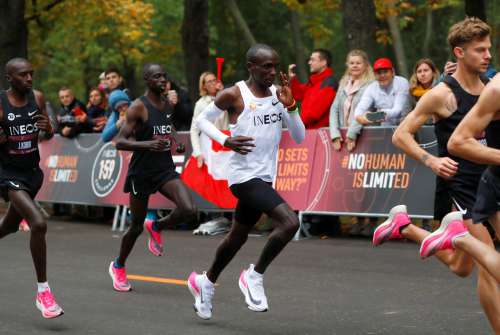 When Eliud Kipchoge broke the two-hour time in a male long-distance marathon earlier in 2019, experts thought they were watching a science fiction film. He run 1:59:40.2 for a total of 26.2 miles so he not only had finished it in under two hours, but he broke the record for a considerable time. As fans recovered from the shock, the following day Brigid Kosgei broke the world record for women, running more than a minute faster. What did Kipchoge and Kosgei have in common? The Vaporfly shoes.
1. What is a pair of Vaporfly shoes?
The Vaporfly shoes are Nike's enhanced pair of running shoes for long-distance marathoners. The pair is designed for more speed including breathable support, a responsive ZoomX midsole foam and a full-length carbon-fiber plate that provide energy return. Early studies have shown that they can improve running economy by 4 percent. 
2. Are enhanced running shoes only for professional athletes?
No. Enhanced running shoes are commercially and widely available. Vaporflys, for example, are $250.00 plus taxes in stores. If you can afford them, they are yours. However, these shoes are designed and proven for long-distance running. Some reviews even suggest that they are not as good for 5K races.  
3. Are Nike's Vaporfly shoes the only enhanced shoes for runners in the market?
No. There are many brands that offer enhanced running shoes. New Balance, Hoka One One, Nike and soon Adidas have carbon-plated shoes that are enhanced with technology for better and faster running. As a matter of fact, debut runner Joyciline Jepkosgei, just won her first New York City Marathon wearing the Adidas Adizero Pro, a prototype that clearly promises some competition.
4. Which are the fastest running shoes in history?
First of all, we can argue that shoes are not fast. People are fast. It is what you, as an athlete, do with the technology you have access to. Having said that, it is a fact that in the last 13 months, the five fastest male marathon records in history have been broken and all of the runners have been wearing Nike's Vaporflys. Could Adidas break this record? Let us wait and see.
At the end of the day, the debate is about fairness and where you draw the line between what the human body and capacity can do versus what equipment and technological enhancements can do for them to run faster.
As Eliud Kipchoge said when he broke the two-hour record marathon in October "No human is limited." As cheesy as it sounds, maybe human limits are drawn by the ability to imagine and create new technology to break those limits.