World half marathon record holders Geopher Kamwowor and debutante Joyceline Jepkosgei powered to victory at 2019 New York City Marathon on Sunday (3).
Running under nearly ideal wetaher conditions, Geoffrey Kamworor (Kenya) won his second NYC Marathon title. The 26-year-old Kamworor broke away from the leading group just 3 kilometers before the line to win the race in Central Park in 2 hours, 8 minutes and 13 seconds. Albert Korir (Kenya) finished second with a time of 2:08:36.
Ethiopian non-elite athlete Girma Bekele Gebre who entered the race with no agent and no sponsor broke his PB by more than 5 minutes to take a surprise third place in 2:08:38.
Top American runner was Jared Ward who finished in 6th place in 2:10:45.
42-year-old Abdi Abdirahman broke the US masters record by running 2:11:34 to finish 9th. Previous US masters record belonged to Bernard Lagat who clocked 2:12:10 at Gold Coast marathon in July.
Joyceline Jepkosgei (Kenya) in her marathon debut defeated defending champion, Mary Keitany (Kenya), in the women's race. 25-year-old Jepkosgei broke the tape at 2 hours, 22 minutes, and 38 seconds, missing the course record by only seven seconds. Jepkosgei became the youngest New York Marathon winner since 25-year-old Margaret Okayo in 2001.
Jepkosgei who won the New York City Half-Marathon in March became the first runner in history to win both events in the same year.
She takes home $100,000 for the win, plus a bonus of $45,000 for finishing inside 2 hours and 23 minutes.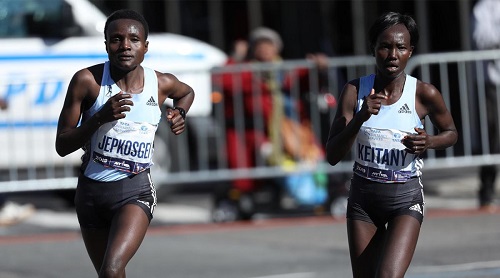 37-year-old Mary Keitany, who had won in New York 4 times in the past 5 years, crossed the line in second place in 2:23:32 while Ruti Aga (Ethiopa) concluded the podium with 2:25:51.
Desiree Linded, the 2018 Boston Marathon winner, was the best American in 6th place in 2:26:46.
About 52,000 runners participated at this year's NYC Mararhon.