Kenya's Lawrence Cherono beats Ethiopian Lelisa Desisa in a sprint finish to win 2019 Bosotn Marathon in 2:07:57.
"To me it is something amazing," said the 30-year-old from Kneyan, who holds the personal best of 2:04:06. "It was not easy." he added.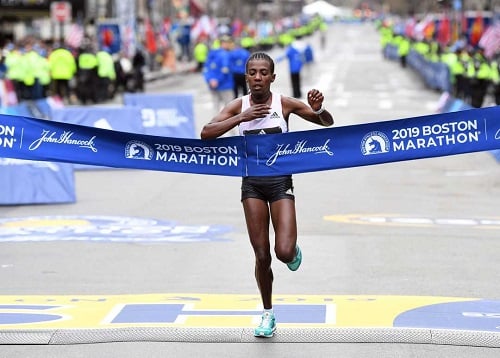 The women's Boston Marathon title took Ethiopia's Worknesh Degefa. The Ethiopian marathon record holder (2:17:41), Degefa, broke away from the lead pack of 20 runners after 5km marker and never looked back. Degefa crossed the line in 2:23:31 alomost a minute ahead of  Kenya's 39-year-old Ednda Kiplagat and nearly two minutes ahead of USA's Jordan Hassah.
Men Top 10
1. Cherono, Lawrence (KEN) 2:07:57
2. Desisa, Lelisa (ETH) 2:07:59
3. Kipkemoi, Kenneth (KEN) 2:08:06
4. Kandie, Felix (KEN) 2:08:52
5. Kirui, Geoffrey (KEN) 2:08:55
6. Rono, Philemon (KEN) 2:08:58
7. Fauble, Scott (USA) 2:09:10
8. Ward, Jared (USA) 2:09:25
9. Talam, Festus (KEN) 2:09:25
10. Kipruto, Benson (KEN) 2:09:53
Women Top 10
1. Degefa, Worknesh (ETH) 2:23:31
2. Kiplagat, Edna (KEN) 2:24:13
3. Hasay, Jordan (USA) 2:25:20
4. Assefa, Meskerem (ETH) 2:25:40
5. Linden, Desiree (USA) 2:27:00
6. Rotich, Caroline (KEN) 2:28:27
7. Ngugi, Mary (KEN) 2:28:33
8. Eshetu, Biruktayit (ETH) 2:29:10
9. Flanagan, Lindsay (USA) 2:30:07
10.Saina, Betsy (KEN) 2:30:32