Kenenisa Bekele's Paris marathon course record could go down as Moses Mosop and several other top marathoners will line up to race in the streets of Paris on April 12 .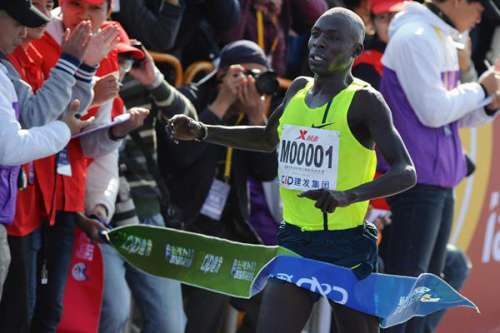 Kenenisa Bekele, who decided to skip this years Paris marathon, in his marathon debut in 2014 set the Paris marathon course record of 2:05:03. This year Bekele's course record could be lowered again as four men whose PB are under 2:06 were added to elite fields.
Kenya's Moses Mosop holds the fastest marathon debut in history will lead the field as he holds the fastest personal best time. Mosop in his mararhon debut in Boston in 2011 clocked an impressive 2:03:06 . The Kenyan after his was sidelined by sever injuries but managed to return to racing a week ago with a solid win at Xiamen international marathon where he posted very promising 2:06:19.
Another Kenyan Vincent Kipruto with a PB of 2:05:13 has been also added to the field of Paris marathon. Kipruto is the 2011 world marathon championships silver medalist and a winner of 2009 Paris marathon.
Ethipoian team will lead Bazu Worku, who holds a PB of 2:05:25. Worku is the two-time Houston marathon winner and runner up at 2011 Paris marathon.
Deressa Chimsa is another Ethiopian marathoner who could challenge the course record as he holds PB under 2:05:42. Chimsa took silver in 2012 world half-marathon championships and in recent years has won Prague, Toronto, Daegu and Guangzhou marathons.
For More Paris Marathon visit official page here>>
-->