Diego Estrada and Kim Conley were crowned USA national half marathon champions at Chevron Houston Half Marathon on Sunday, January 18.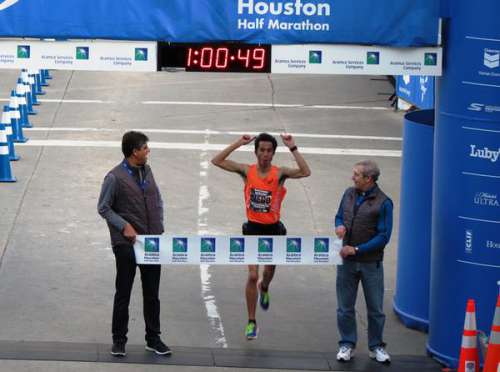 Estrada, who competed for Mexico in 10000m at 2012 London Olympics won his first USA championships title in his debut clocking 60:51. Jared Ward finishing 51 seconds behind Estrada took silver, while Girma Mecheso took bronze finishing after 62:16. The former USA half marathon champion and Olympian Meb Keflezighi came in 4th place with a time of 62.18 seconds.
The Women's race was won by  Kim Conley, who managed to win the race with a blistering time of 69:44. Brianne Nelson, who finished in second clocked 70:16, while third place finisher Janet Bawcom finished in third in 70:46.
Top Results Men
1
» Estrada, Diego (USA)
AZ
M28
25-29
25
01:00:51
01:00:51


2
» Ward, Jared (USA)
UT
M11
25-29
26
01:01:42
01:01:42


3
» Mecheso, Girma (USA)
PA
M64
25-29
26
01:02:16
01:02:16


4
» Keflezighi, Meb (USA)
CA
M1
35-39
39
01:02:18
01:02:18


5
» Llano, Matthew (USA)
AZ
M6
25-29
26
01:02:22
01:02:22


6
» Rono, Aron (USA)
OR
M79
30-34
32
01:02:25
01:02:25


7
» Eggleston, Jeffrey (USA)
CO
M7
30-34
30
01:02:41
01:02:41


8
» Gotcher, Brett (USA)
CA
M10
30-34
30
01:02:49
01:02:49


9
» Keveren, Sean (USA)
VA
M53
20-24
24
01:02:52
01:02:52


10
» Proctor, Gabe (USA)
CA
M5
20-24
24
01:03:13
01:03:13
Top Results Women
1
» Conley, Kim (USA)
Women
CA
F11
25-29
28
01:09:44
01:09:44


2
» Nelson, Brianne (USA)
Women
CO
F30
30-34
34
01:10:16
01:10:16


3
» Bawcom, Janet (USA)
Women
AZ
F1
35-39
36
01:10:46
01:10:46


4
» Hall, Sara (USA)
Women
AZ
F5
30-34
31
01:10:50
01:10:50


5
» Bersagel, Annie (USA)
Women
 
F2
30-34
31
01:10:58
01:10:58


6
» Bottorff, Juliet (USA)
Women
MA
F13
20-24
23
01:11:30
01:11:30


7
» Suver, Mattie (USA)
Women
CO
F7
25-29
27
01:11:51
01:11:51


8
» Matthews, Katie (USA)
Women
MA
F12
20-24
24
01:11:57
01:11:57


9
» Jimison, Lauren (USA)
Women
CA
F26
20-24
24
01:12:01
01:12:01


10
» Williams, Alisha (USA)
Women
CO
F6
30-34
32
01:12:12
01:12:12