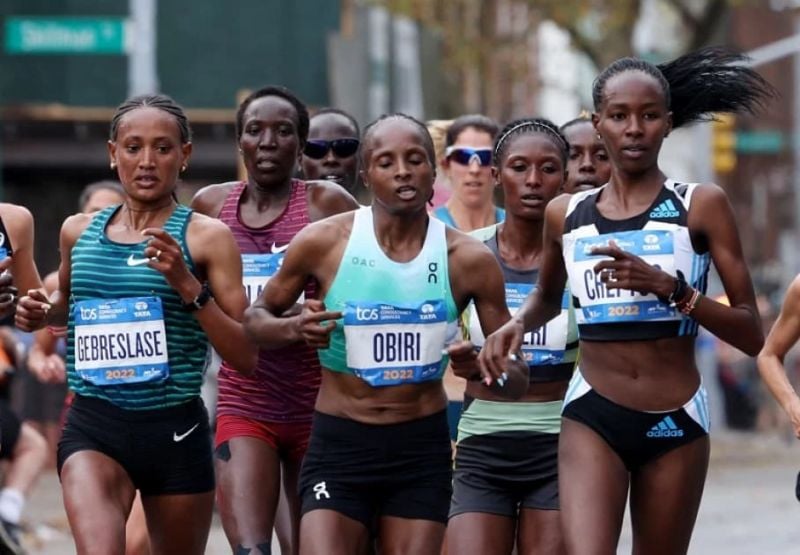 The 2023 TCS New York City Marathon is poised to be a captivating event with a star-studded lineup, particularly in the men's elite category. Leading the pack are the formidable Ethiopian runners, Tamirat Tola and Amedework Walelegn, who bring their remarkable prowess to the streets of New York.
Tamirat Tola, an Olympic medalist and former world champion, is no stranger to the global running stage. He comes to the marathon with an impressive resume, including a gold medal at the 2022 World Athletics Championships Marathon where he set a new championship record with a blistering time of 2:05:36. This performance, coupled with his silver in 2017, marks him as a formidable competitor. Despite his success on the world stage, Tola is yet to secure a podium finish at the New York City Marathon, having come close with fourth-place finishes in both 2018 and 2019. This year, he is undoubtedly looking to improve on those results and add a New York City Marathon victory to his accolades.
Amedework Walelegn also brings a stellar record to the marathon, being a world bronze medalist at the 2020 World Athletics Half Marathon Championships. His wins in the Seoul Marathon, Istanbul Half Marathon, and New Delhi Half Marathon demonstrate his versatility and endurance, promising a strong performance at this year's marathon.
As for the women's elite competition, it boasts a decorated lineup that is arguably one of the most formidable in the event's history. Defending champion Sharon Lokedi is back to claim another title, alongside the formidable Hellen Obiri, who has triumphed at the Boston Marathon and the United Airlines NYC Half. Adding to the star-studded roster is the Olympic gold medalist and 2021 TCS New York City Marathon winner Peres Jepchirchir, and Brigid Kosgei, who has previously held the marathon world record.
Letesenbet Gidey, who holds the World Half Marathon record, Edna Kiplagat with her extensive marathon victories including New York City, Boston, London, and the World Championships, and Olympian Viola Cheptoo, further amplify the intensity of the competition.
The upcoming TCS New York City Marathon, scheduled for Sunday, November 5, 2023, is set to feature a staggering 50,000 participants. This monumental event will capture a global audience, with live broadcasts reaching over 200 countries worldwide. For viewing details and broadcast times, be sure to check out the guide here on how to watch the New York City Marathon.
MEN ELITE FIELD
| NAME | COUNTRY | AGE | MARATHON PR |
| --- | --- | --- | --- |
| Tamirat Tola | ETH | 32 | 2:03:39 |
| Shura Kitata | ETH | 27 | 2:04:49 |
| Abdi Nageeye | NED | 34 | 2:04:56 |
| Cam Levins | CAN | 34 | 2:05:36 |
| Maru Teferi | ISR | 31 | 2:06:43 |
| Koen Naert | BEL | 34 | 2:06:56 |
| Iliass Aouani | ITA | 28 | 2:07:16 |
| Albert Korir | KEN | 29 | 2:08:03 |
| Zouhair Talbi | MAR | 28 | 2:08:35 |
| Hendrik Pfeiffer | GER | 31 | 2:08:48 |
| Yenew Alamirew Getahun | ETH | 33 | 2:08:56 |
| Jemal Yimer | ETH | 27 | 2:08:58 |
| Elkanah Kibet | USA | 40 | 2:09:07 |
| Futsum Zienasellassie | USA | 30 | 2:09:40 |
| Erenjia Jia | CHN | 30 | 2:09:54 |
| Nathan Martin | USA | 33 | 2:10:45 |
| Reed Fischer | USA | 28 | 2:10:54 |
| Tyler McCandless | USA | 37 | 2:12:28 |
| John Raneri | USA | 32 | 2:12:33 |
| Joe Whelan | USA | 33 | 2:13:39 |
| Sydney Gidabuday | USA | 27 | 2:14:48 |
| Will Nation | USA | 32 | 2:15:12 |
| Ryan Root | USA | 32 | 2:15:22 |
| Ashenafi Ketema Birhana | ETH | 35 | 2:15:27 |
| Thomas Slattery | USA | 28 | 2:15:32 |
| Andreas Myhre Sjurseth | NOR | 39 | 2:16:05 |
| Wesley Robinson | USA | 27 | 2:16:08 |
| Garret Lee | USA | 31 | 2:16:57 |
| Andrew Butchart | GBR | 32 | Debut |
| Edward Cheserek | KEN | 29 | Debut |
| Alberto Mondazzi | ITA | 26 | Debut |
WOMEN ELITE FIELD
| NAME | COUNTRY | AGE | MARATHON PR |
| --- | --- | --- | --- |
| Brigid Kosgei | KEN | 29 | 2:14:04 |
| Letesenbet Gidey | ETH | 25 | 2:16:49 |
| Peres Jepchirchir | KEN | 30 | 2:17:16 |
| Edna Kiplagat | KEN | 43 | 2:19:50 |
| Mary Ngugi-Cooper | KEN | 35 | 2:20:22 |
| Hellen Obiri | KEN | 33 | 2:21:38 |
| Viola Cheptoo | KEN | 34 | 2:22:44 |
| Sharon Lokedi | KEN | 29 | 2:23:23 |
| Kellyn Taylor | USA | 37 | 2:24:29 |
| Fantu Jifar | ETH | 27 | 2:25:45 |
| Molly Huddle | USA | 39 | 2:26:33 |
| Solange Jesus | POR | 37 | 2:28:15 |
| Sydney Devore | USA | 32 | 2:31:08 |
| Marie-Ange Brumelot | FRA | 31 | 2:33:19 |
| Meriah Earle | USA | 45 | 2:34:19 |
| Joanna Reyes | USA | 31 | 2:36:23 |
-->